I couldn't sleep last night. The usual things… money, not enough of it; work, or lack of it, goes with the lack of money thing; kids, granted they live with their mother, but I don't remember raising them to be like that; should have gone hunting, I'm up anyway; pending job interview, there's that money thing again.
So when the alarm went off at 4:15 AM, there was no need to say anything. "Off to wipe asses," says enough. She's a nurses aide.
By 5 AM I'm standing in the driveway sucking down that first cup of coffee and fumbling to light the first cheap cigar of the day. I won't smoke those things in the house. A few minutes later, in the house for the second cup.
"Do you even taste it when you're drinking it?"
"Not the first one."
With the second cup I can settle in and think of something else other than getting caffeine to my brain. The geese are honking on the river down the hill from my house. A small flock at treetop level goes over my house. I can hear the honking and their wings, but I never see them. Then another small group go by, already heading for the nearby fields in the pitch black.
I had been scouting the river all week wondering if I should go to the blind near my house.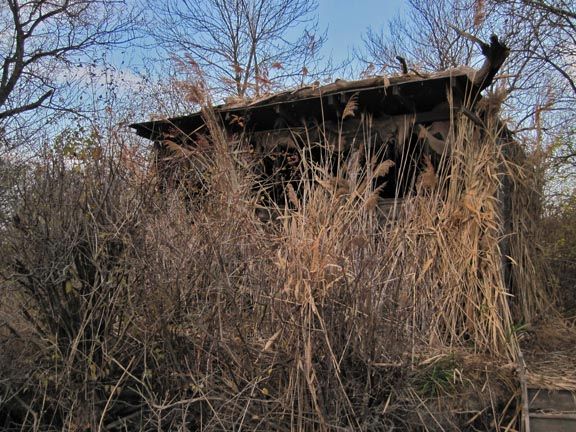 Short drive and a short walk, I've been seeing birds. The plan was to get a good nights sleep. That didn't work. Now I was in the wrong place. More geese went honking down the river.
One more small flock at tree top level over my house. My old single shot was sitting in the closet. I had the right shells. Shooting time was a little off yet, but I could set myself up in my driveway. Comfortable chair to sit in and just wait for another flock to skim the tree above my house.
Probably not a good idea. The city lawyer lives behind me. Next door and across the street are young kids, probably need sleep, or at least their parents do. I imagine my neighbors down the street won't appreciate steel pellets raining down on their roofs.
Yep, definitely the wrong place. Wish I knew ahead of time I wasn't going to be getting any sleep anyway.