Okay, fine, I will.
The conversation was being had in my head and the bet was to myself. Nuts and a bad bet pretty much sums it up, but I had no choice to follow through. I had been admonishing others (see Dear Mr. Bowman) for not giving open water river reports. There's a fair amount of open water on quite a few of the rivers here in Northern Illinois (see For my Fellow Iceaphobes – The Plan) and some might like to know that. Sitting out on an ice covered pond staring into little holes isn't quite the same as wading running water.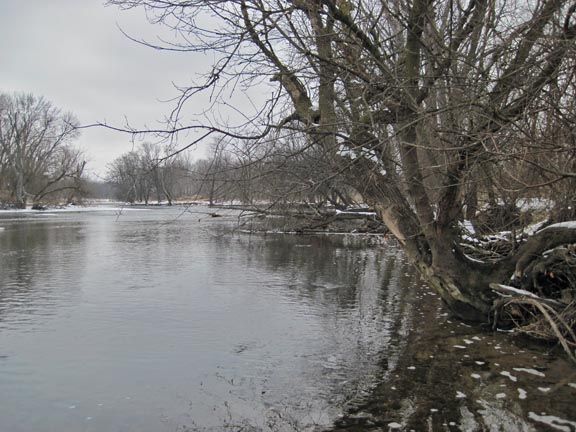 Now my excuses for not fishing open water were pretty much gone. I have only one condition, the air temperature has to be above the freezing mark. I don't like ice on my guides. Long term weather reports showed no such thing earlier in the week, but things apparently changed. It was down right balmy when I wandered out in front of my house this morning. Gloveless fingers barely noticed the cold. A check of the temperatures showed almost 30 with a promise of mid 30's by noon.
Since I hadn't been out fishing in a couple of months, there was a little prep work that needed to be done. Basically, I had to find everything. I did a pretty good job of putting things away only to forget where I put them. For once though I had put them away relatively neatly for me, so once found it was all quickly dumped into the car.
I considered heading for the DuPage River. If I went to the Shorewood area, above or below the dam, I knew the river would be open. I also know enough about that stretch to make catching winter smallies and the occasional rock bass relatively easy. But I chose not to contribute to the profits of oil companies by driving long distances in pursuit of winter fish. I settled for the nearby Fox instead.
On urban rivers like the Fox you may as well increase your odds when you have the chance. I chose to fish a treatment plant outflow. Water from the outflow consistently measures 55 degrees during the winter months and it can stay that temperature a good quarter mile or more down stream. Fish are always there, but game fish might be a little more difficult to come by. Unless you're one of those that consider carp game fish.
The complete lack of footsteps in the snow told me that no one had bothered coming here for quite some time. Plenty of squirrel tracks running tree to tree and a coyote or two seemed to be covering the area pretty well, but nothing human to be found.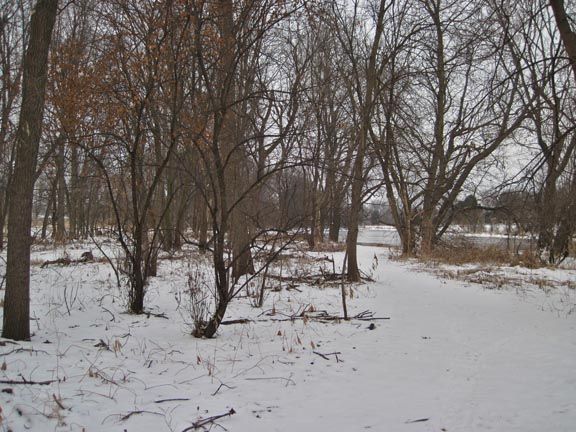 For such an urban area, this stretch gives a pretty good illusion of being more remote. On the other side of the river a pretty busy road runs right along the shore. It was just far enough away that any traffic noise is pretty well muffled. Once behind an island it becomes pretty simple to ignore the urban views altogether.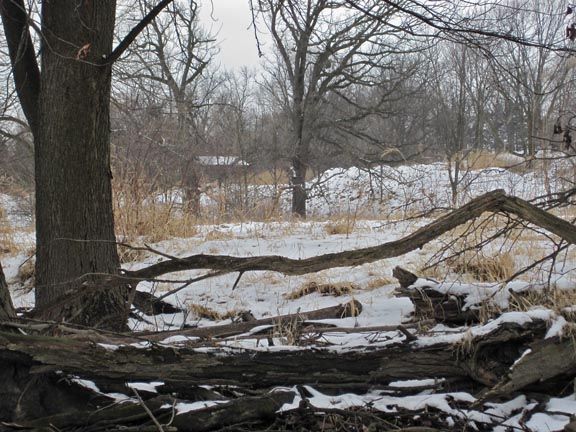 There were plenty of fish breaking the surface of the water in the first of the deeper pools. I could see by the backs that skimmed the surface that they were all quillbacks. It's not all that unusual for a quillback to hit a lure like a smallie, but not today. I could feel the lure getting bumped, but that was more because it was in the way, not because it was being eaten.
All along the shore it was like this. All the pockets held carp of some kind. More quillbacks and the torpedo like runs of common carp were everywhere. I learned a long time ago that smallies like to hang out along with carp. Carp stir up the bottom, which attracts minnows, which smallies like to eat. No such luck today. Rolling one carp after another was all that was happening. Occasionally a carp will try to inhale a lure so it's always worth a cast.
Drifting up stream on the air currents came the large black shape of an eagle. It slowly cruised above the river and occasionally drifted out over the tree tops. The ducks didn't like any of this. They all lifted off the water. Some seemed to feign an attack on the eagle, a foolhardy gesture at best, but most simply took off squawking.
Once the eagle was out of sight, a couple of red tailed hawks appeared. They seemed to be playing in the treetops feigning bites, then they would take off together to hover over the river. They never got far from each other and it continued to look like they were playing. I've never seen them behave like this, usually I don't see more than one.
Even in somewhat of an urban area these birds have learned to adapt to our presence. Especially along here there are always signs of our presence even in the water.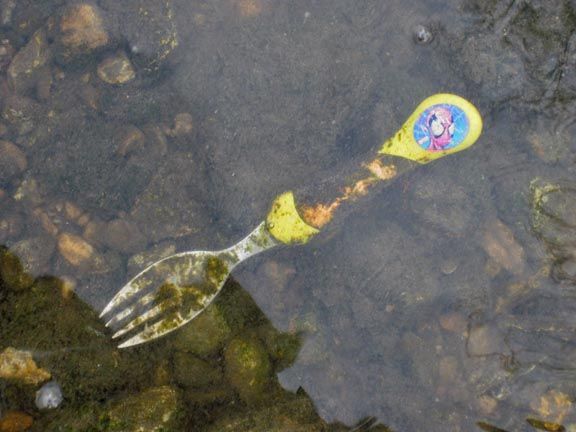 The hawks don't surprise me so much, I've been seeing them around for a long time just about everywhere I go. But for an eagle to slip right into these urban areas comes as a surprise. It's just not something I would have ever expected.
About a quarter mile down the river slows in a relatively large pool. Some nice depth to the pool too. It had been awhile since I had caught a walleye here. The conditions seemed to be right so I spent some time trying to coax one to bite. More carp getting rolled with the occasional tug giving me false hope that something might have finally tried to eat my offering.
After rolling still another carp I actually had something running with my line. I would be happy to land a foul hooked carp at this point. At least it would be something to show for my efforts. When I initially caught sight of it I thought it was a decent walleye. When I got it closer I could see it was a northern pike of about 30 inches.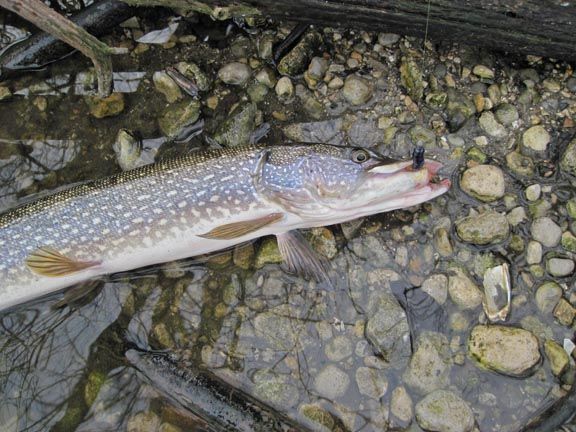 Considering how much I fish this river, these fish always catch me by surprise. In 15 years I've only seen 5 of them. Much further north where the river is flatter and slower moving there are quite a few. But they seem to disappear the further down stream you go. I've met people along this stretch that have lived here their whole lives, and they're over 80 years old. They would show me pictures of pike caught in the past. Stringers full of them that needed two people to hoist. Those days seem to be long gone.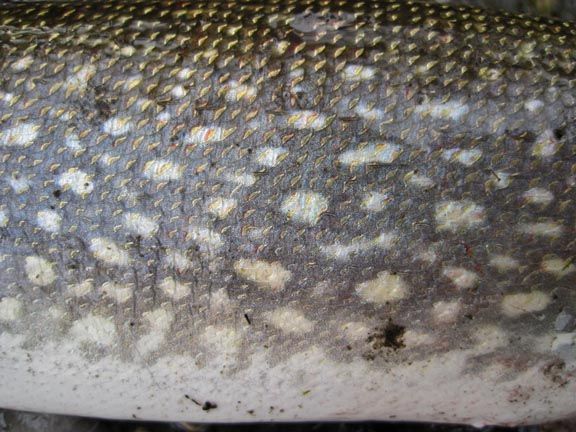 Two of the other pike I've caught came in a spot about 100 yards down from this one. The first was 6 years ago and only about a foot long. Then a few years later about 2 feet long. Now this one a couple of years later and measuring around 30 inches. Had me wondering if I was catching the same one years apart. It's lower jaw was deformed which usually means it got pretty well chewed up by a treble hook, so I wasn't the only one catching it. Since I've caught them all on single hook jigs, I knew I didn't cause the damage.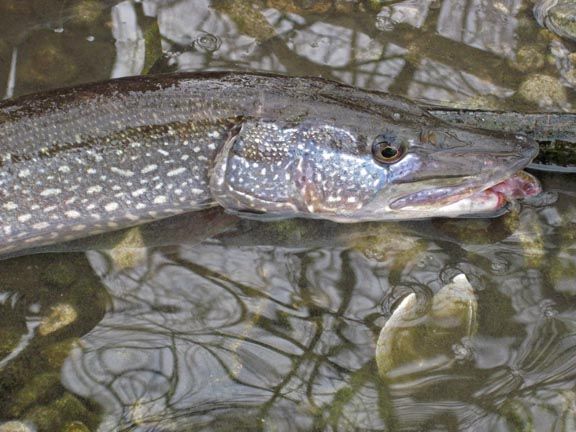 At least people kept putting it back.
I kept going down stream. The cold of the river water pretty much nullified the warmth of the discharge water as the two got combined. My neoprene waders burned out years ago and I never had them replaced. The now colder water reminded me that the seams in the feet of my breathable waders had a slight leak. The final spot I wanted to try holds a lot of fish, but today it seemed to be only carp. There were a few times when it sure felt like a fish on, but only proved to be another rolled carp.
I could no longer feel my feet, only that tingling sensation that says you should have got out a long time ago. I was done. The thousands of pins pricking my feet said so. The hike back to the car didn't warm them up. Car heater did no good. Four hours later and I can still feel some tingling in my toes.
I knew I had a second condition regarding winter fishing, I must have forgot.
Never do it without neoprene waders.