While putting away the laundry I turn on the tube to something mindless for the company. On one of the outdoors channels was a show called Big Bass Battle. I never watch stuff like this and I thought it might be a good time to catch up on what I've been missing.
Sidebar: Always let the more OCD person in a relationship do things like laundry and cleaning everything in the kitchen. When done, everything will be perfect. Shirts and pants won't be mixed together and randomly thrown into drawers and the closet. The kitchen will be spotless with everything in a logical place. NEVER let the OCD person clean the house. OCD people tend to find the source of the dirt and eliminate that first. In this case, that would be the dogs and the mother that came with the wife in a package deal. The dogs and the mother are useful on about the same level.
The first thing I heard was that this Big Bass Battle was taking place somewhere down in Texas. I could tell that by the big, ugly lake with virtually nothing along the shorelines in the opening shots. I ran and got my Lazy Tongue Translator®. It's a lot like a hearing aid only it translates that lazy tongue drawl prevalent in people that live anywhere outside the Chicago Metro Area, especially south of I-80.
It's a wonderful little thing that fits snugly into your ear. Everyone will think you're partially deaf and shout at you, but it does a great job of translating what would otherwise be incoherent mumbling into words. It does a great job with the letter R in particular, putting it back into words like barber and taking it out of words like wash.
I highly recommend it.
Even though I played all sports when I was younger and was quite good at a few of them, I am genetically at a disadvantage because I'm missing the competition gene. Without this gene in your make up, you tend not to give a damn about anything that has to with contests and competitions.
Of course, with the Big Bass Battle, they had to immediately determine who got to leave in their over priced fishing boat first by having a casting contest.
Let the fun begin.
Three out of the four contestants were obviously pro bass fishermen. You could tell by the bright white shirts that were covered in company names and were down right garish.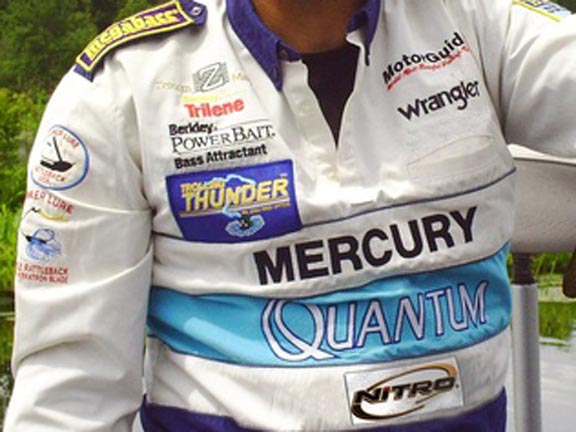 I understand that these guys probably don't have real jobs because they dress like clowns and get paid for it, but you would think by now a shirt and ad design would have been developed that was a little more tasteful.
They spread out across the lake and began casting. All of them were using broom stick like rods with bait casting reels. All of them cast with two hands. All of them set the hook like they were setting the hook on tarpon. All of them reeled in the fish so fast and furious that the fish skipped across the surface of the lake, I assumed this was being done for the cameras.
Virtually all of the fish caught were barely 2 pounds. The amount of sheer muscle strength going into the catching of these little bass probably could have moved mountains if that strength had been put to use doing something useful.
During still another episode of "This is how you rig a Piece of Plastic on a Hook" (I know I was grateful for the reminder even if it did kill off a few million brain cells), I noticed the fishing line that was being used. It was thicker than anything I had ever used and I'll have to make the assumption that it was at least 20 pound test. Possibly more.
For catching a bunch of 2 pound bass.
Then I realized why they were using this heavy line. None of them were bending down to lip their fish while it was still in the water. They would reel the fish up to the boat, skipping it across the lake like I've mentioned, then lift the fish up out of the water and swing it toward them. No bending necessary. For 3 of them, they had no choice. Their guts didn't allow them to bend over anyway. The shift in weight while they bent down would have sent them head first into the water. Would have made for good film, but probably not what was intended. The one skinny guy, as far as I could tell, was just lazy.
Between shots of small bass flying through the air was that competitive guy banter. I can't repeat it because I can't remember the words. I'm assuming there's a thought process that goes along with the competition gene. I must be lacking in that too.
During all of this was this grinding, thumping pseudo rock music going on in the background. It swelled and faded with the excitement of each fish caught. I'm assuming this same type of music is what plays at the cheap strip clubs that seem to appear out of nowhere on country roads all over the country.
With that, the laundry was done, shirts were organized chromatically in the closet and I was glad to shut down the television to make those images go away. I may need to go do some fishing later today to completely flush those images out of my head. Maybe bring my fly rod. There is a massive mayfly and caddis hatch going on. Last night fish were sucking mayflies off the surface, leaving dimples in the eddies.
I don't care if they're creek chubs or shiners, I'm gonna hafta get me some.