You got the river, a relatively thin strip of shoreline, a bike path, sometimes a guard rail and the road. It goes on like this for a couple of miles, at least. This day the road was empty so I moved along at a nice 20 mph clip even though the speed limit was 40 mph. I do this all the time. It infuriates my wife when she's with me. You'd think she'd be used to it by now.
The same refrain goes through my head every time I drive along this stretch.
Should I stop here? Should I fish there? Stop here? Fish there?
The opposite shore is the most productive shore and this day the guy in the boat was out there. He lives along that stretch, I see the boat in his yard, right along the shore, all the time. He has a Go Devil motor on the boat, one of those motors that lets you motor through water as shallow as a few inches.
Today he was anchored about 10 feet from shore. In water that I knew to be about knee deep. About 100 yards from his house. You would think by now he knew all his neighbors and could easily get permission to walk the shore and fish. But then, I guess it would be a waste to have a boat with such shallow water capabilities. I thought of fishing that stretch and sneaking up behind him, but decided to leave well enough alone.
The wind had been slowly picking up all day and by the time I got in the water, it was howling pretty good. Casting accurately became impossible. I would cast in what I thought was the general direction I wanted to fish and considered myself lucky if I came within 20 feet of my intended target. A few times I was glad the lure hit the water and didn't wind up on shore somewhere.
The wind was also putting a huge bow in the line, making it next to impossible to detect a hit. I'm pretty sure I got a couple, I think. Through no real skill on my part, I somehow hooked and landed a couple from the first spot.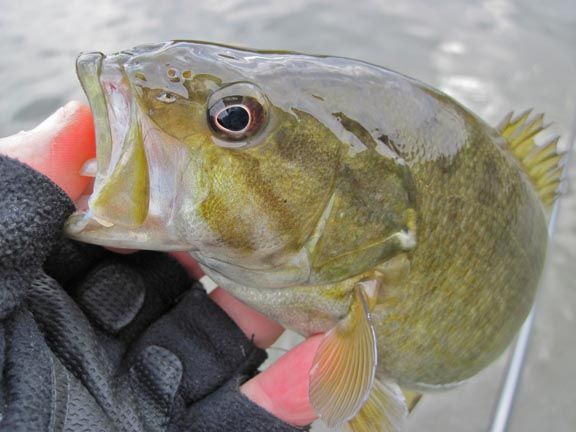 I have no doubt I was getting more hits, but the wind was blowing a lot of leaves into the water. I set the hook on a lot of leaves that hit pretty hard. When I got tired of doing that, I would refrain from setting the hook if I thought I got a leaf. Generally I was wrong and the line would start moving out into the middle of the river. By then, setting the hook did no good. The twister would come back yanked down off the jig.
I spent most of my time questioning the sanity of being out on a day like this. I had the day free. I knew I would. I had planned on getting out. There was no point sitting around the house. Conditions be damned.
In another stretch I cast toward some shore line structure. The lure landed about 20 feet out from shore. The lure then got hit immediately. Turns out to be the big fish of the day sitting in less than a foot of water. No real thanks to anything I did intentionally.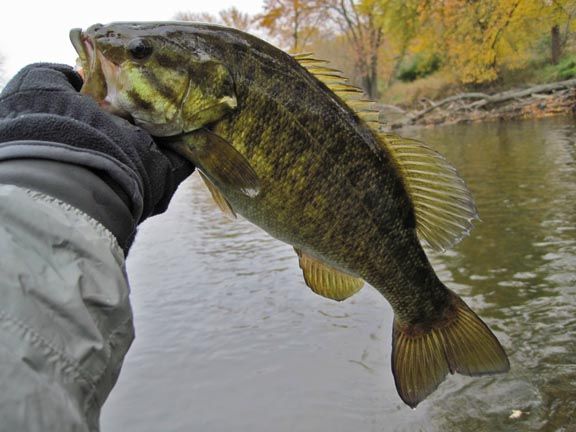 Further down stream is a big gravel bar, lovingly called the flats. I see a couple of guys in ATVs' driving on it all the time. I don't recall ever seeing them fish it.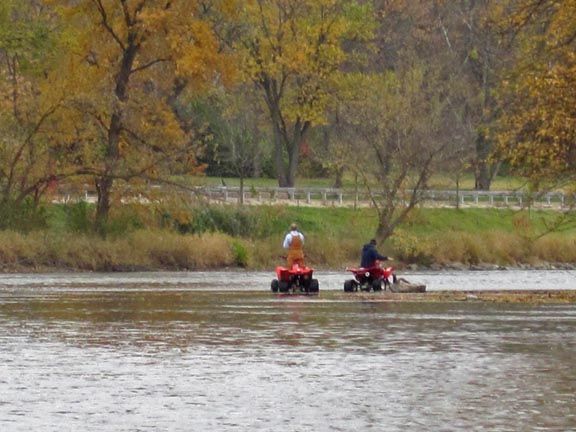 This isn't far from the guy that likes to fish from his Go Devil equipped boat. These guys have to know him. I think they're all part of a club that in order to be a member, you have to pick the most inefficient way possible to fish a river. I think the ATV guys win this one. As they fished, I caught a couple of more behind them.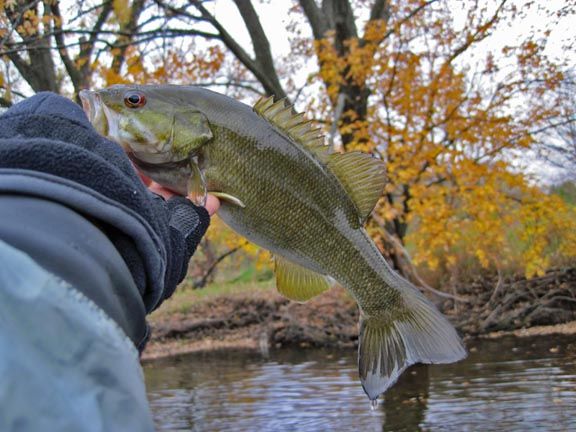 I remember an old saying, if the boulder is wet, then it's raining out.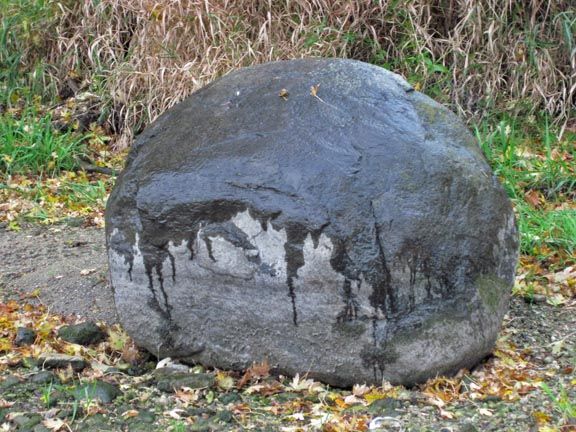 And it started coming down pretty good. The advantage of the rain starting was that the wind pretty much died. The disadvantage of the rain starting was that the bite pretty much died too.
I've never understood that on the river. It happens all the time. It starts to rain, the bite dies. I can understand why I would stop, pack things up and go home, I don't feel like getting soaking wet. But why should a little rain matter to the fish?
I continued on till I couldn't take being damp anymore and called it quits. It doesn't matter how good your rain gear is, eventually you get damp. During the summer months, no big deal. On a day when the high was only 50 degrees, enough was enough.
The quickest way back to the car was to cut across the river and a couple of islands. I've learned the hard way that cutting across most of the islands on the Fox quickly puts you up against an impenetrable wall of under brush. These two islands were just low lying enough that the yearly high water washes over them and keeps them clear of that impenetrable wall. The bulk of the trees on the islands are silver maples. The pictures don't do it justice, but both of the islands were covered in a carpet of leaves for as far as you could see.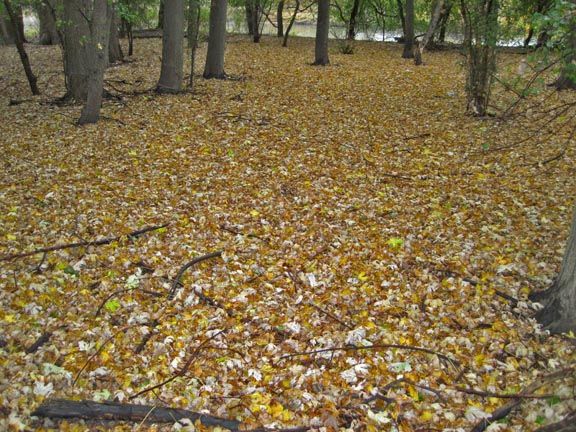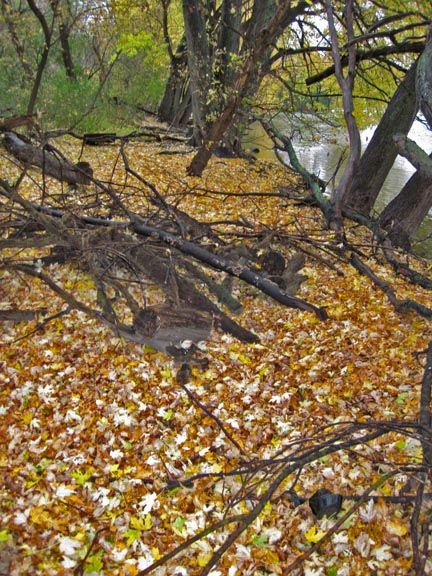 Before this area became semi urban, people used to have seasonal camps on a lot of the islands along here. The river was known for it's hunting and trapping. Every now and then when cutting across these islands, remnants of it's past can be found.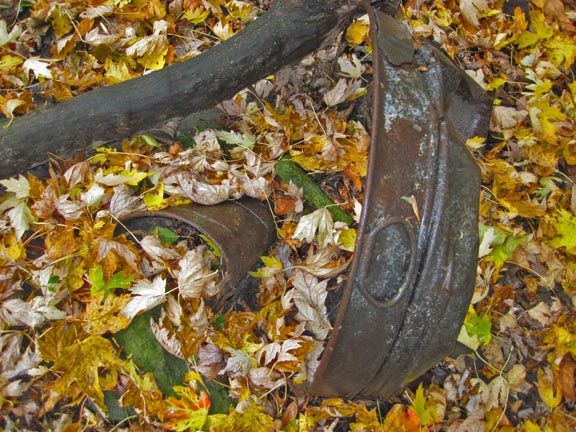 When I got up on shore, it started to rain again. I still had a quarter mile hike back to the car. Back at the car, all the soaking wet gear was thrown all around the inside of the car. Half way home, I could smell it. That unmistakable smell of fish and river water.
Based on past experience, I knew I was going to have to put up with that for at least a couple of weeks.