Spent the long Thanksgiving weekend at my father-in-laws house 20 miles east of Branson Missouri. That's the same as saying out in the middle of nowhere.
I had planned on driving around, which I did, taking pictures, which I didn't.
The reason is that there are no straight roads in that part of Missouri. There are no flat stretches of road either. Taking pictures while driving was out of the question unless I wanted to drive off a cliff. Pulling over was also out of the question, the side roads with the best views had no shoulders.
What few pictures taken were all taken while wandering down the hill behind the house. We were tracking deer and following what started out to be a little trickle of water that runs past the house.
My father-in-law owns about 5 acres, but as far as I could tell, his nearest neighbor out his backyard was about three quarters of a mile away. No clue who owns all the land in between.
I've been to Missouri twice in the past. I've always noticed that there is something odd about the sky and how the clouds relate to their surroundings. Not sure how to describe it, but if you do a search on the paintings of Thomas Hart Benton, you'll see I'm not the only one that noticed this.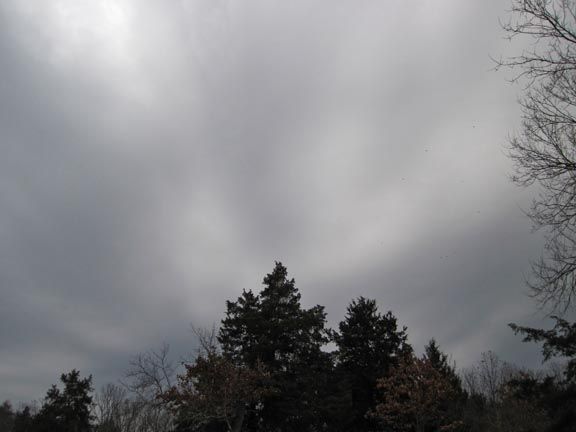 Check this out, you'll see what I mean.
__