I've been lazy about getting out. My timing has always been off. It's nice out and by the time I get to the river, the wind shifts out of the north at 15 mph, the temperature drops and I wind up getting beat up.
Did get out a couple of times for some short runs. My catch/self release ratio has flip flopped. For the two days I wound up with 7/14. I like to track what I'm missing so I can get a sense of the type of fishing day I could have had. It's said that you learn by your failures, so I keep track of my failures. I think I'm a slow learner.
The first day was gray, cold, wind blown and without the sun, my interest in taking or looking for photos to take plummets. I need the sun/shadow contrast. So I took dull pictures of fish.

The next day found me much further north than I go any more. I had to stop by a creek that at one time, I practically lived in and have fished well over 100 times. I think it's been almost 2 years since my last visit. I now have so many more creeks so much closer, why travel.
The floor of the woods on the way in are coming to life.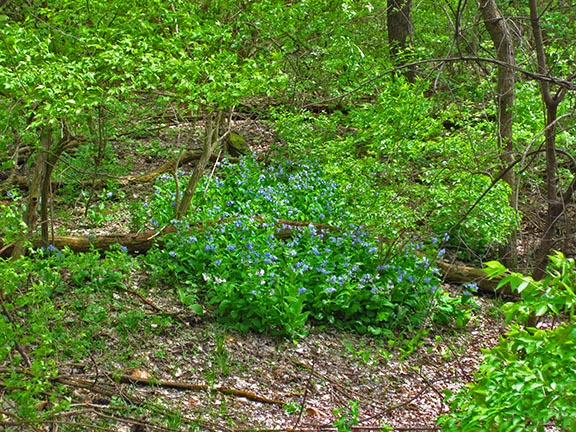 This limestone bluff is under a bridge, about 6 feet above water level and totally isolated. I wondered why someone threw their garbage on top of it, till the garbage moved. Unless a predator flies in, the goose couldn't have picked a better spot.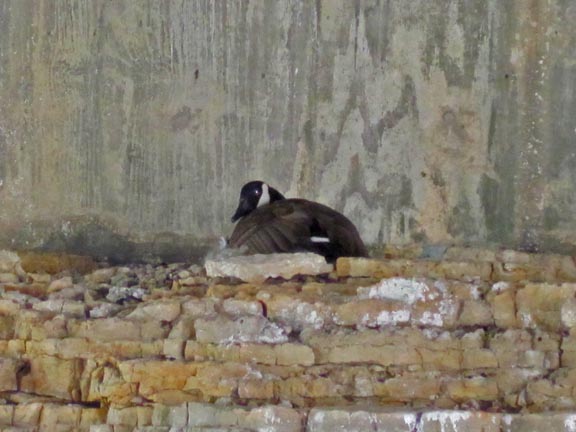 My catch/self release ratio continued to suck and the bigger, heavier fish all were self released, so I skipped most of the photo opportunities. I do have to remember to put the camera in Auto mode for the flash.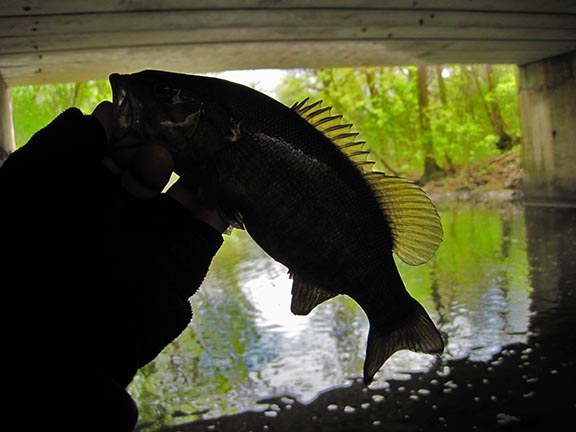 This is why I come here.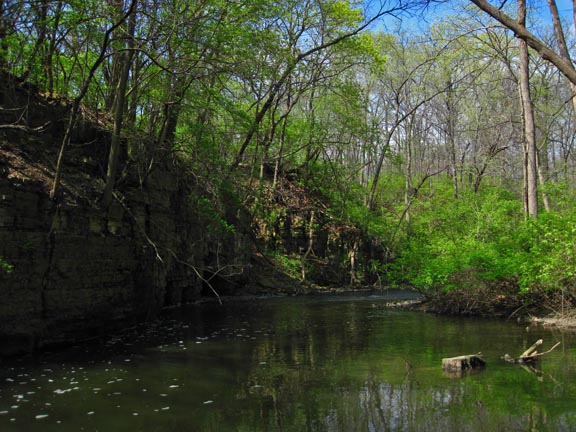 It looks like this for as far up as you can walk and I've walked as far up as you can go many times in the past.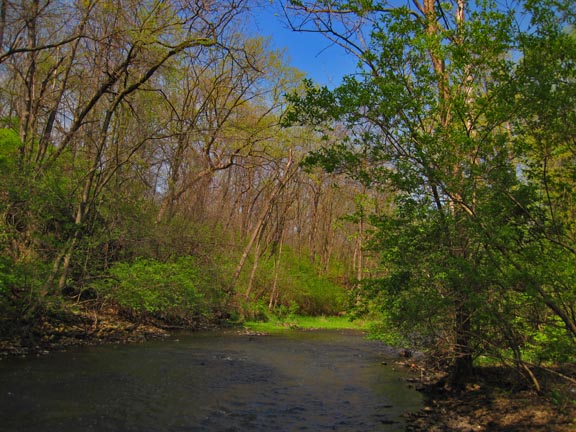 A new landowner now thinks he owns to the middle of the creek and shags people out. When he tried that with me the last time I was here, I told him to go get his deed and prove it, he balked.
Yeah, that's what I thought.
Like usual, I'm allowed to go any where I want as long as I'm in the water, but I told him to go ahead and shag others out. Most won't know they have the right and it keeps the pin heads out. As I said, I don't go here any more any way.
I headed for the mouth of the creek. A big oak had got washed down stream and pretty much filled what is a nice fishing pool.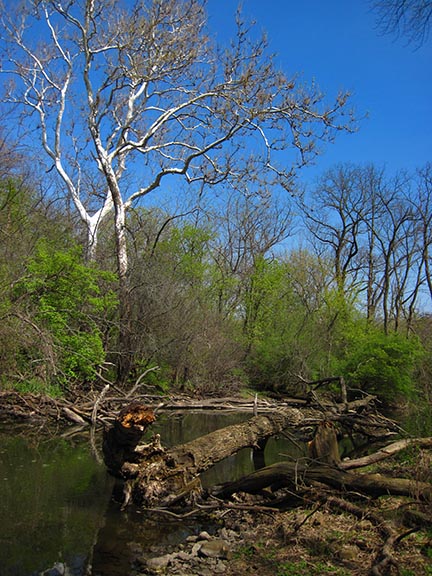 This tree did not come off this point. Because of a foot bridge, I knew it had to come from a short 150 yard stretch of the creek. Goes to show how quickly shore lines heal themselves. I couldn't find the spot where it became uprooted.
Sitting under the tree is a big plank of wood. I know where that came from. About a mile upstream is an old collapsed bridge that has been slowly falling apart even more since I first found it 12 or so years ago. I know every riffle, pool, twist and turn in this creek for that one mile. This old plank of wood had one hell of a journey in order to get to this spot.
Done for the day and back on the footbridge, I took a break and looked for shapes and patterns in the rusted trusses that might be interesting.
Interesting to me anyway.