The plan is to fish the Fall River Fly Rod every day through next Wednesday. I might miss a day, maybe tomorrow. The wife is off work, the weather is fine and I like to hang out with her after work when she's around.
The plan was to also leave updates every day of the fishing. I think that will fall apart during the week, no time. At least not if I fish till sunset every day like planned.
I do have to sleep now and then. Eat something maybe.
When I'm done playing with this rod I'll be doing more of an official review, maybe two. For now, I may as well put up something since I have a bit of time.
Got out this morning at sunrise even though I knew I should have waited.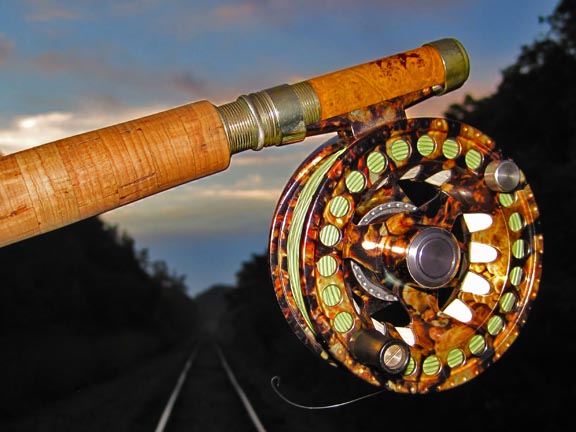 We had torrential down pours on Saturday that kicked the river up from a low of 250 cfs to 1100 cfs in a couple of hours. It then plummeted almost as quickly and was down to 500 when I walked out the door this morning.
Past experience tells me to give it 24 hours when the river does something like that. It seems to confuse the hell out of the fish and they need time for the river to stabilize a bit.
The other factor working against me was using a fly rod. The Fox River is not a fly rod and flies friendly river. Normal summer clarity is barely six inches, most of the time even less. North from where I fished today the Fox is primarily an urban river. There are 8 dams up stream that have stagnant pools that are prone to algae blooms. This all gives the Fox a color similar to that of pea soup during a hot summer, which we've had. If what you're throwing in the water doesn't make itself known in some way, it will be missed. A fly tends not to cut it.
One last factor working against me, I never use a fly rod on the river itself. I've used them in the clear creeks that feed the river, but I only recall using one on the river itself once in 16 years and that was a good dozen years ago.
I did catch smallies that day, so there's always hope.
The skies had cleared the temperatures had dropped and there was even a bit of a chill in the air as I headed for a starting point.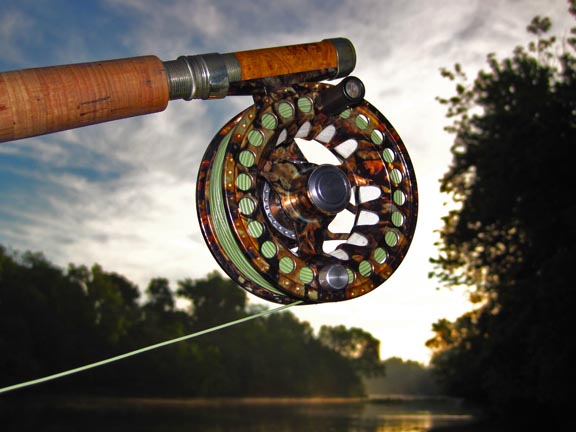 The rod performed and behaved flawlessly, but the fish didn't cooperate much. I was expecting double digit numbers, but only managed to land seven smallies. I didn't bother tracking the missed hits. There were quite a few.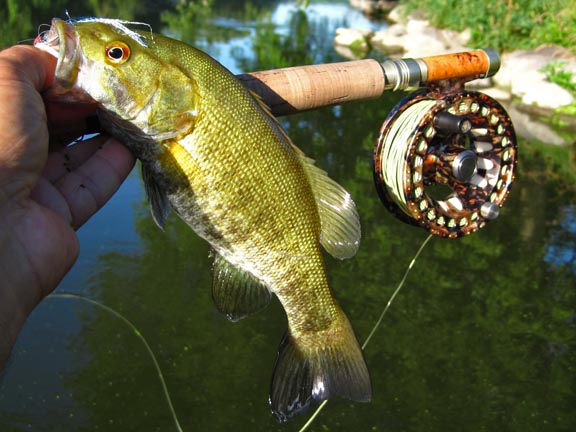 Again I was surprised at how much easier it is for me to use and control this rod compared to the other three fly rods I own. Something about the bamboo, the slowness pointed out by others, suits me fine. It handles these smaller fast running smallies just fine too. I'm hoping at least one outing will get me one in the 16 inch range. See what kind of backbone this rod really has.
When I was bored I kept letting out more line and making longer and longer casts. I have to be getting it out there a good 60 feet. I may have to make a measurement just out of curiosity. There's no need for casts that long when fishing for smallies, but it's nice to be able to do it anyway.
Then the wind picked up, right in my face, and the casts went to hell quickly. Try as I may I couldn't figure out how to get the line and fly to cut through the wind. Something else to practice.
At least it wasn't a skunking out there this morning.
Next up is a clear water creek, a clear small river and a crystal clear pond.
It will be interesting to see how this goes.
________
The Outdoor Blogger Network teamed up with Fall River Rods, Montana Fly Company and RIO Products this spring to put together a rig consisting of an 8ft, 2-piece, 5wt "South Fork" bamboo rod, Madison reel, and double taper, floating line to be fished by 15 far-flung anglers over the course of the season. One of those 15 anglers will own the rod, reel, and line when all is said and done, along with an accompanying journal in which all 15 anglers will record their thoughts and experiences during their time with the rod. With a first season like that, the story of this brand new rod is off to a very good start.