Three years ago I put up a post that does a decent job of treating the Illinois Catchable Trout Program like the joke that I think it is. I actually wrote it 15 years ago but never bothered doing anything with it till then.
Illinois Catchable Trout Program or Fishing in Hell
Since Illinois has no native inland trout, I can't find anything that says it ever did, trout native to California are imported here and then placed in rivers, lakes and ponds that get too warm to support them and they eventually die.
That's why the stocking for this program occurs in early spring and fall. Maybe the water will stay cool enough for them to survive a little while.
In the mean time, fishermen are charged a fee for the privilege of going out and catching these trout and you can keep and kill five of them I believe on a daily basis.

I think money better spent would be on trout from a half way decent fish market, at least then you stand a better chance of getting fish meat that doesn't look kind of gray and doesn't smell and taste a bit like cat food.
Spring and fall are when some native Illinois fish are aggressively active, like crappie and bluegill, so why not catch them. Plus, they taste much better then trout.
But I hear there's a lot of nostalgia surrounding this program and I found out at many a dam removal meeting that nostalgia always wins over logic and reason.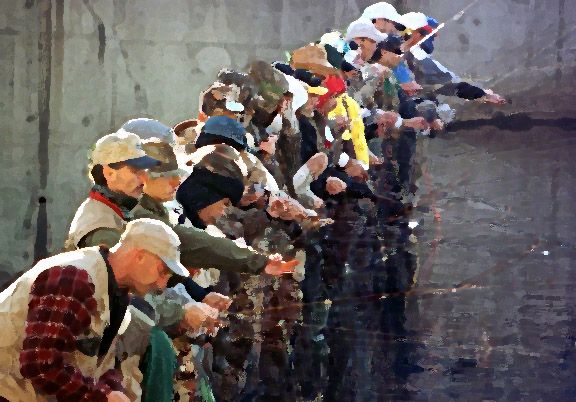 So the chances of making this program go away is probably nil.
Though I don't do it much, I do know how to fish lakes and ponds. A couple of decades ago, when I was in a rod and gun club in Virginia and had access to three private lakes, I read about and fished lakes a lot, at least out there.
One of the books I have is about catching big bass. It's packed in a box somewhere and I don't remember the exact name or author. You'll have to figure out how to search on this sparse info.
The guy that wrote it lives out in California.
The reason bass get so big in the lakes in California is because one of their favorite meals is rainbow trout. High fat content and all.
The reason this guy catches so many big bass, among other reasons, is because he uses things that look and act like rainbow trout.
I tried these techniques on the one spring fed lake in Virginia where we threw in handfuls of rainbow trout every now and then.
Worked like a charm.
I can understand the pleasure of fishing for these trout here in Illinois. On a good day they fight a little better then a wet sock.
But this is a bass state after all, small and large mouth.
So, while fishing for rainbow trout, I think fishermen should reconsider taking these bland tasting things home for dinner.
I think they should gently and quickly release these trout back in the water from where they came.
Chances are the waters where these trout are being caught are already full of small and large mouth bass.
Chances are the fishermen will be back later in the year to fish for those bass.
Why not release all those trout year after year and let the bass eat them, year after year.
Imagine the size of the bass we'll be catching in a few years.
So, here's the new name for this changed program:
Illinois Catch and Release Trout Program.
Only this one will have a slogan:
Feed the Bass.