The intent wasn't to go fishing and fossil hunting, just fishing, but the opportunity to fish and fossil hunt arose, so who was I to say no.
When an 8 foot tall dam that has been in place for nearly 200 years is removed, things change. All the work put into trying to make the creek behave like a natural creek is nice, but the creek tends to take on a mind of it's own.
In this case, the creek likes to move things around.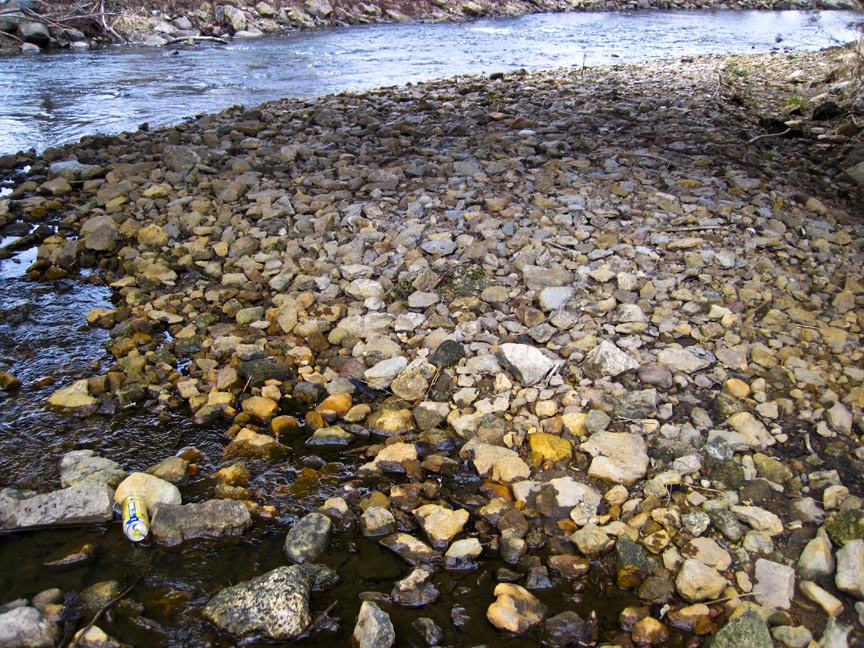 This is the second time in the three years since the dam was removed that this gravel bar has appeared. The first time was soon after the dam was removed. It was three times bigger than what you see above.
Humans being what they are couldn't live with that and by the end of the year the big gravel bar was scraped and moved and everything was just the way the humans wanted it again.
Then it rained, water came up and moved things around and put the gravel bar back where the creek wanted it. The big rains haven't even started yet this year so I imagine this gravel bar will continue to grow over the next couple of months.
That's the thing about controlling water, you can't. Water will do whatever it wants and move things however it wants. Water has all the time in the world. All it has to do is wait and move things and over time it wins.
Water always wins.
I started out scouring the gravel bar to see if any human type remains were washed down. Not bones, but objects left behind. Objects that might have got tossed into the creek over 200 years ago and now have someplace else to go.
That's when I stumbled upon the first fossil.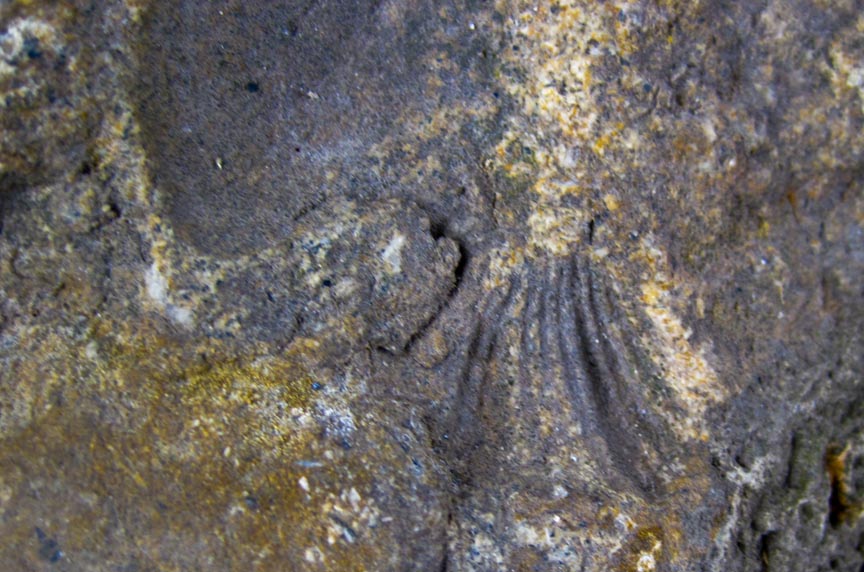 Now I was intrigued. I knew there would be fossils around, why wouldn't there be, but that was an easy find and now I wanted to actually look. It didn't take long to gather up what I thought were the best of what was lying around.
I have no clue if these are just a few hundred years old, or 10 thousand years old, or millions of years old. My interest ends with finding them. Identifying them by type and age add nothing to the find.
I also fished the creek, my second time out this year. The creek was completely devoid of life. Not a minnow, carp, sucker or anything else with fins. It's early and the water is still cold, but one fish right at the mouth cooperated and I mechanically reeled in a cold water sluggish smallie.
I immediately noticed that the fishing ennui that had settled in last year was still there. Nice fish, that was fun, who am I kidding.
This year marks my 20th year of fishing rivers and creeks for smallmouth bass. Virtually all of that in northern Illinois. In that time I've estimated that I've caught around 10,000 smallmouth, give or take a few, with 90 percent of those caught in the Fox Valley.
I can continue to kid myself that somehow it's still exciting, but I'm at the point where it's barely even interesting.
I'd rather go fossil hunting, wandering around with my camera, even go wading around the river with my camera, but without the nuisance of carrying around all that extra fishing baggage.
I don't see any of that as a bad thing, just a change.
Change is good, or as B.B. King would say…
The thrill is gone baby…