After a few weeks of going through a lack of interest in fishing the Fox River, I didn't think I'd wind up spending three hours chasing down the source of Fox River scum.
I really did want to go fishing.
Thought I would go hit Saw Wee Kee. Crossing the river on the Orchard Road bridge, I sized up the river real quick and didn't like what I saw.
Up close and personal it got even worse.
It looks like a giant plugged up swirling toilet bowl covered in floating shit.
The shore under the bridge: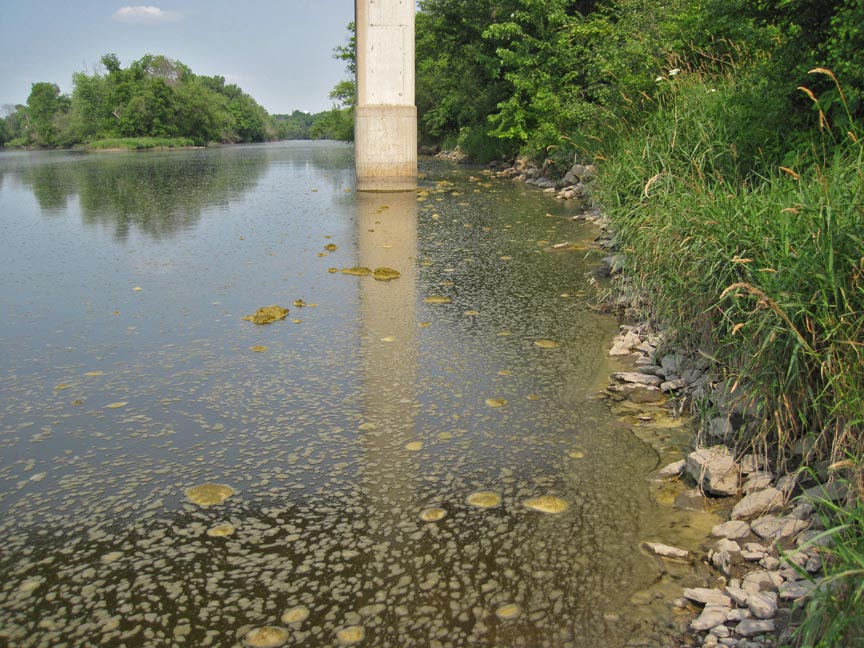 As I drove drove the road along the river, I stopped to talk to a couple that lives in one of the houses along this stretch. They said this had appeared a couple of days earlier. They also mentioned that it was here last year, but we all agreed this was considerably worse then last year. They live on one of the best spots for smallies, but the guy said he won't throw a lure in that.
A few more shots of the stretch between Orchard Road and the Saw Wee Kee canoe launch. It's about a mile:
Did I mention I just wanted to go fishing?
After seeing this, the old Boy Scout in me, the one I've been trying to kill off for years because he can't just walk away from shit like this, decided to wander up stream to see if he could find the source of the problem.
I had no choice but to tag along.
These two shots were taken in Oswego: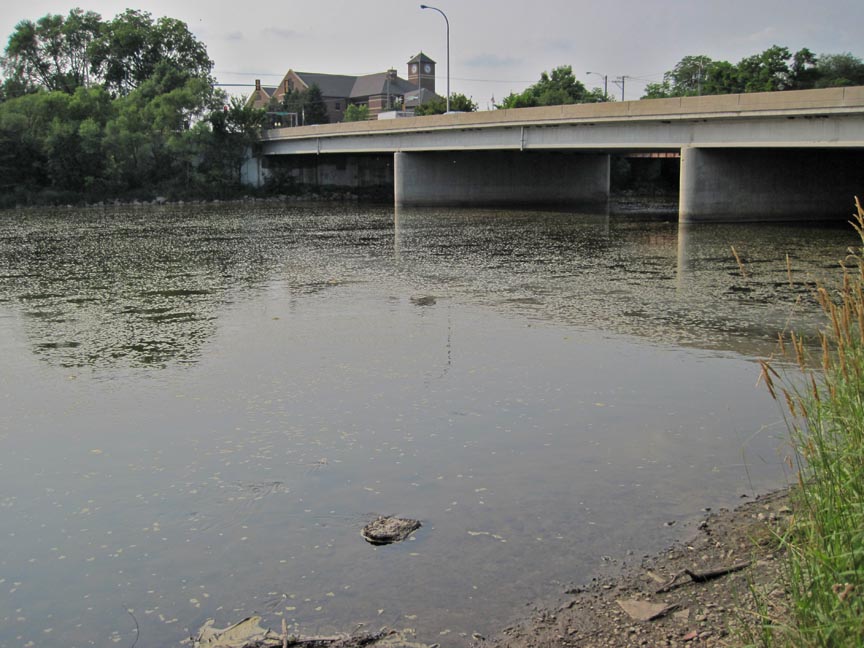 About another mile up stream in Oswego. I think it's called Troy Park. I noticed far fewer shit balls here: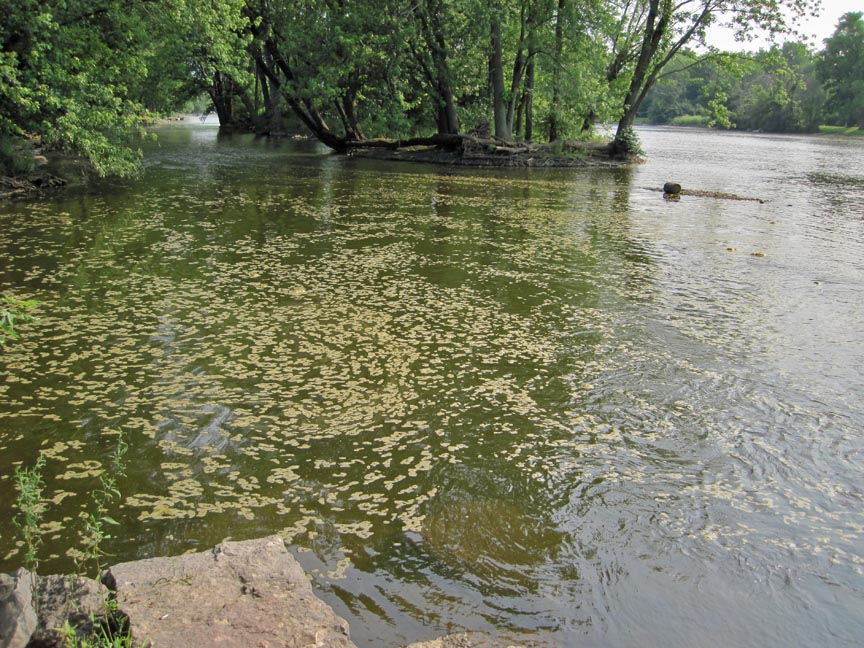 A little further up stream at Violet Patch Park, took a quick shot of a couple of kayakers floating down the river. I felt sorry for them: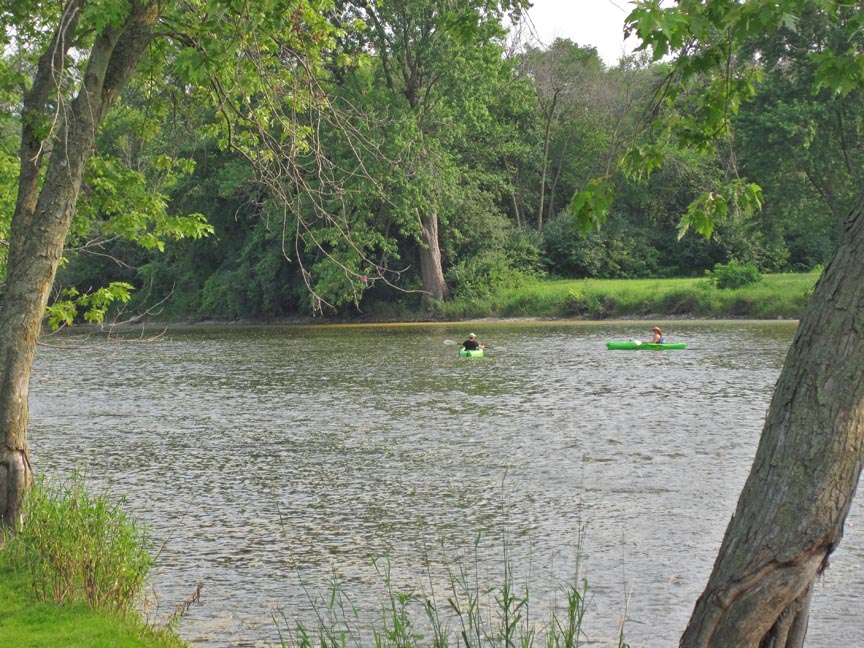 Mainly because just to their right, all along the west shore, they had this to enjoy: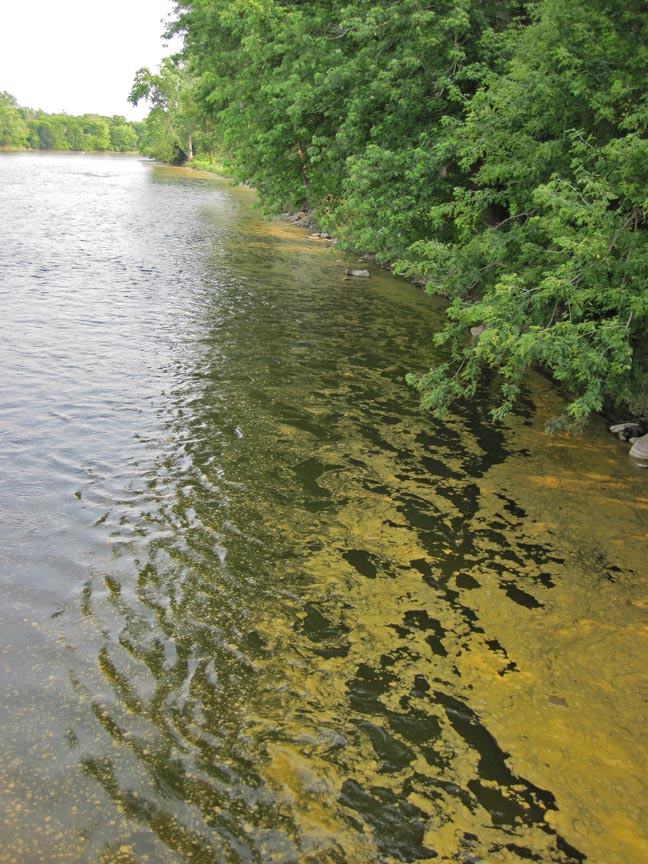 Looking up stream form the same vantage point. Under the bridge where I'm standing are riffles. Things seem to get worse when the scum gets churned up in the riffles: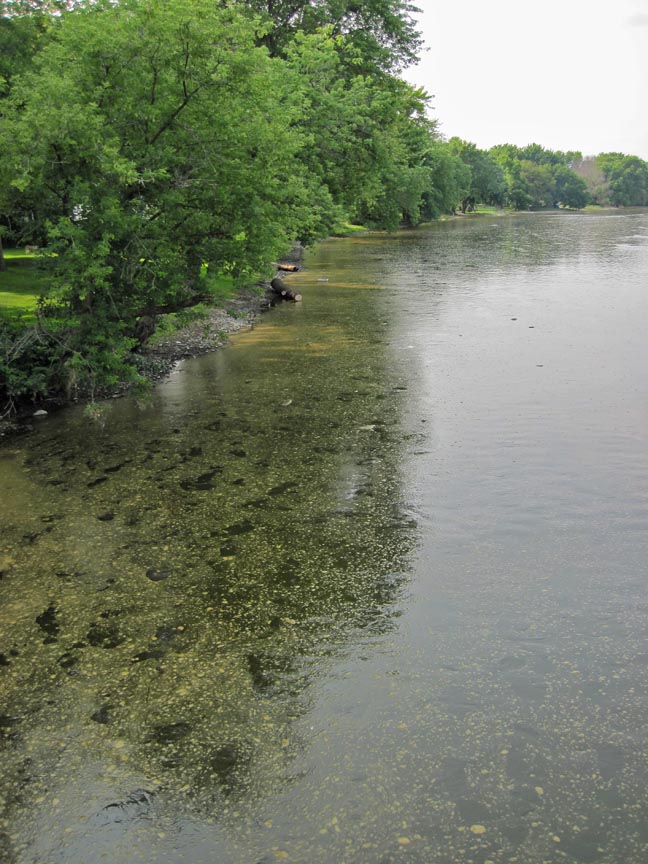 The upstream side of the Fox Metro plant. After this, didn't seem to matter to go check the outflow: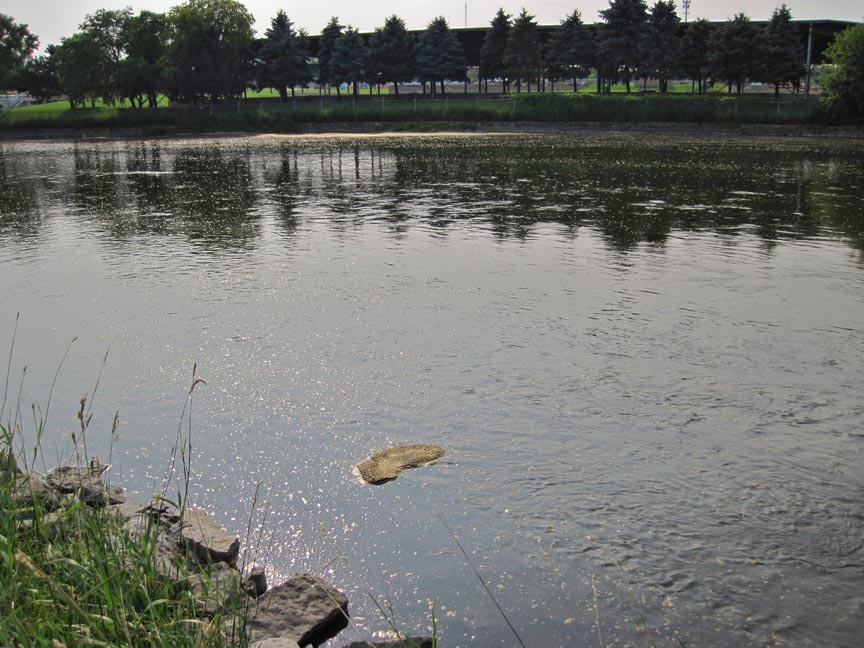 The Route 30 bridge is the one I was curious about. Last year when I traced this problem back, I stopped here because it seemed to dissipate at this point. This shot is of the east channel. Doesn't look that bad. I live nearby and the night before I was sitting on the east shore watching the sun set and didn't notice anything out of the ordinary: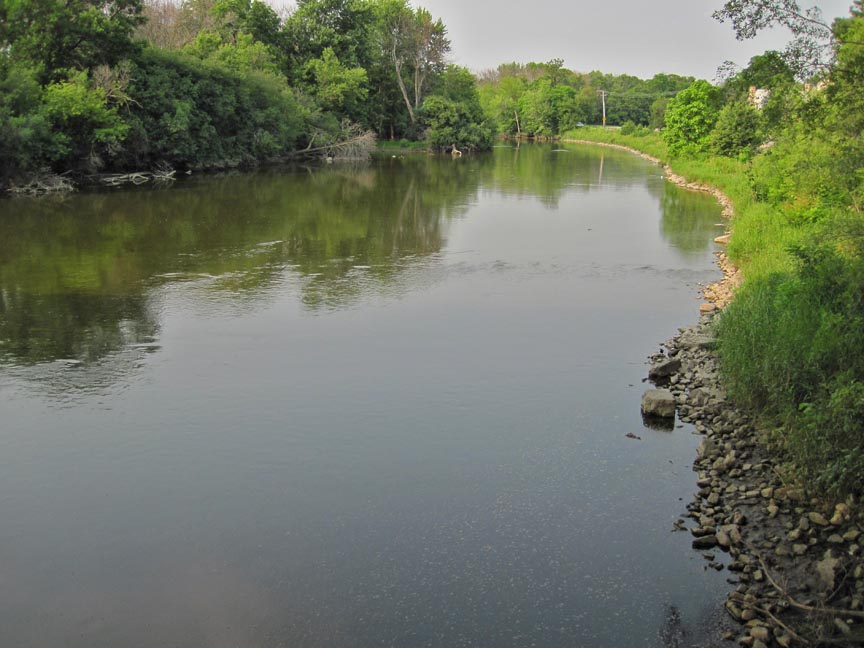 I wandered over to the west side and that's where it got odd. Can't tell if this is light reflecting off the scum, which covered the whole west channel for as far as you could see, or if it was some kind of film: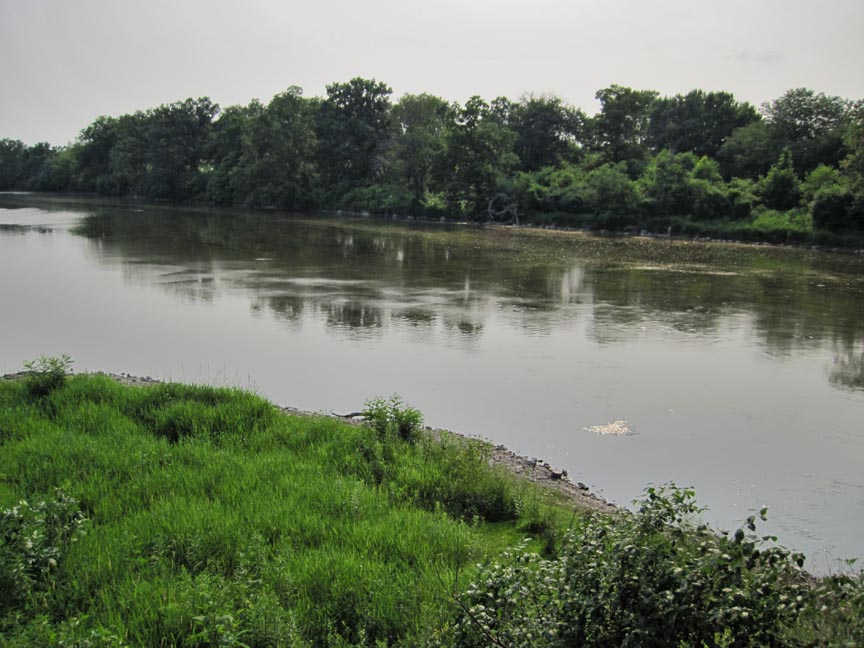 The next couple of shots, you can see the scum that covered the whole west channel: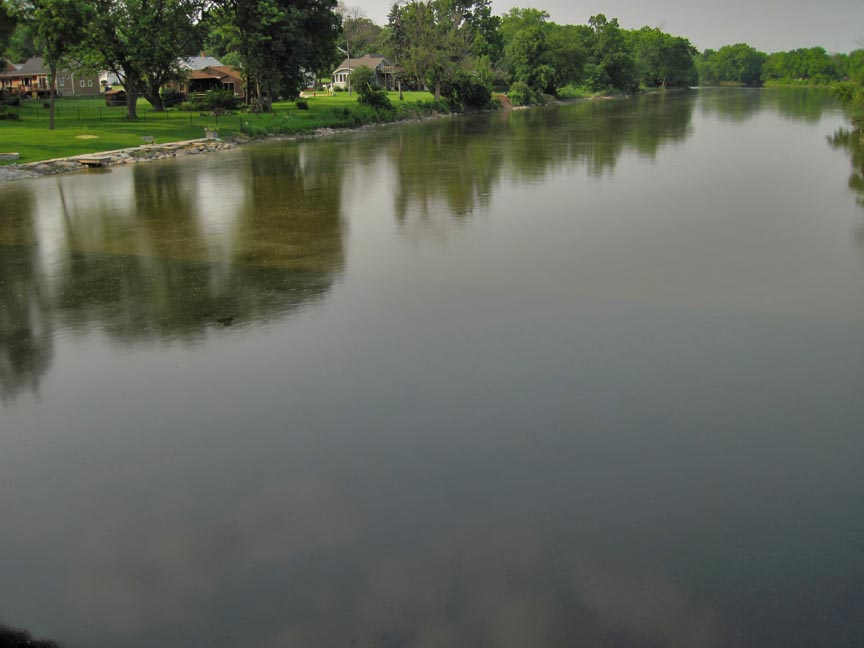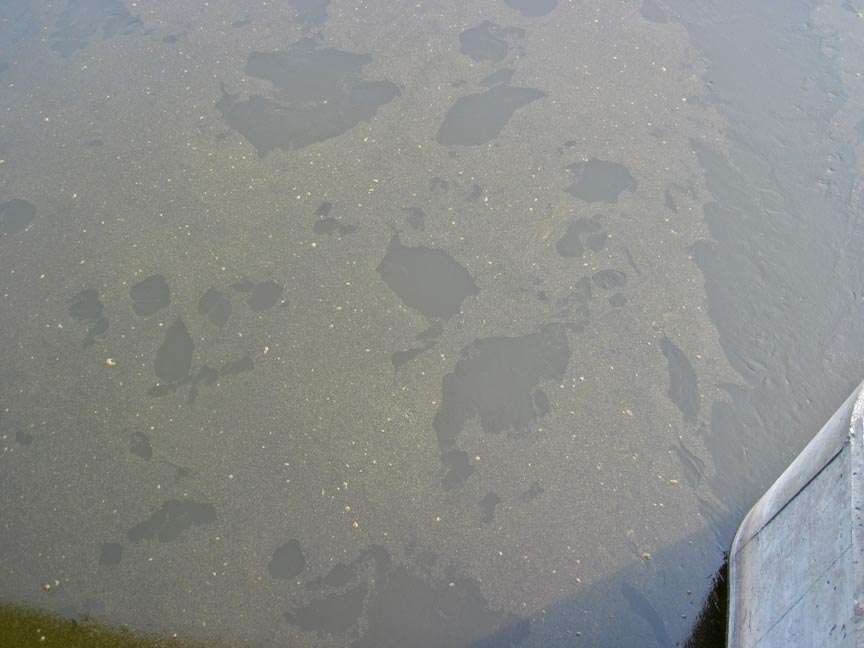 Down the street from where I live in Montgomery, didn't look too bad: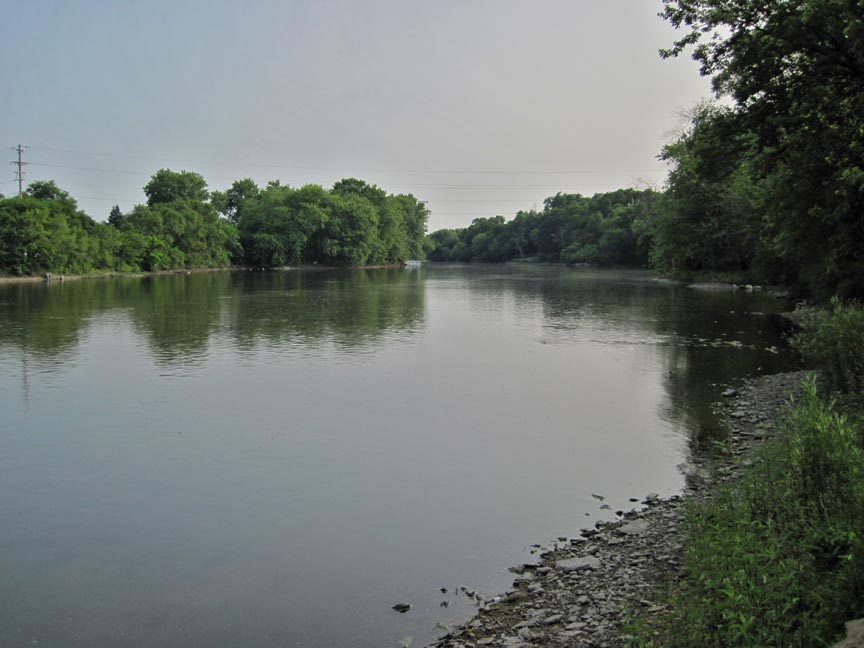 North Avenue on the south edge of Aurora. Still there, but it wasn't looking as bad: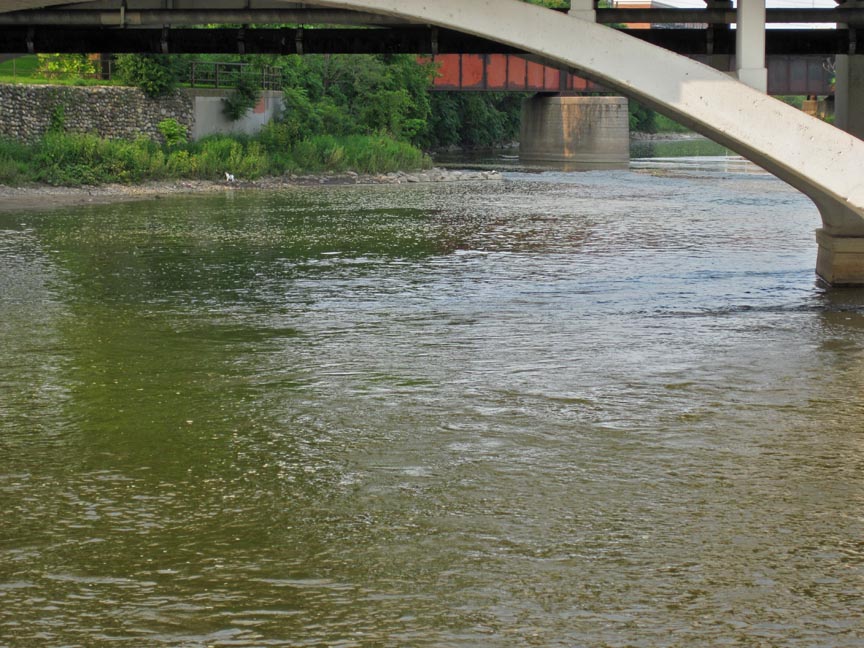 This next one caught me by surprise. Right at the North Aurora dam looking up stream along the west shore. Upstream is the Mooseheart shit plant with a small outflow. It's at the mouth of Mill Creek. Would have added an hour to get there to look, it's a hike in, and I was running out of time: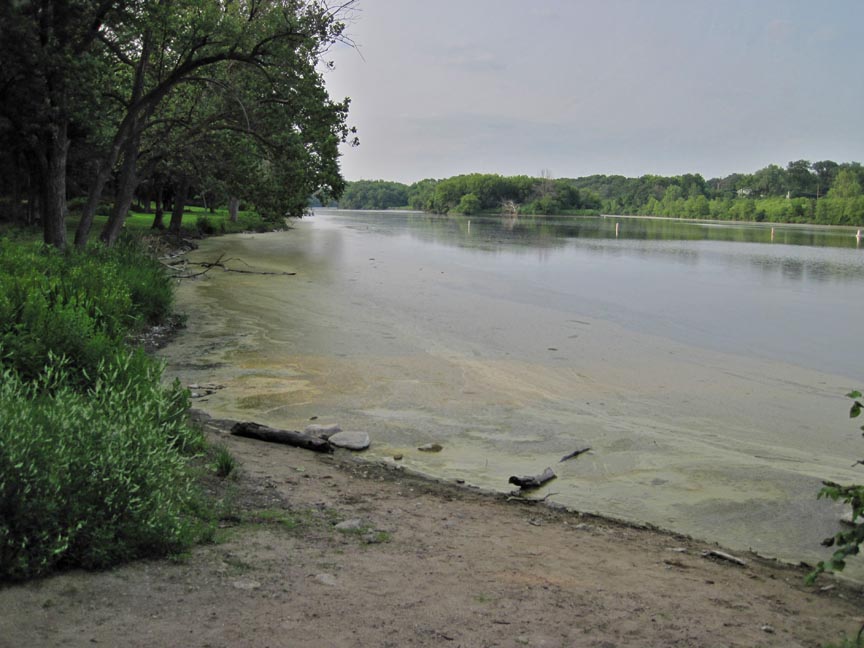 Last two shots are from Batavia. You can see some scum, but nothing like further down stream. There is a certain amount of this I'm used to. It's an urban river and I've seen it at all kinds of stages year round for 20 years. Still wouldn't call this normal, but it's closer: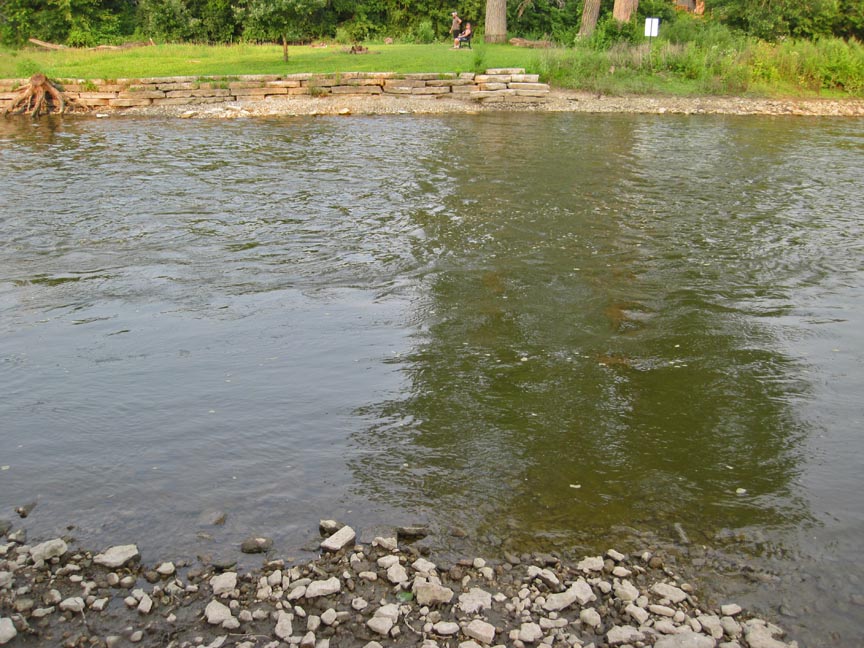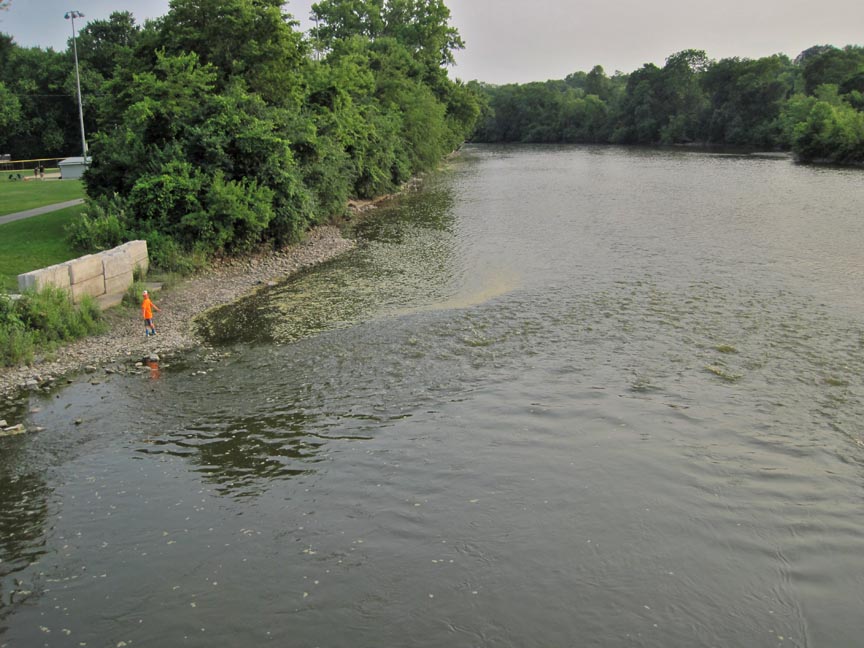 The next few shots is what I documented last year and never did anything with. I had already been standing in it while fishing and this shit was a bitch to get off my waders. While wandering around down around Millbrook, I came across a bunch of it and tracked it back to Route 30 when I gave up. It didn't look too bad at that point. I thought this was bad last year. It pales in comparison to what is going on right now:
I have no clue if this has anything to do with the scum, but the last couple of years they rebuilt and expanded Route 30 on both sides of the river. For miles on the east side. I know they installed all new drainage/sewer pipes, I saw them lining the road last year. I wanted to blame last year's event on that.
This year in Aurora on Route 31, they rebuilt 31 for a few blocks. I read they were replacing sewer lines to solve combined sewer issues.
Those both could be incidental to all of this. I'll never know.