Trout IS good with beer. I'm sure I can pick a trout species and find the perfect Sam Adams flavor to pair with it.
I have no doubt there are those out there scoffing and have an extensive list of white wines that would be better if only they could actually get themselves to eat one of their precious trout.
But I like beer.
Which is all besides the point. Point being, I thought I made it perfectly clear here back in January 2014 that I no longer wanted to be a Trout Unlimited member.
There are no trout in Illinois and I see no point in traveling to fish for them.
It took a few attempts at unsubscribing from their email to finally get that to work, but apparently nobody at the Oakbrook Chapter of TU seems to understand what unsubscribe means no matter how many of those I send back. I'll still get an occasional email from them.
The paper mail still remains relentless though.
Seems like every week I get another offer from TU to subscribe. Each time offering still another enticement. Like I need another 10 flies that I can add to the other 100 or so I've received from them over the years. All of which go unused.
For some reason though, no matter how junky I think the junk mail is, I'm compelled to open it and look it over before tossing it all in the recycling bin. With the latest enticement from TU was a bumper sticker. It was about to get recycled when I realized that with a little doctoring, it would make a nice addition on the back of the Piece 'O Shit Mobile.
So, there it now sits.
I think it looks good.
I never did finish my Is Good With Beer™ series to include trout. I do have one for Carp already done and up on my Skreened store and other fish species have long been planned.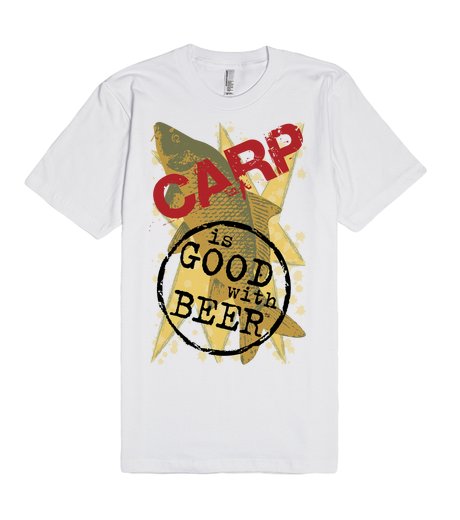 I'll need to get this done soon.
After all, trout is good with beer.
I should know.