Between 1925 and 1933, Ernest Hemingway published sixteen stories about a character he called Nick Adams. Appearing in various collections and arranged in no particular time sequence, the narratives appeared disconnected and incomplete. In 1972, after Hemingway's death, the stories were collected, arranged in the chronological order of Adams' life, and augmented with eight unpublished fragments found after Hemingway's death. From this reorganization emerged a coherent picture of Nick's life from his boyhood in upper Michigan through his adult experiences. Nick Adams' life runs parallel to Hemingway's life.
I'd like to give credit to the person who wrote that, but no name was given. Pretty much sums up this collection of short stories.
From high school through college I read about a half dozen books by Hemingway. I also recall reading Big Two-Hearted River. Since college, I haven't read anything by Hemingway.
Last year, just for the hell of it, I did a search on Big Two-Hearted River and found it online. Over the years I've lost the interest and ability to read novels. Virtually every book I've bought in the last twenty years has been collections of short stories. I knew there were other Nick Adams stories out there and a search got me to The Nick Adams Stories. A hint to my oldest daughter before Christmas resulted in getting the book.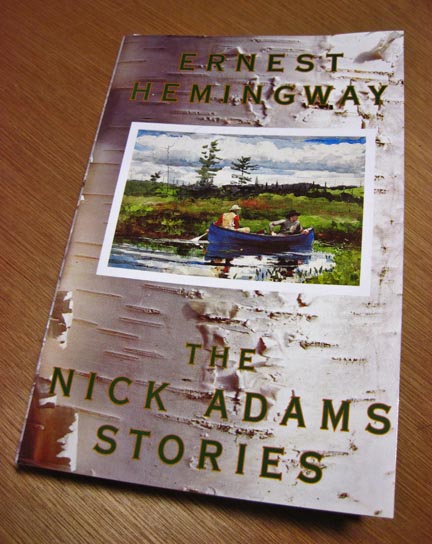 While studying art in college I did a lot of reading on early 20th Century artists and writers. One of my other favorite writers from that time was Gertrude Stein. I like the short, clipped sentences used by both of them and at times it's hard to tell the two apart. There's something I find appealing in such direct sentences.
I was disappointed when I got to the end of The Nick Adams Stories. I wanted more. I know the other Hemingway books I've read are basically the same Adams character with a different name, but I'm not up for reading a novel. Especially one I've read before, even if it was 35 years ago. I wanted more of these short, tight little stories.
I'm sure this book is old news to many, but then, like me, there are probably others out there over 50 that may not know about all of the Nick Adams stories. I'm sure there are some kids out there that know even less than me. To those, I highly recommend you go read these stories.