A few times a week I take a walk. I live a little over a half mile from the Yorkville dam and it's a nice hike there and back. Actually have a decent steep hill to walk up and down to test and stretch my joints and muscles.
Whenever there are fishermen hanging out fishing around the dam, you can bet at some point one of them will be fishing in the, well, that's the problem.
Is it a bypass channel?
Maybe a kayak chute?
Or is it the Marge Cline Whitewater Course?
The average fisherman is a pretty simple human being and when it comes to fishing, you can't tell them where they can or cannot fish. Especially if you're not making it painfully clear to them.
Once you start having a conversation with them, trying to explain to them that they can't fish in a certain area, the conversation gets turned around. It gets twisted in a way so that the fisherman at least thinks he's winning the argument. He's going to fish there. He's going say whatever he has to say to make that happen.
By the time you are done, you'll be doubting your sanity and wondering if there isn't a camera crew from TruTV hiding off behind a bush somewhere filming the whole thing.
There are signs on either end of the kayak chute saying No Fishing in the Bypass Channel. I knew when I saw the sign that it was a waste of time. The type is too small.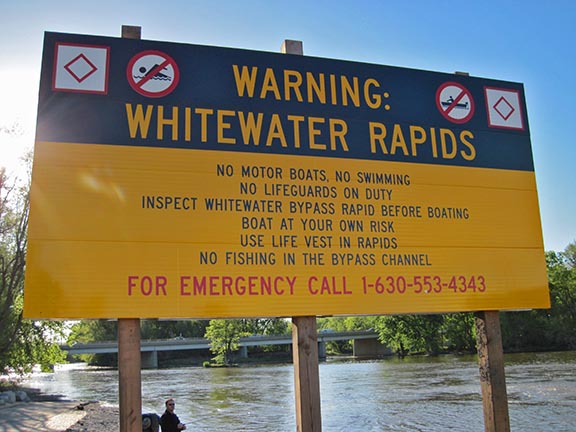 Look at the bottom of the photo. There's a guy standing behind the sign fishing. When I told him he couldn't fish there, I got "I didn't see anything on any sign." When he didn't argue with me and packed up and left, I knew he was lying.
That's what fishermen do.
Take a look at the last line of small black type. No Fishing in the Bypass Channel. In order to be an effective no fishing sign you have to have one this big with nothing else on it but the no fishing warning. The no fishing warning has to fill the whole sign and, even then, you'll find fishermen standing right next to it fishing and when you say something you'll get the exact same response I did.
Part of the problem is, what the hell is a bypass channel? You can bet that's running around the in the fisherman's head.
I wandered all over the park. I know this is called the Marge Cline Whitewater Course, but I couldn't find a sign anywhere stating that. The name should be on the sign to make it clearer to the fishermen. They have no clue what a bypass channel is, but they do understand putting titles on important things.
Not that they care.
To simplify it even more, since there are usually kayaks playing around in the whitewater course, even fishermen know what a kayak is.
Call it a kayak chute, put that on the signs and be done with it.
No Fishing in the Kayak Chute.
In the long run it still won't matter. It didn't matter the other day when I was wandering around along the kayak chute. There were two people fishing the fast water of the chute. While a guy in a kayak was telling one they couldn't fish there, I thought I would take pictures of the other.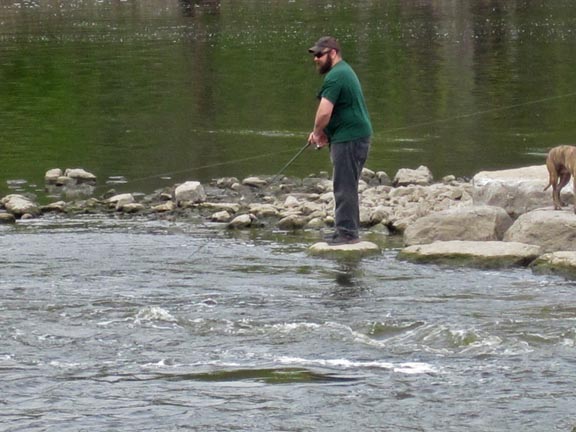 He saw the other fisherman getting shagged off, so he hurried things up a bit and fired off a few casts all the way across the chute.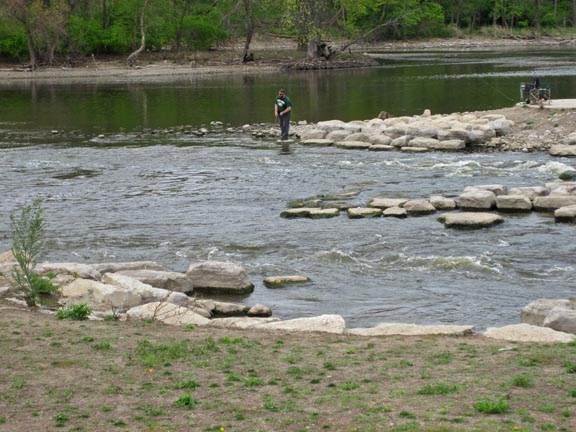 As the guy in the kayak floated toward him, the fisherman turned his back on him, walked further up the shore and started fishing up there.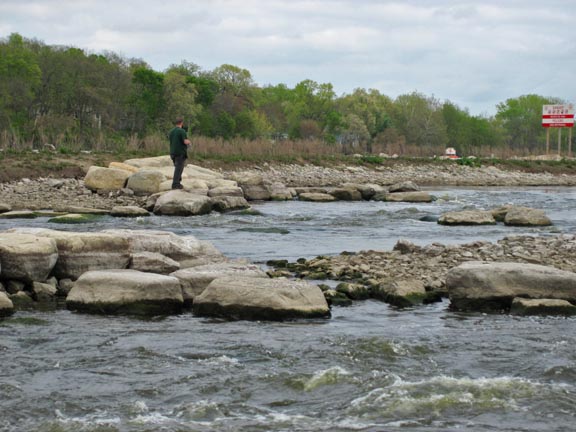 I already know if you were to confront this guy he would first deny seeing the sign, which would be a lie. Then he'd say he didn't know, which would be another lie. Then he'd say he wasn't fishing around the kayaks, which is irrelevant.
You can see how this would continue. He'd always have something to say in his defense, even if his defense is pointless.
That's what the average fisherman does.
The guy in the kayak saw me taking pictures and wandered over to where I was standing. We talked awhile about the ignorance of fishermen. The other thing that came up was the hazards of hooks getting lost in the chute. Inside those little kayaks, all they have on their feet are neoprene socks, no shoes or boots. The other day while wandering around the kayak chute, I found these lying around.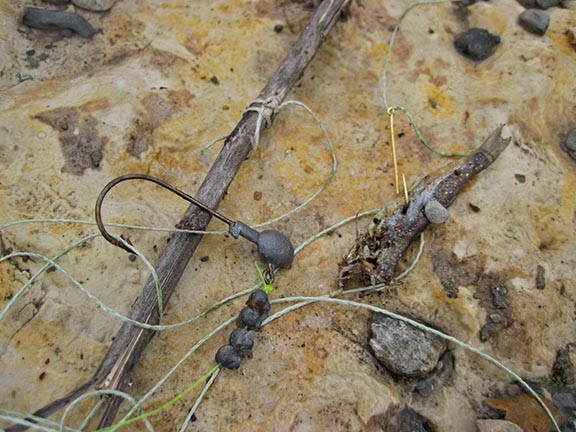 These hooks are relatively small, but to a kayaker that flips over and has to put his feet down, getting one of these in your foot is going to suck. Even worse, I found one of these on the bottom of the river the other day.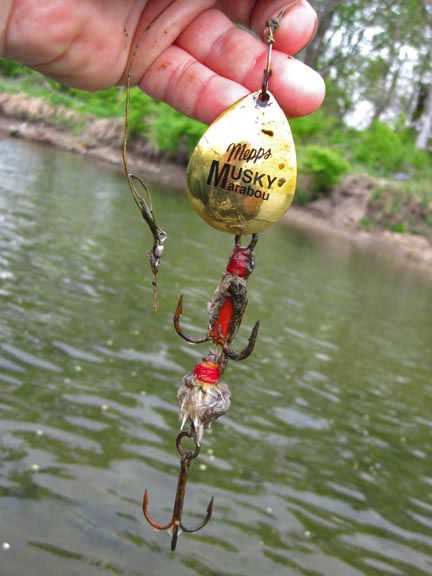 That can cause some pretty major problems.
The kayaker and I talked about signage, it's size, what it should say and where it should be put. That night, I put a comment on the City of Yorkville Facebook Page saying that they need to do something about this. They need to put up more and bigger signs.
Today when I wandered down to the river, someone had put up a new sign.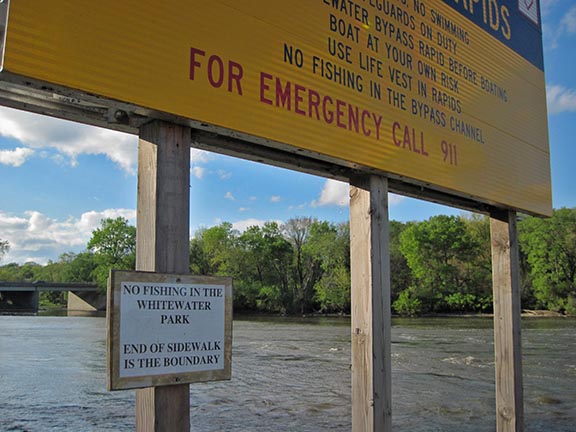 That's not going to work. The type is even smaller than what is on the big yellow sign that the fishermen say they never saw.
Plus they call it a Whitewater Park. Now you've got the fishermen even more confused. Still another term. I already know a fisherman is going to tell you he wasn't fishing in the park.
So, here are my suggestions. Call it a kayak chute. Simple and to the point. No Fishing in the Kayak Chute. Six words I know is a lot, but I can't figure out which one to get rid of to make it even shorter for the fishermen to understand.
Make the signs big, huge, bright yellow with gigantic black type that fills the sign from top-to-bottom and side-to-side.
One has to go on the south side of the river near the footbridge. If necessary, get two of them, that way they can be seen from a variety of directions.
Another one needs to go on the bridge. As you walk to the end of the bridge, the whole field of view should be filled with the sign. This photo will give you an idea of what I'm talking about. As you walk, all you should see at the end is nothing but sign.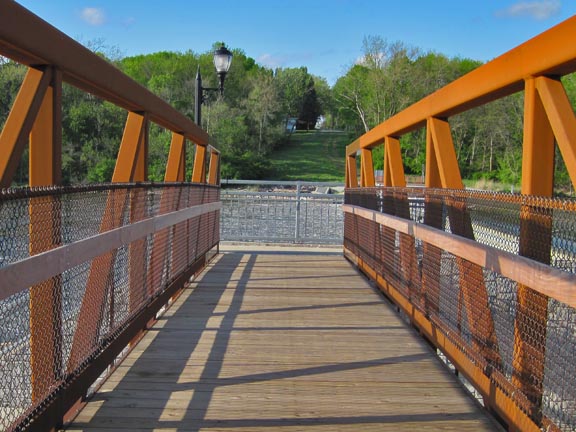 The other option is to have a bunch of 3 foot by 4 foot signs made up, again, filled with No Fishing in the Kayak Chute. All along the kayak chute, on both sides, one of these signs should be placed every 50 feet. From the beginning to the end of the kayak chute.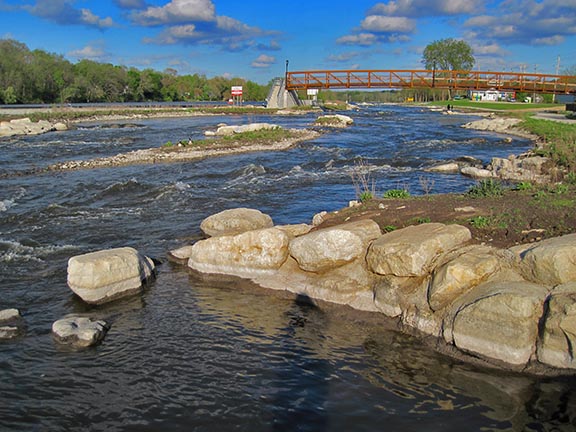 I have a feeling that won't be all that visually appealing.
Even then I already know that idea is doomed to fail.
One day you'll go down to the kayak chute and there will be a fisherman.
He'll be standing smack dab in the middle between a couple of the signs, fishing the kayak chute.
He'll be so centered between those signs that if you got out a tape measure and measured, you'd find that he missed dead center by less than an inch.
If you go up to him and tell him he can't fish in the kayak chute, his eyebrows would go up, his eyes would widen, his head would slowly turn both up and down stream.
Then he'd look you dead in eyes and without batting an eye he'd say…
"I didn't see no signs."