The reluctance of the fish to head up the creeks has been both fascinating and frustrating. Not just smallmouth bass, but any kind of fish.
I really shouldn't be all that surprised considering the winter we had.
I forget what these flowers are, names of things don't really mean much to me anyway, but I finally came across a small batch of them, very small. Like, this was it.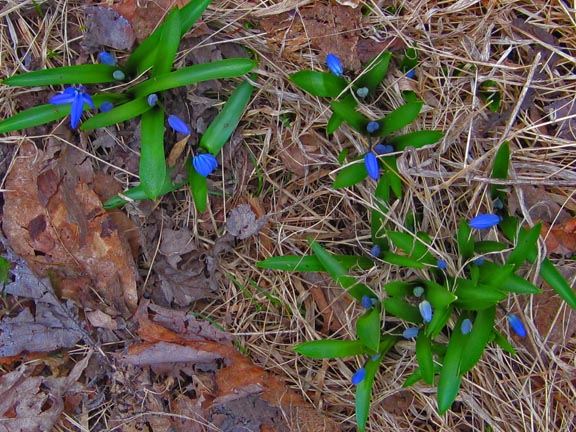 Usually by now they're everywhere and have been for a few weeks. Like the fish, they're taking their sweet time showing up.
For the past few weeks I've been hitting five different creeks, from nine miles inland to the mouths. Except for slightly increasing bug hatches, they've been completely devoid of life.
Today I combed a half mile of a creek. A half mile inland to the mouth. Starting from the inland side, the first few hundred yards were again completely devoid of life, except for the bugs.
A couple of hundred yards from the mouth I finally spotted two huge schools of minnows, bait fish if you will. One was hugging tight to the bottom of a shallow sandy area and the other was one big undulating ball of bait in a hole over five feet deep. I took this as a good sign for the two hundred yard walk down to the mouth.
I took it wrong.
Not another living thing seen.
Well, almost.
At the mouth a couple of quillbacks decided to play porpoise. There's no mistaking their back when they briefly come up out of the water.
I stood in one spot that lets me cover a lot of water with virtually no movement on my part. Not a thing hit and that really came as no surprise.
But I kept casting and casting and casting far beyond the limit I set for myself when the fish aren't biting.
It was too nice out.
We haven't had nice in a long time.
It was a nice sunset.
I haven't stood in the water and watched a nice sunset in a long time.
Friday I'm going to repeat this.
By then the water will be a bit warmer.
More bait fish will probably have moved up and I'm sure the bug hatch will be bigger.
And maybe the bite will finally turn on.
We haven't had a turned on bite in a long time.