To play catch up, you can read the past progress reports here.
____________
As far as I'm concerned, the removal of the 175 year old, nearly 8 foot tall dam near the mouth of Blackberry Creek was a raging success.
I gauge this primarily on the migration of smallmouth bass up the creek, of which there were hundreds. But numerous other species of fish were also caught far up the creek this past year. It's hard to tell if those species were already in the creek, most likely, but I have no doubt quite a few new fish found there way up stream. One of the ones I was surprised at was the longnose gar. Never saw one beyond the base of the removed dam, but there's no reason why they shouldn't be able to make it further inland.
Only time will tell.
If you look through the list of posts made in the link at the top, there's a gap in what I had been putting up. There were two reasons for that. First, by the first week of July it had pretty much quit raining and the creek kept dropping. Second, when this happens I don't like to go out and pound the hell out of fish that are sitting in diminishing pools of water.
Now and then I would head over to the creek mainly to see if any progress was being made in restoring the area of the removal back to something a little more natural. You'll see some of those photo's below. For about seven weeks I didn't bother going over to the creek at all. Low water and it was basically like watching grass grow at this point. As you'll see, it was exactly like watching grass grow.
So to start, on July 7th I wandered to the creek:
A few weeks ago I read an article about the dam removal. I can no longer remember where and I can't find it. But I remember IDNR stream biologist Steve Pescitelli being quoted in it at length. One of the things he mentioned was the smallmouth bass migration up the creek and that they found them four miles inland.
For over a decade I've been exploring Blackberry Creek inland, but never fished it. Since I pursue smallmouth bass in creeks, I assumed because of the dam near the mouth there was no point looking for smallies. Over those years I would fish at the base of the dam once or twice a year. Every smallie caught was tossed over the dam, my own little stream stocking program. A couple of years ago a friend sent a note that they had caught a couple of smallies about a mile up from the dam. Apparently my private stocking program might have worked a little.
This year I went inland looking for them. I've been eyeballing a spot ten miles inland for many years and on July 12th I did a little exploring: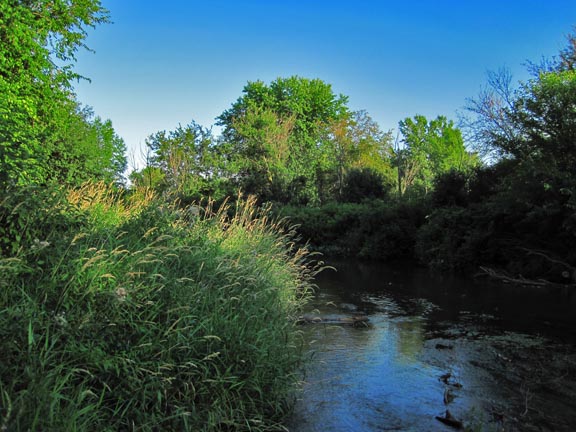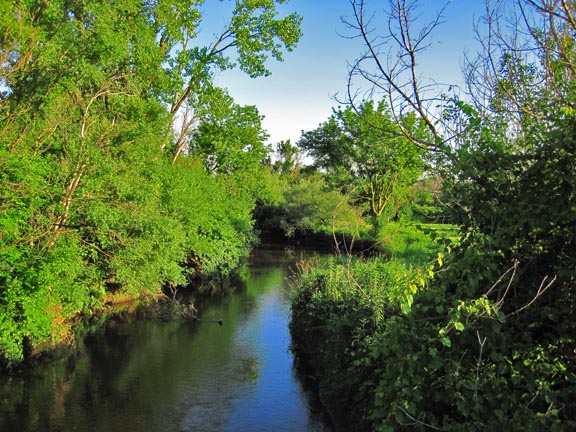 On July 22nd I was back at the main construction site to see how things were growing along:
I didn't go back again till August 11th:
One of the things I don't think they should have done as part of this project is restore what they call a wetland. If the dam wasn't there, this wetland wouldn't have existed. At least not eight feet above the creek bed. I think this is all fill that slowly collected over 175 years and if they really wanted to restore this wetland, then they should have taken the whole area down to creek level: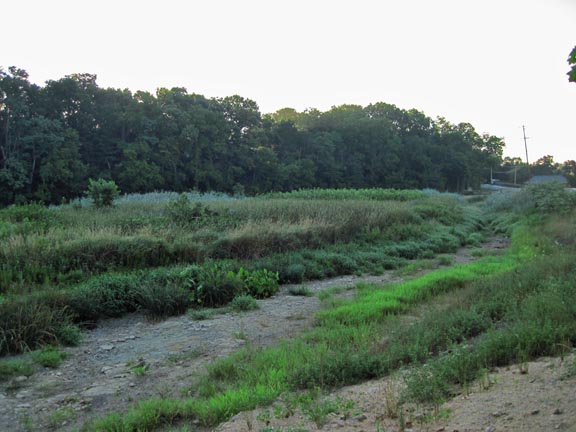 I didn't go back to the creek again till October 2nd. Most of the pictures I took that day are in a post that I put up on October 7th. There's an update on the creek in that post.
We had been getting rain by then, but it came too late to get things growing. It did soften the dirt in the area though. The one thing that pissed me off that day was seeing this:
And with this, I am done with my Blackberry Creek Dam Removal Updates.
There will be no more.
I'm sure I will go fishing on the creek come March, I'm sure I'll catch some fish, I'm sure I'll take some pictures and I'm sure I'll write something up about the fishing trip.
But I will no longer mention the creek by name. There will be no recognizable photos of the creek posted. As far as anyone else is concerned, it's just another one of the seven or so creeks I fish that happen to feed into the Fox River.
This is going to be done for purely selfish reasons.
The interest level in fishing the Fox River and it's creeks, at least in the areas I like to fish, has dropped off considerably over the past eight years.
I run into practically no one while out there fishing.
And I want to keep it that way.