The best wading boots I've ever owned were a pair of Cabela's boots that I vaguely remember being called Guidewear. They had all leather uppers and rubber soles that weren't lugs, but a soft rubber pretty much guaranteed to not slip. I put them through hell for two years before they wore out. When I went to purchase another pair of them, they had quit making them. At least the rubber soled version. All they had were the felt bottom version.
Felt is worthless around here. To get to the river you have to eventually walk on mud. Felt on mud is like walking on the slickest ice imaginable, out of the question.
Since then I've been trying different types of Cabela's wading boots with varying degrees of success.
Back in April of 2011 I wrote about how a two year old pair of Cabela's Guidewear wading boots bit the dust, These were similar to what I had used years earlier. Only problem was, I no longer had the budget for them and I had to get newer cheaper ones, I put up a post about what ensued from there.
In March of 2012, those boots had all but disintegrated and I documented that pretty well too.
Dear Cabela's — Your Wading Boot Suck
Within a few days of putting up that post, the boots had self destructed completely.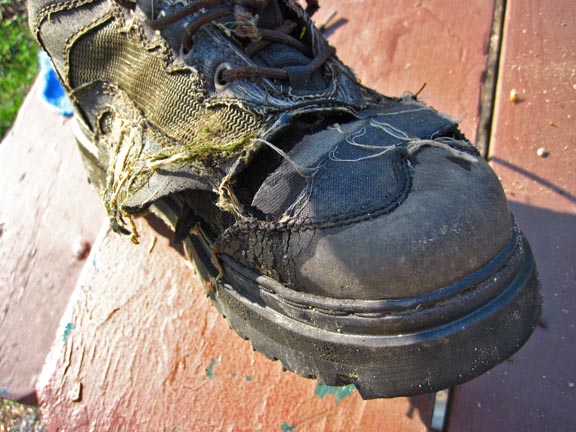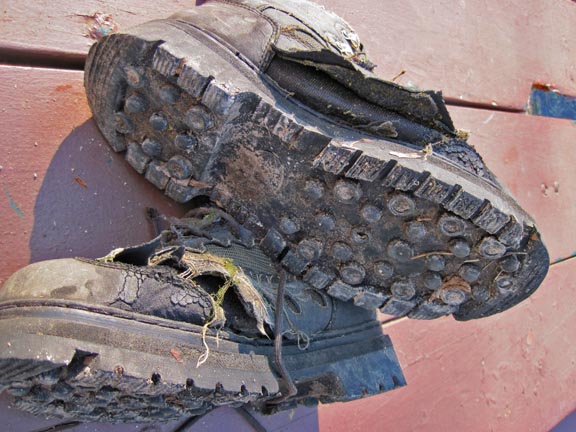 Almost immediately I was contacted by Cabela's customer service. They wanted to send me a pair of their latest greatest Gold Medal Wading Boots to try out. For free. Free is hard to turn down and I promised I would put up a review after I put them through their paces.
Six months later and they're looking like I put them through a meat grinder, at least the bottoms. They are no longer useable and at the moment, I can't replace them. Luckily they're self destruction coincided with the end of the fishing season. Would be nice to get out a few more times, but I may have to give up on that idea. Unless I fall back on the old Simms boots I still have laying around. Ugly, but still useable.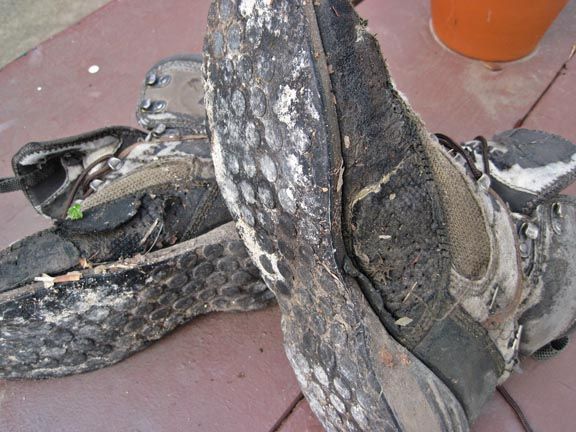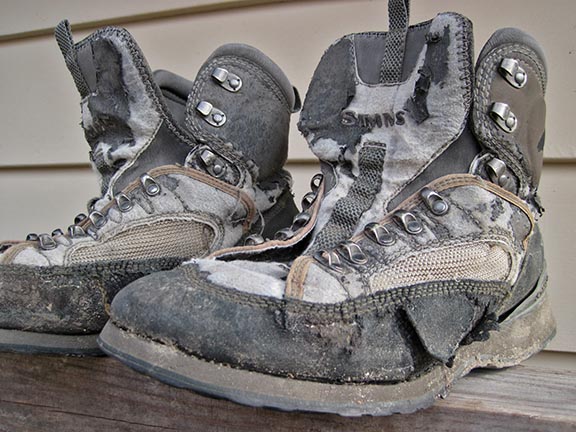 So without further delay, here's the review of the Gold Medal Wading Boots.
First, the details:
Cabela's Gold Medal Wading Boots

• Wading boots that double as hikers
• Removable EVA insoles and 1/4″-EVA footbed liners
• Hard-rubber cleat receptacles
• Microscreen drains rapidly release water
• Waterproof, full-grain nubuck uppers

Extend your footwear options to accommodate a range of ground surfaces without having to invest in multiple pairs of wading boots. The hard-rubber cleat receptacles are compatible with both steel and carbide tipped cleats to double your ground-gripping options. EVA insoles and 1/4″-EVA footbed liners remove to make room for stockingfoot waders, or leave them in place for an added layer of warmth while feet are submerged in a cool stream. Dual-density rubber outsoles provide traction over a wide range of wading and trail conditions. Microscreen drains rapidly release water, while simultaneously blocking unwanted pebbles and sand from entering. Waterproof, full-grain nubuck uppers. Imported.
On March 23rd, they arrived on my doorstep.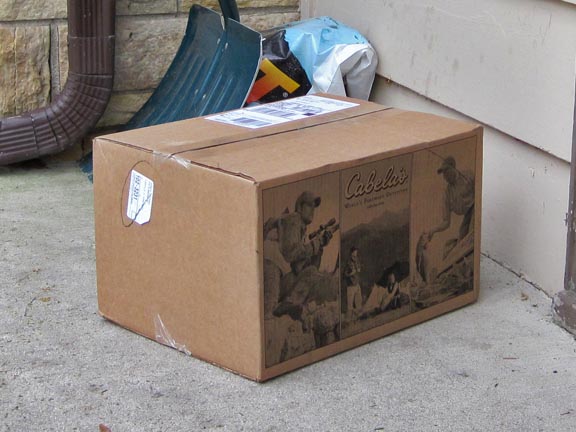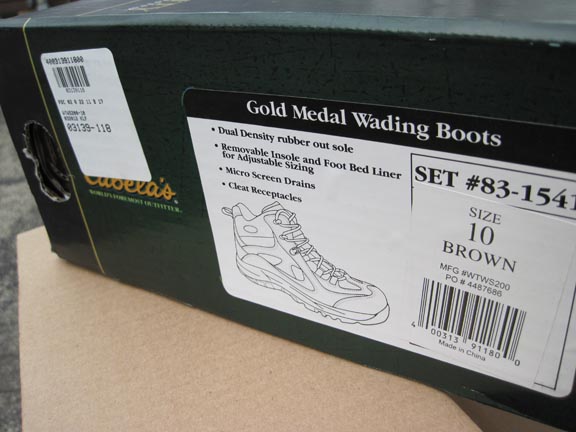 Out of the box, they looked pretty good.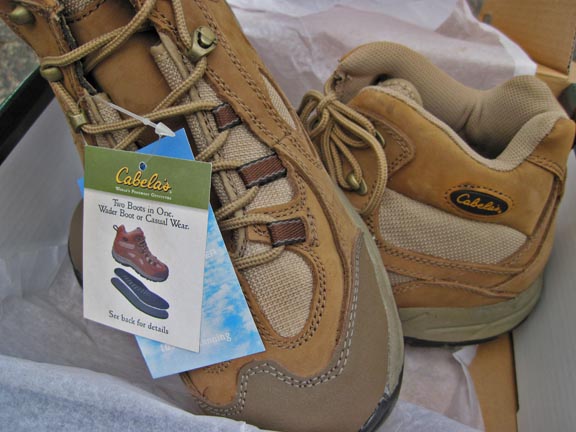 I knew right off the bat a couple of things were going to be an issue.
There was no way I would ever use these as hiking boots. After they had been marinating in the Fox River for a number of hours, there would always be some kind of layer of rubber or neoprene between my feet and the boots. I have no clue what's in the Fox at any given time and I didn't want to find out if the flesh on my feet would get eaten away by something I was wading in.
I would also never use cleats. I don't understand the idea of screwing sharp objects into the bottoms of your boots, then applying nearly 200 lbs. of downward pressure to them on a regular basis. I would imagine it's only a matter of time till it's like walking on a bed of nails.
Before I got them wet, I tried them on while only wearing my usual pair of socks. I left both the insole and bed liner in the boots and they fit and felt well. I could see using them as a pair of hiking boots, but that's not why I needed them.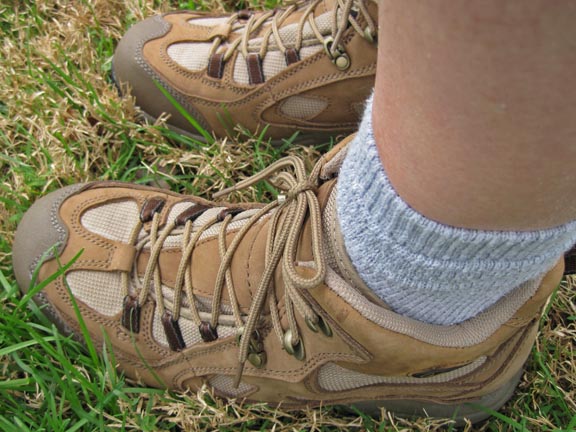 Next I put on my waders. I wear a pair of socks like those pictured above. Over that I put on a relatively thick pair of socks made of merino wool, then slip on the waders. I wound up taking out the bed liner, the boots were a little too snug with them in place. They felt good.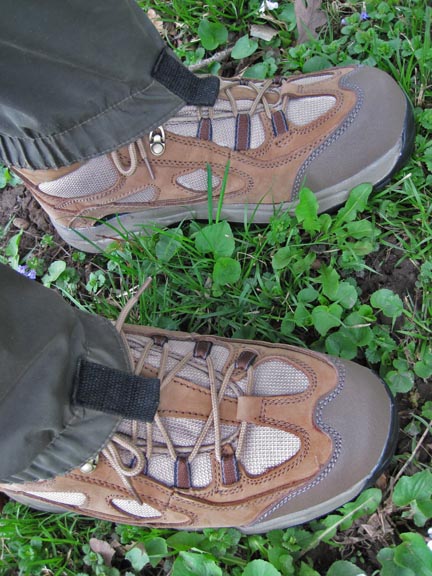 Another issue became apparent. They don't work with built in gravel guards. The boots don't come up high enough. As soon as I started walking the guards crept over the top of the boots in the back. For the next six months I had to put up with rocks, gravel and sand getting in the boots. They might work with gravel guards that you just wrap around, but I don't use those. It's just two more things for me to lose.
As the little tag on the boots said…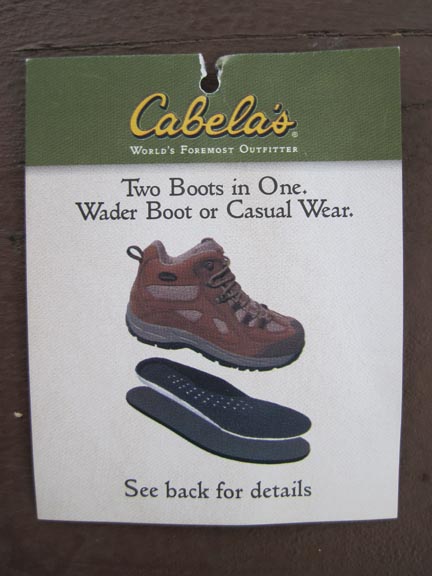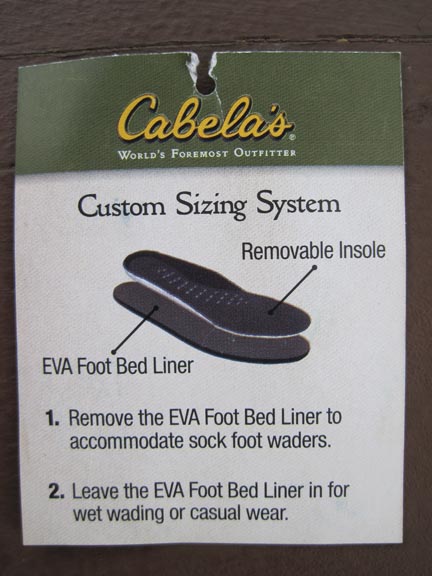 For some this might work. I just needed wading boots.
I then proceeded to put them through hell for the next six months with over 75 wading trips. The soles, without adding cleats, did a decent job in keeping me from slipping. But then, this is the Fox River, not some clear mountain stream. I could see doing a bit of sliding on bigger rock structures. For the Fox, I've had better, but these did alright. The uppers are just stiff enough to keep my ankles protected from twists and turns and the boots are light enough that wearing them for extended periods of time was not a problem.
In October they started to fall apart. I had noticed a month earlier that the layer of rubber between the boot and the sole wasn't looking too good. My feet were noticing this too.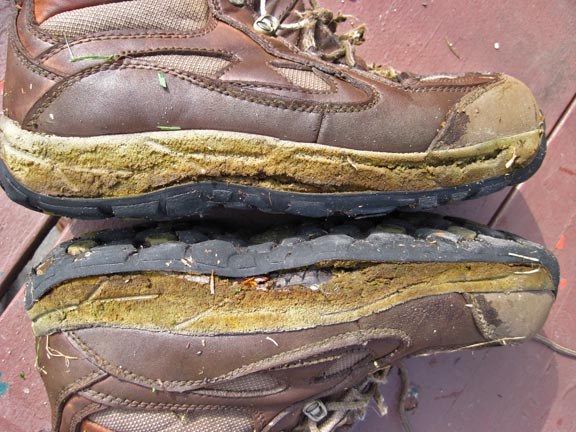 It also felt like the rubber was getting compressed by that nearly constant 200 lbs. of pressure I was putting on them while I walked. Why I refrain from screwing things in the bottom of my boots also became apparent. I could feel the rubber nubs on the bottom of the boots pressing against the bottoms of my feet. I have no doubt the screws would have come up into the boot and I'd be getting stabbed in the feet by the points.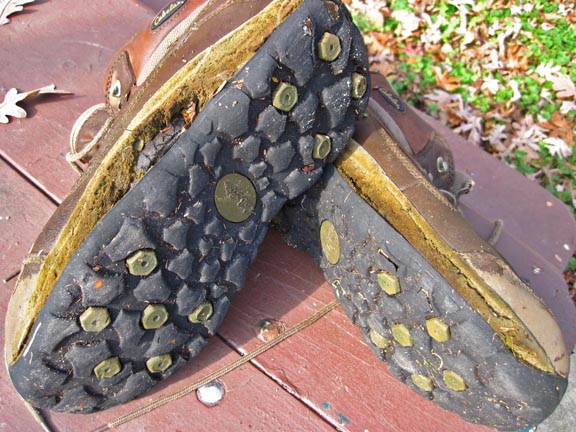 On Tuesday, October 23rd, the sole started pulling away from the boot rendering them now useless.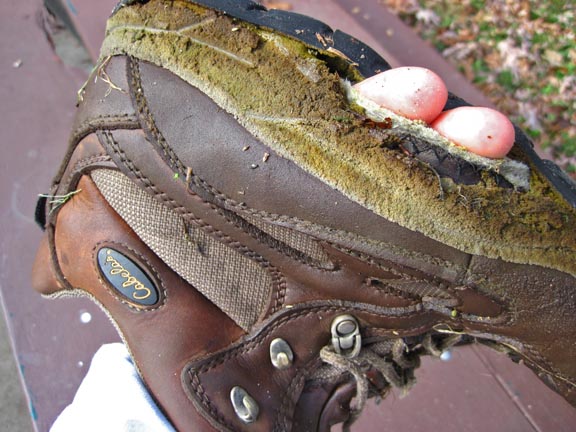 It's too bad. The upper part of the boot is holding up really well. Much better than the last pair of boots I had bought from Cabela's. I would like to recommend that another supplier of shoelaces be found. I kept cutting and patching these together every time they broke, rather than replacing them, just to see how they wound up at the end of the year. There has to be better shoelaces that can be supplied with wading boots.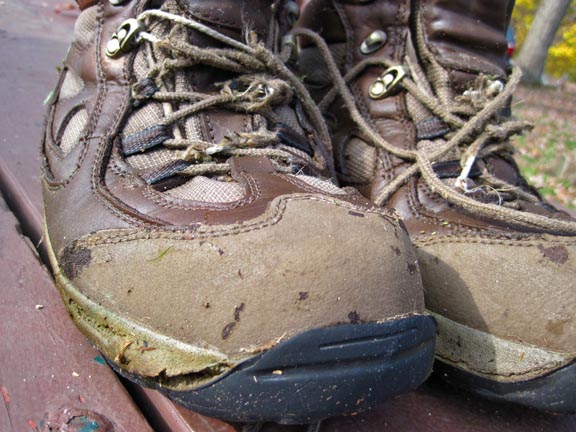 So, would I buy and use these boots again?
No, too many issues for me.
Can I recommend them to others?
Well, maybe.
I think you have to look at your own wading and walking habits. Maybe someone who only wears these in crystal clear streams may not have the same issues. Once they dry out, maybe wearing them for a hike won't bother you. Marinating them in a semi-urban river like the Fox and then putting them close to your feet? I wouldn't do it.
They definitely don't work with built in gravel guards. I do know a few anglers that use the separate gravel guards, that might work from what I've seen, if they don't get lost first. It's also just a bit too much fussing for me.
I would hate to think that based on my review of the Cabela's Gold Medal Wading Boots that they would be rejected outright by others. They didn't work for me on the river I fish the most. I think someone with different wading habits and a different locale needs to give these boots a try and do a review.
I think that would be a much fairer approach.
If you think these boots might work for you, go here: