The kittens are now 5 months old. Three of them have been sent to homes of others where they are all doing quite well.
Two of them my wife refuses to give up.
When the kittens were around two months old, Trip, their momma that grew up outside and prefers to live outside, tried to coax all the kittens outside. My wife refused to let that happen. One day Trip went out the door and refused to come back inside. That left my wife as the kittens new momma.
And they do treat here like momma. Follow her around the house. Do things to annoy her and generally be the pain in the asses that kittens are.
This is Turtle, or Turd. And, since he's so big he's your typical gangly young male that runs into everything, with a possibility that all is not right between the ears, he's also called Returd. At five months old he's already the size of a full grown male cat. He still has 7 months of growing to do. He's going to be a monster.
On the right is Shan, the old man of the house. That would be Chill on the left, also known as Chili. Both names describe her range of moods. She's either hanging out and you can do whatever you want to her or she's bouncing off the walls. She's your average size female kitten, a little skinny, but that comes from running through the house at full speed.
The two kittens are inseparable. They chase each other through the house and wrestle all the time. They like to stalk Weaver the Bitch Cat, but they know not to get too close cause Weaver doesn't play well with others. When they tire of that they give each other baths. Eventually they pass out, curled up against each other.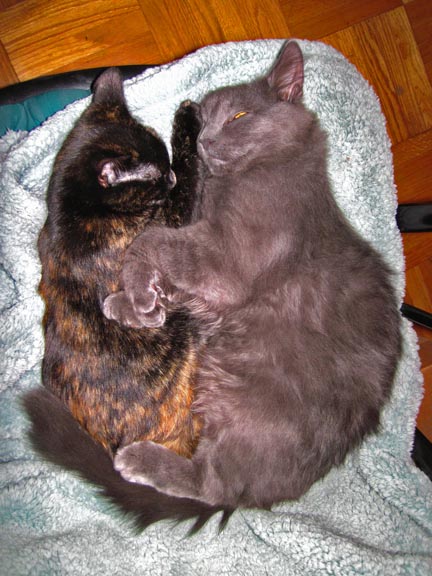 The wife insisted that I not put up the next two photos. She does not like to have her picture taken and does not want her face on Facebook or my blog.
To which I replied… tough shit, get over it.
Anyway, when the wife lays down the kittens have to lay with her. It becomes a competition, who can snuggle closer to her head and face. They don't do this to me. They'll watch each other and steal a closer spot from the other when the opportunity arises.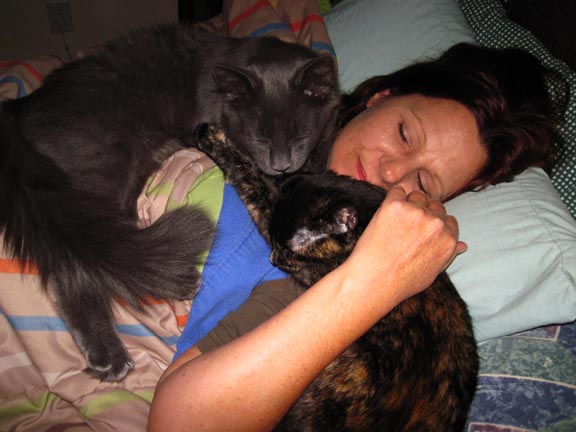 Turtle, through sheer size and weight, always wins and winds up laying on her face and head.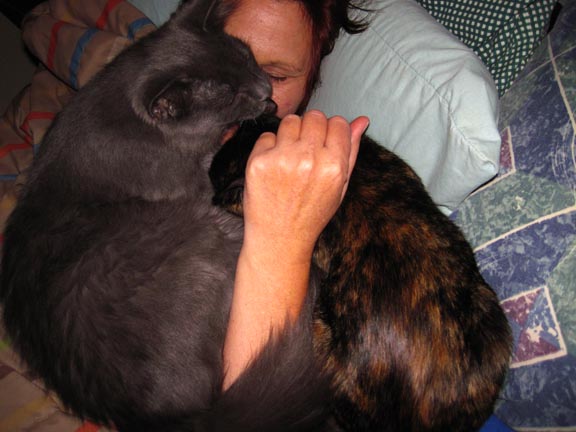 It's funny now, but by the time they're a year old they'll nearly double in size.
That would make Turtle almost the size of a bobcat.
I expect one morning to wake up and find my wife suffocated by her kittens.