I don't know why they call this Duck Creek. A duck would have to be a fool to go that far back into the woods.
As for moderate, that's if you stay on the trail. I don't know how to stay on trails.
Was going to make this a long post with pictures from last week and today to compare and contrast, but that would take too long and I'm tired.
Last week I stood on a high ridge overlooking a pretty little spring creek. Toyed with the idea of going down to the creek, but the woods were still filled with snow and I didn't relish sliding down the hill on my ass.
This week I took a different route in.
Same high bluff, different location, all the snow for as far as could be seen was gone.
I thought it would be a good idea to follow a deer path down to the bottom.
Deer always take the path of least resistance.
Half way down the hill there were deer skid marks. I had a flash of wishing I had gone down the hill last week. Snow, mud, I'll take snow.
Luckily there were strategically placed saplings all the way down the hill. I assume I looked like George of the Jungle swinging my way down. Gravity didn't win this one and I made it to the bottom still standing.
Was worth the trip.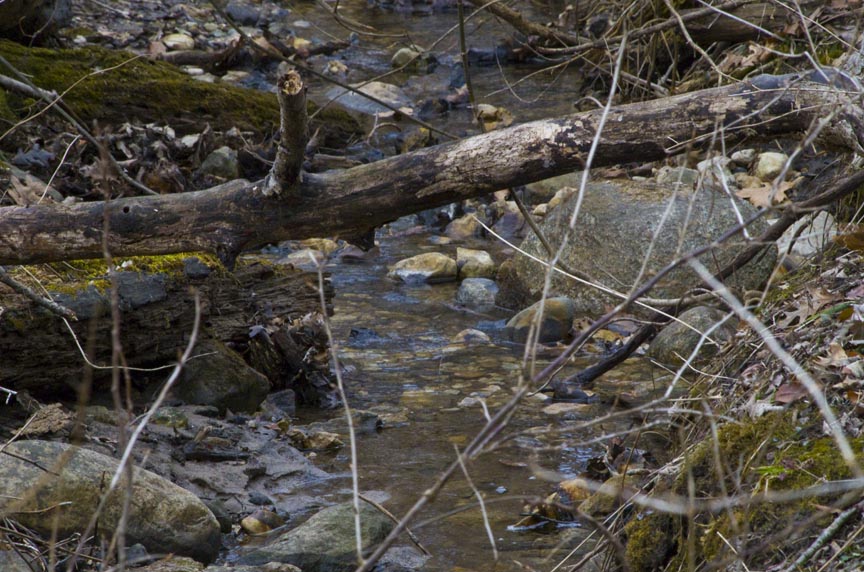 When I got to the bottomlands I began to see things poking their way out of the ground. Green things, but they were mostly a beautiful deep burgundy. They were everywhere, skunk cabbage.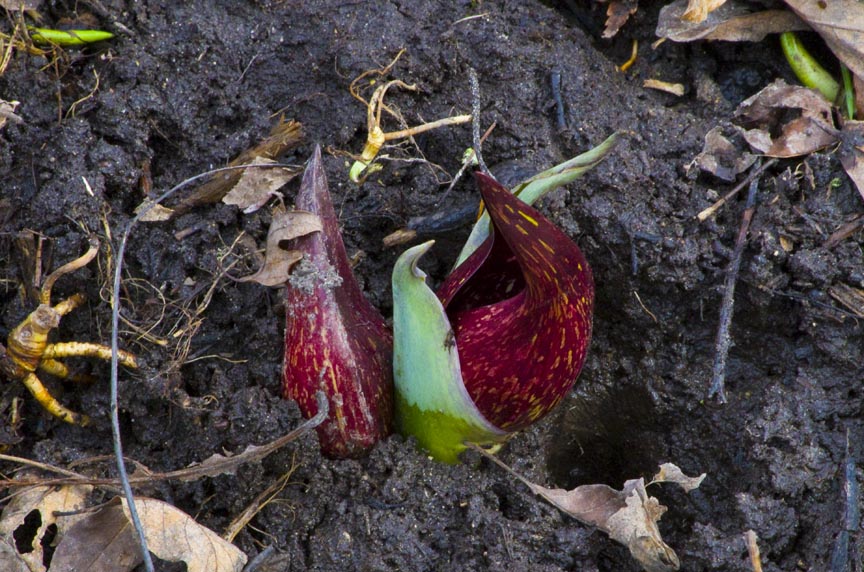 I then remembered where I normally see skunk cabbage. Bottomlands, wetlands, flood plain, call it what you will, but it's a swamp.
I did my best to tip toe around all the emerging skunk cabbage so I wouldn't crush any of them. Try tip toeing through a muddy swamp. It doesn't go well when from your toe to past your ankles you're stuck in mud.
Walking in the spring creek took care of that.
Got to the mouth of the creek where it enters the river. Turned to head out and there it was, the high bluff I stood on the previous week to survey where I now stood.
I decided to skip following the deer paths and blaze my own trail up the slope.