That's all the text message said, Driving on 290 toward Rockford, and there was a photo attached. I had to have Nina email me the photos, the screen on my phone is barely 2 inches square and I was wondering why she was sending me a picture of the back of somebody's SUV.
Because there were two deer strapped to the carrier on the back of the SUV.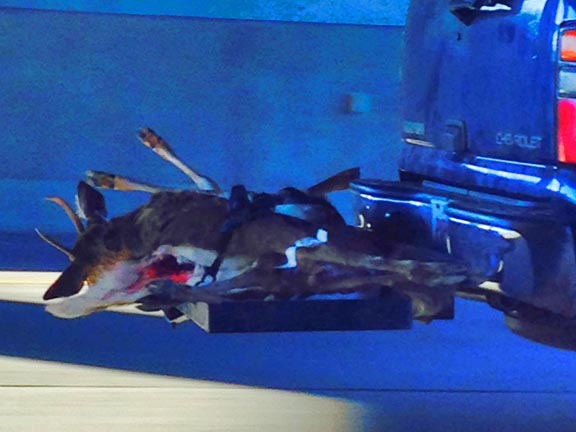 Got to hand it to a daughter that thinks of their dad when they see something like that. She knows how much I enjoy hunting even though I've only had the opportunity to go deer hunting once about a decade ago out in Virginia. I did get a deer then, with a muzzle loader that's a replica of a Kentucky long rifle. For the first time I went deer hunting, I didn't know it would be my last chance in a long while, I wanted to do something a little more traditional. I had no access to bows and a friend had given me this rifle.
What I've found out since then is that hunting can get expensive. Years ago I used to go pheasant, squirrel and waterfowl hunting fairly often. Over the past eight years hunting has become a luxury I simply can no longer afford except for the occasional squirrel hunt. Even then, the places I like to go squirrel hunting are a bit of a drive and it's been hard to justify burning off the gallons of gas it takes to go bag a few squirrels.
Some day.
Some day I'll be able to go out pheasant hunting again on a whim and not do a complex financial analysis of my cash flow projected two to three months forward first.
Some day the time and financial resources will coincide so I can go spend a few days down in Missouri and hunt with my father-in-law. He owns 40 acres on the Missouri/Arkansas border that is begging to be hunted.
Some day I won't think twice about driving the 200 mile round trip to Morrison Rockwood State Park or the 260 mile round trip to Apple River Canyon State Park just to go squirrel hunting. They are the two finest places I've been to for the simple pleasure of a day of squirrel hunting.
Some day I'll be able to get out deer hunting around here, but I still plan a more traditional outing. I have a long bow with a slight recurve that I've got pretty good at shooting. I even have a couple of hand made wood arrows I've set aside for this opportunity.
Some day.
Till then I'll rely on the occasional photo's from friends to remind me of missed hunting opportunities.
Or I'll just wait for my daughter to send another text message, with another photo of deer on a carrier.
I told her the next time she sees something like this to flag down the driver, get him to pull over and find out how much he wants for a hind quarter. You never know, an attractive young woman asking about deer hind quarters just might get her one for free. I've got killer recipes for venison chili and stew that are gathering dust and a hind quarter would be perfect.
Then there's the fettuccine with venison alfredo sauce…