It's been one of those weeks that started out having me question why I bother with the local fishing forums. With their use of aliases, they've always seemed to be a breeding ground for anglers to hide behind those aliases and act like assholes. I'm sure they think they're being cute and the other assholes on the site roll right along with them, but I've met far too many others that won't participate on forums because of the assholes. Those tend to be the anglers worth meeting and starting conversations with.
I had to deal with the egomaniacal stalker that has been around for years. Every year or so he has to crawl out from under his rock. He made the mistake of doing that at an isolated spot on the river a few years ago. He was warned on how doing that again would be hazardous to his health. Now he just shows up where ever I am on line to show others how much better of an angler he is than me.
Problem is, I don't care. It's just fishing.
It wears me out to have to deal with bullshit like this.
It took all week to get the bullshit out of my head, to quit questioning why I'm bothering being on the forums. I keep thinking that somehow it's important to be there because of the writing and guiding I do. I think that sense of their importance has disappeared.
With that bullshit in the background, I still managed to salvage the week. The highlight was my first guide trip of the year with Jon Coe. In his mid 40's, he only started fishing in the last couple of years. New to fishing, new to fishing rivers, he just wants to learn.
I like getting out guys like this. No preconceived notions about fishing, they're perfectly happy catching anything that hits and size doesn't matter. It's like fishing with kids, every fish is a big fish and it was so cool.
With bright blue skies and the water temps dropping 10 degrees now that the air temps have gone back to normal, I knew the fishing was going to be less than stellar. I hope I didn't overwhelm him with all that I showed him. He was able to get a couple of hits and at the very end we were joking about the last fish at the last spot before we got on shore.
Sure enough, a fish cooperated.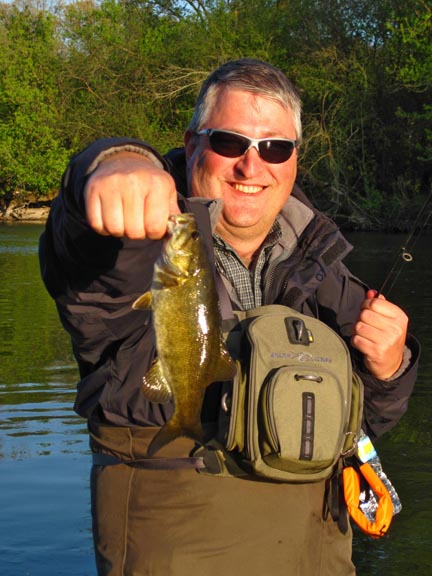 The timing of that fish was impeccable.
Those who hire others to provide a service like to rate and review how we do. What they don't realize is that those of us that provide a service like to rate and review our clients. I put Jon in my top 5 guided trips. Had a wonderful time.
Also got out to a creek a couple of times. Expected nothing and got nothing, the creek was too low and clear. I spent most of the time wandering around watching the suckers and quillbacks migrating up and down stream. My nose was telling me that the spawn wasn't over yet, that sweet musty smell still hangs like a mist above the water. When really bored, I just wandered around taking pictures.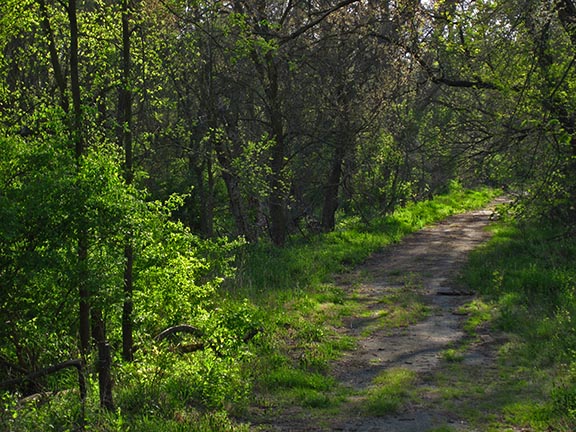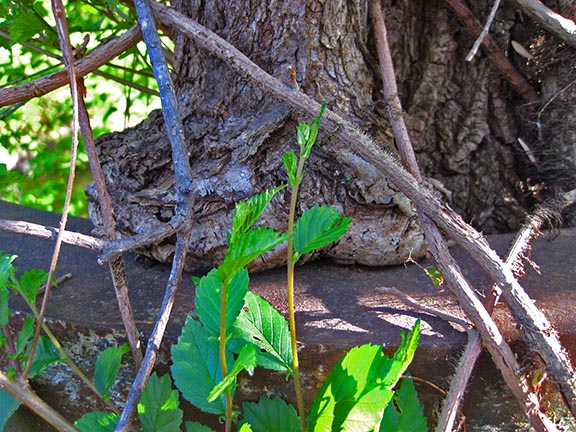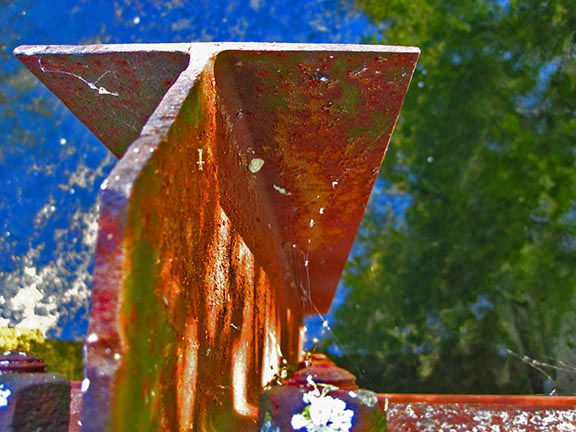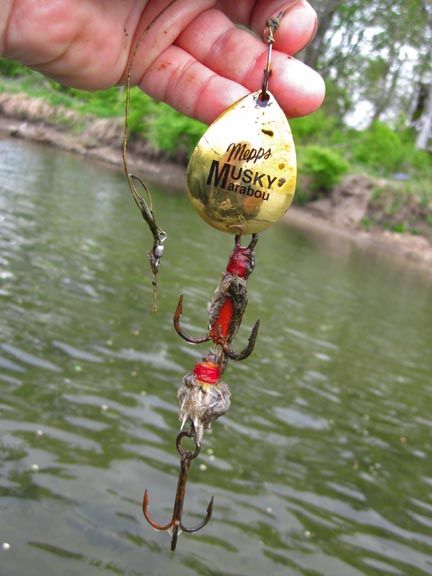 On Saturday, the clouds rolled in and the threat of rain was in the air. I picked a stretch of the Fox River that I thought for sure was going have a few others out fishing, but there was nobody around. The most easily accessible stretch on the river and nobody is ever here. I don't get that.
Came across a hanging nest. From what I looked up, probably made by an oriole. Blurry totally out of focus photo of it doesn't help, but I still find them fascinating.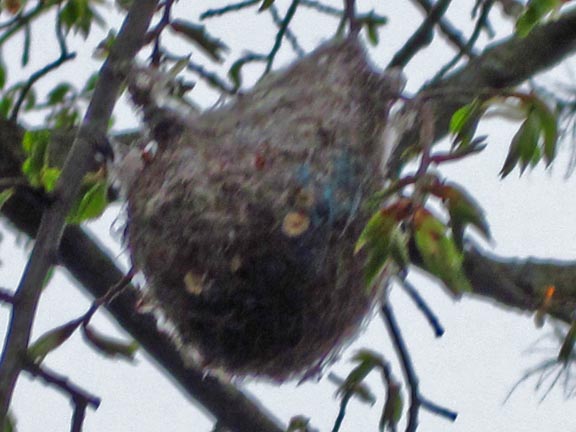 Went 12/13 on the catch/self release ratio. The pattern of the day was that there was no pattern. The fish were pretty much in every type of water. All you had to do was cast and let something swim around out there till it got hit. In the spots I thought I would do well, they were devoid of fish. In the spots I thought would suck, that's where the fish were.
Biggest fish of the day caught me day dreaming. I looked just in time to see a big bulge come up and inhale the jig/twister. Almost ripped the rod out of my hand. Didn't land that one or another one that went for a heavy powerful run, but did land this one.
Must have been bigger than I thought. Took a couple of quick shots and couldn't get the whole thing in the frame, which is odd. I didn't really look it over much and I don't care about size, so who knows. When I lifted it out of the water, the jig fell out of it's mouth. It wasn't even hooked.
With it being goose nesting season, the geese every where you go are on high alert. I've been coming across geese on nests all over the river and it's creeks.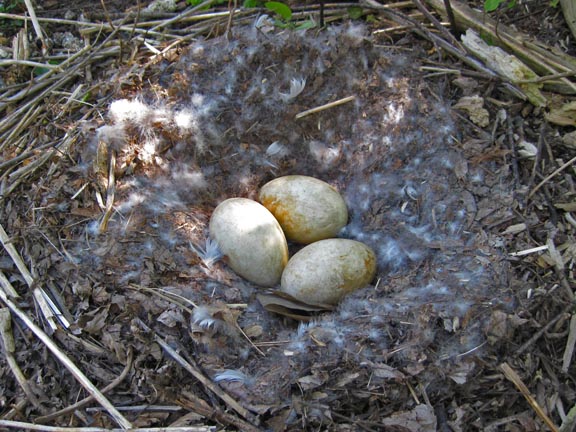 As soon as they see you they start honking and they don't let up till you are out of sight again. As I wandered down stream, the sound of the geese changed. Coming up stream was what looked like a juvenile bald eagle. As it got in front of me something seemed different about it's coloration. Over the winter a golden eagle had been spotted in the area, I wondered if that was what this was. The geese were going out of their minds and were growling at the eagles presence. I never heard geese growl before.
To make matters worse for the geese, no sooner had the eagle disappeared when three hawks drifted over the river. Based on silhouette ID's I looked up later, they were either coopers or sharp shinned hawks. The sounds coming from the geese at this point were deafening.
Once they all settled down, I went back to fishing. I was perfectly content catching anything that hit. The dinks are a good sign, they disappeared for a couple of years after a pretty big flood. This bodes well for the future as long as the river behaves.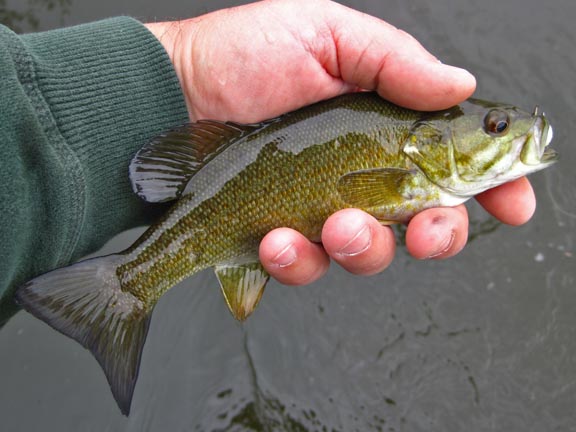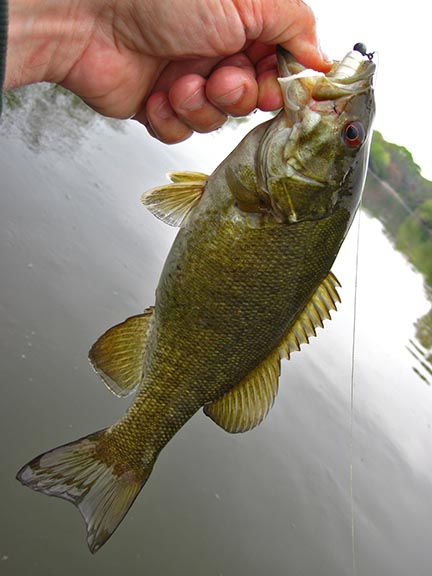 I've been fishing this stretch of the river for a dozen years. Because of that and my ill fated attempt to run a canoe shop with canoe trips through here, I've got to know many of the land owners along the shores. One land owner was lucky enough to purchase an island years ago, one of the few privately owned islands that I know of. When ever I see him out, I stop to chat. I've always had permission to wander his island to take a break from fishing. I keep an eye on things and let him know if I ever see anything suspicious out there.
He also has the only private duck blind I know of on the river. Today he offered to let me use it whenever I wanted. I probably could have asked permission to use it over the years, but never did. The offer is greatly appreciated. The blind is easy to wade to and not owning a boat, will finally give me a better chance of getting out for some waterfowl hunting.
In my collection of photos are a number of shots taken from inside the blind looking out one of the three shooting windows. I have photos from a couple of different seasons. My favorite is one I put together as a panorama. In my head I call it In Anticipation of Duck Season, it was shot one early summer.

The original image is 66 inches wide. If I can scratch up the money, I'll have to see if he wants a print of it. I'll have to ask first, not everyone has 66 inches of wall to hang something. I think half size would still look pretty good.