Never in my wildest dreams did I ever think there would come a day when I could go eagle watching on the Fox River. And yet, from my front porch I see them all the time floating down the river at eye level. My house sits on a bluff that's probably 60 feet up from the river and it's hard to mistake these big birds for anything else.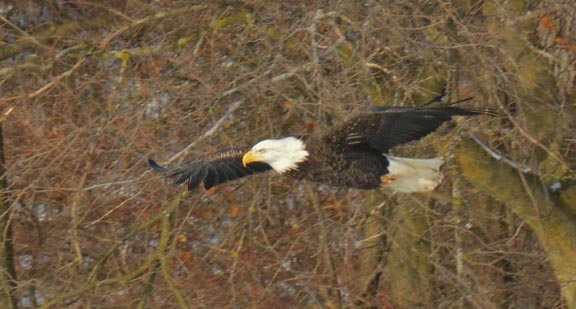 Now and then one will come floating over my house. A couple of years ago, in order to get away from a flock of annoying crows, one even landed in the tree in front of my house, directly over my head.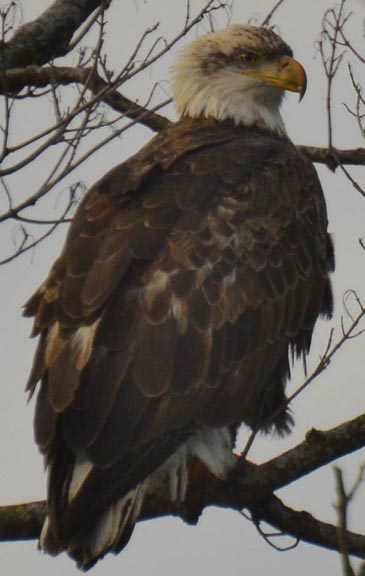 There are a few eagles that live along the Fox River somewhere year round. I see them all the time in a couple of stretches I like to fish, but during the winter over the past three years they've been arriving in ever increasing numbers.
This colder than usual December has locked up the river with ice much sooner than usual. Normally it doesn't look like this till nearly the end of January. At the end of January of this year I did a couple of reports on the eagles I saw. Twenty one day before I quit counting and 39 on another. If you have an interest in seeing the eagles near the Yorkville area, I give more details on how to go about it in those two posts.
Bald Eagles on the Fox River Update
This year the reports started appearing early. Larry Granat, who took all the photos in this post on December 12th, put up a report of seeing 6 bald eagles in the stretch below my house in Yorkville. If you haven't done it, you should Like Larry's Facebook page called The Kendall County Bird Page. He takes quite a few interesting photos of the bird populations around the area.
Of course, over the weekend I had to walk down the hill to the river to see this for myself. Below my house, out on the island, were four eagles. Down the road a bit, closer to the dam, were two more. The next day I ran into Larry out at Hoover Forest Preserve. That morning he said he saw 14 eagles in that same stretch.
Earlier this week I heard from another friend that likes to stay anonymous about another dozen eagles seen near the dam in Montgomery.
And a little while ago I got a note from Bob France about seeing 25 eagles up in Elgin today. He said 13 to 14 of them were all in one tree. You should go check out his Facebook page Bob Outdoors where he's put up a bunch of photos he's been taking.
When I was a kid I assumed that by the time I got to this age I would never see an eagle in the wild. Or I would have to go to Alaska or somewhere in Canada for the opportunity.
Now I walk out on my front porch and there they are, floating up and down the river. I go fishing over the summer and one will come floating by over my head. This weekend I'll go for a drive up the river and I'd be surprised if I don't see at least 30 of them.
I think it was Dale Bowman that said that one day I'll take them for granted and view them as common place.
So far, that hasn't happened.
I hope it never does.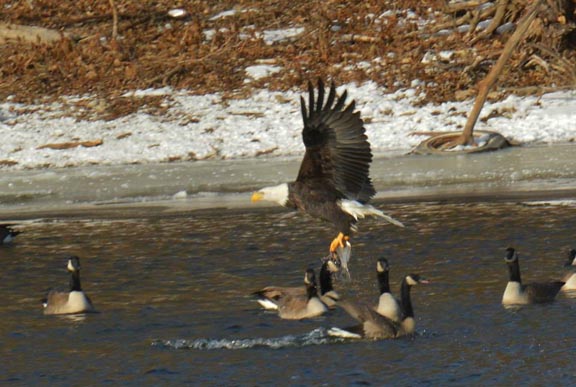 ____________
All photos in this post courtesy of Larry Granat of The Kendall County Bird Page on Facebook.