Got out Sunday morning for what will probably be my last fishing trip of the year.
Well, maybe, but all indications are that it will be my last.
The first indication was the night before. I'm still down my car and I didn't bother loading up the wife's car with my fishing gear. Very unlike me when I know I'm going to go out fishing. I must have still been thinking about it.
Sunday morning I open an eye, reach over to the clock on the night stand and turn it around toward me, 5:42. I turned it's hideously glowing red numbers away from me.
What seemed like a few minutes later the wife stirs and gets out of bed.
What the hell ya doin'?
"I gotta pee like a race horse, I'm surprised you're not out fishing."
I'm thinkin' about it.
I reach out and turn the clock toward me, 6:45. I'm obviously sleeping like shit. Maybe I should go fishing.
Somewhere between 2000 and 2005 I fished the Fox River every month of the year determined to catch a smallie each month for as long as possible. Eight months out of the year that's an easy task. Come January, not so much. One January I almost got skunked, but managed to catch one on the very last day of the month. After four and a half years of doing this, I gave up. I had made my point and proven I could do it, no point beating a dead horse.
I got out of bed and got the coffee going. I could tell by how I was moving that I didn't care about getting out one way or the other. I knew it was around 26 degrees out there, but it had been in the 50′s on Saturday and it was going to be in the 50′s again today. Maybe there was a creature a stirrin' out there.
But I was still dawdling.
By the time I got the car loaded up, out to the fishing spot, suited up and in the water it was 8 AM. That all took about 45 minutes longer than it usually did. The picture at the top shows what I was up against. The river was already getting it's winter level and clarity and it wouldn't be long before that sun was on the water and the fishing would go to hell in a handbasket.
In a short time I did manage to catch five smallies.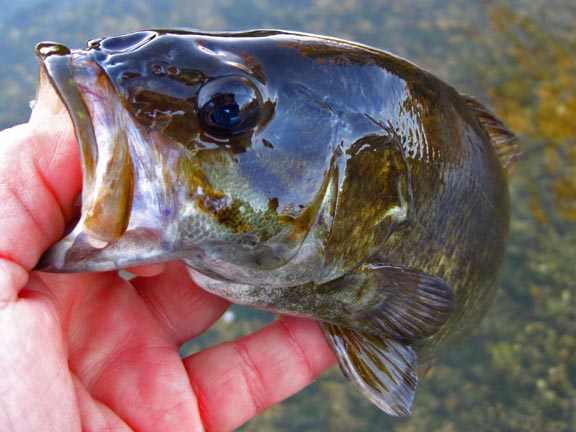 I also foul hooked a couple of carp and one shad. The rolling of lure over carp was endless. In with the countless carp I got two hard, powerful hits and brief fights with heavy fish, but landing them never worked out.
On my way down the river channel three deer on the opposite island decided I was a spectator sport and stood and watched for awhile. I never did find out if the deer on the islands can be hunted. A brother-in-law wants to give this a try too. What makes it so intriguing is that these deer must never see humans come out to their little homes. When I was done fishing for the day I cut across the island and walked right up on the three deer. Every time I do this on every island I cross, the deer just stand there and watch me. I couldn't get a good shot of the deer, the brush was too thick and the camera wouldn't focus, but they let me walk within 50 feet of them before they decided to turn and walk away. They don't even bother running.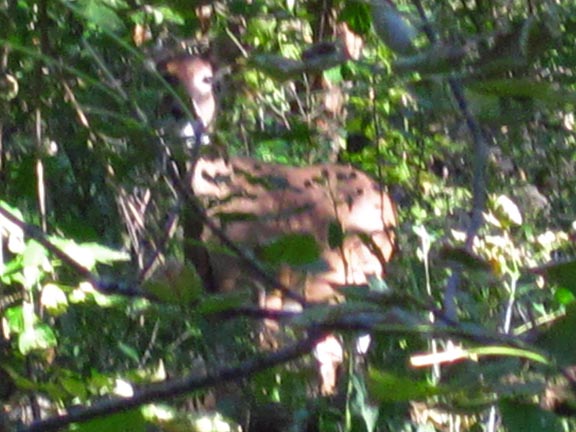 Back at home I spent some time winterizing the house. By 1:30 I was done. Sitting down for a few minutes didn't work. I could feel that flushed feeling coming over me. Crap sleep, cold air, a long walk in cold water apparently wore me out.
It was take a nap or go for a walk.
I opted for the walk.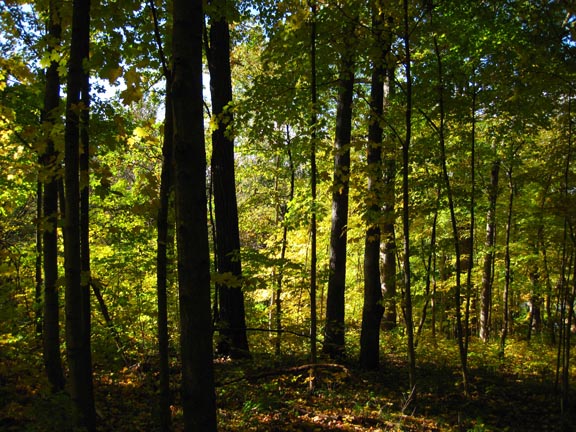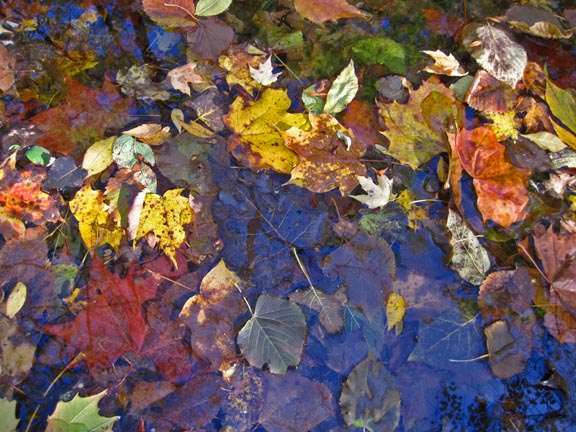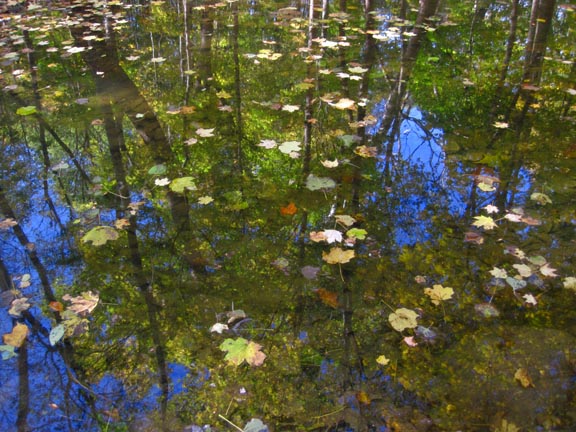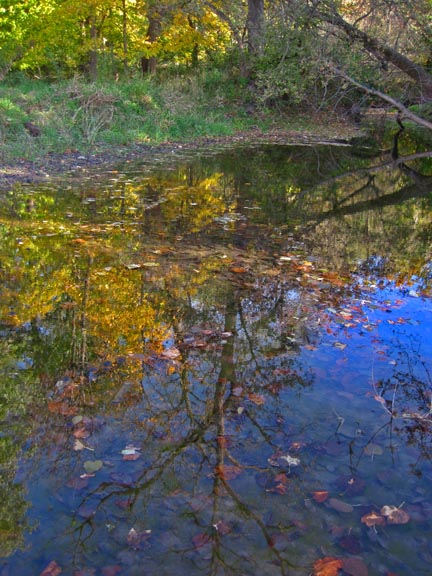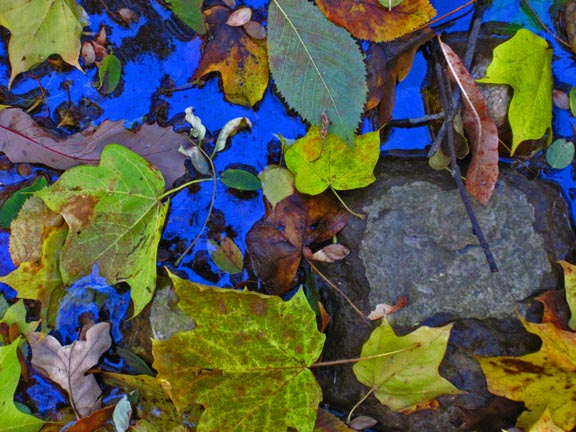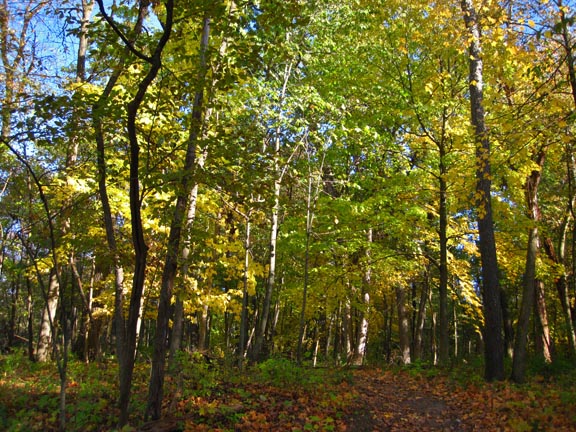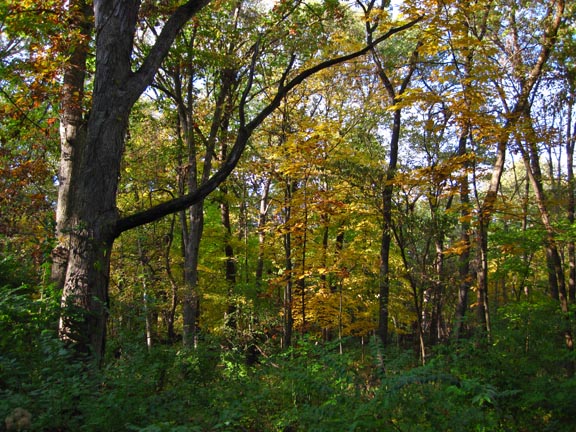 Came across this little guy, barely six inches long, sitting in the middle of the trail.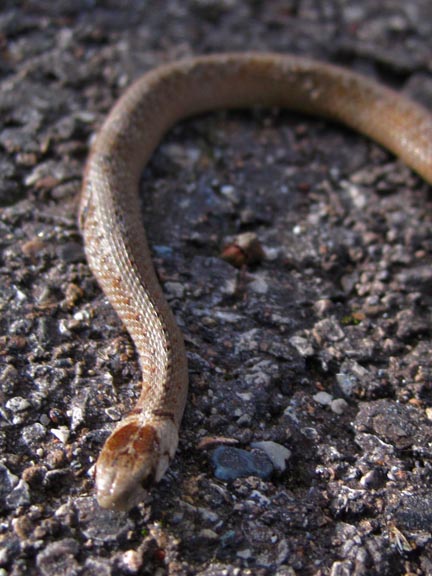 He had a little cut in one side, probably from one of the other many hikers using the trail that thought he was just a stick. He was very happy to be relocated to the leaves and quickly disappeared beneath them.