In March of 2011, my Cabela's Guidewear Pro Vibram® Wading Boots that cost me about $100, bit the dust after 2 years of use. I thought I was going to get another year out of them, but they fell apart.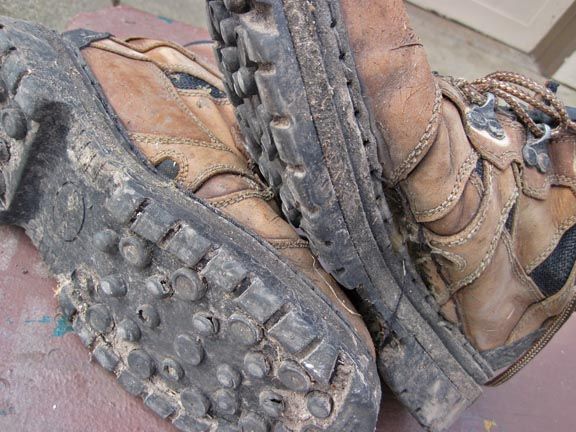 I did a pretty good job of documenting that and the purchase of another pair of wading boots, the Cabela's Ultralight 2 Lug Wading Boots that cost $70. I documented it all because the first purchase of those boots was a failure. This is how the ad reads for the Ultralight 2 boots. I thought I was getting a pretty good pair of boots.
We've upgraded our Ultralight wa­ding boots with high-grade components to make them more versatile and more durable than ever. The nylon/synthetic upper is built on a top-notch last with a base that accommodates a wide variety of foot widths. Molded EVA midsole increases cushioning and support. Rugged upper sports the added scuff and abrasion resistance of our Wade Guard™ on the toes and heels. Double and triple stitching in high-stress areas reinforces durability. Screw the included studs into the rubber cavities for extra traction on slippery rocks. Side mesh panels let water drain, while keeping out sediment. Padded tongue for maximum comfort and minimal weight. Imported.
So we'll start from there…
I sent the initially failed Ultralight 2 boots back to Cabela's on April 18, 2011. Cabela's always includes a Pre-Paid Return Label in case your purchase needs to be returned for any reason. This is what they look like: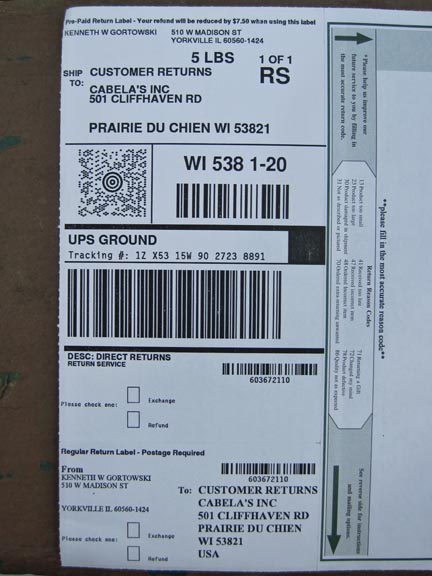 This is not what I had. I had a totally useless packing slip and had to pay $13 in order to ship the defective boots back to Cabela's.
I assumed within two weeks I would have a new pair of boots in my hands. Exactly one month later they arrived. I distinctly remember mentioning in the letter I sent along when I returned the first pair of boots that they should consider doing a quality check to make sure all the eyelets were in place and the inside soles were glued in.
The tape seal on the box when it arrived showed that they ignored my suggestion.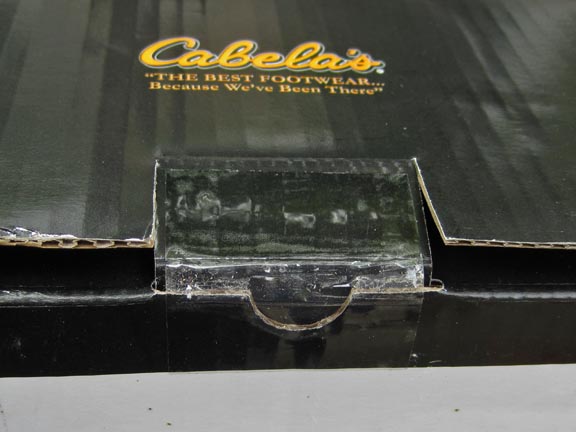 I checked each boot as I removed them from the box. All the eyelets were in place and they looked pretty good.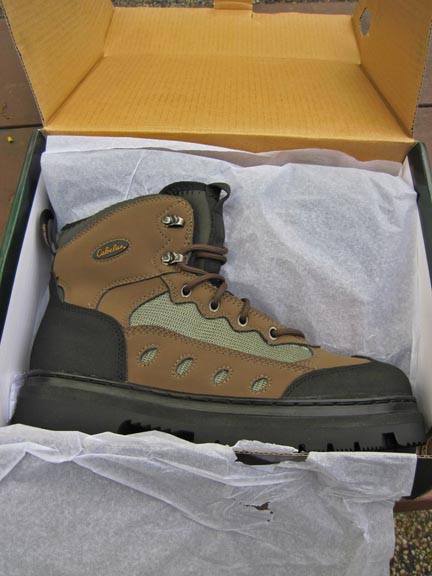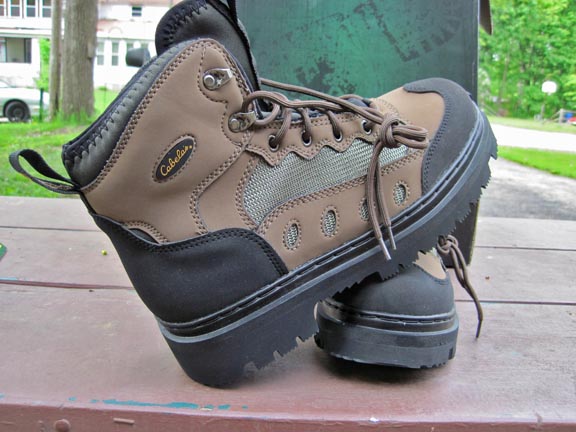 I reached inside to check on the inside soles. Sure enough, they weren't glued in.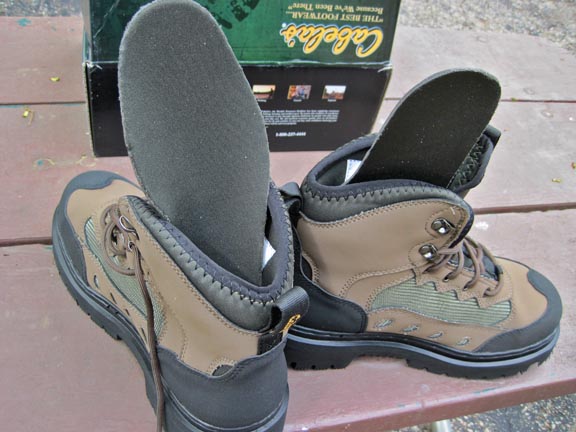 I glued the soles in with some AquaSeal and they've held up just fine.
In 2011 I got out wading about 75 times. By the end of the year the boots were looking pretty beat up. So far for 2012 I've got out about a half dozen times. The boots look like they're about to fall apart.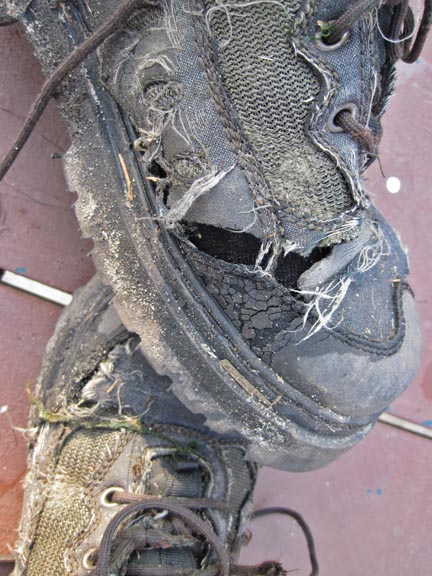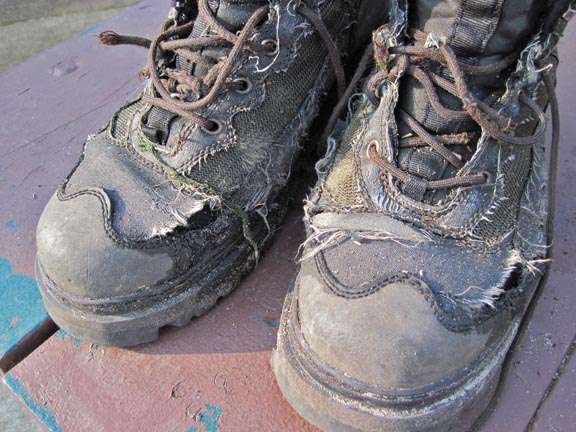 Which is a shame. I like the way these boots fit and feel. The long hikes I take to get to water have been made easier as they live up to the Ultralight part of their name. The soles have held up pretty well too.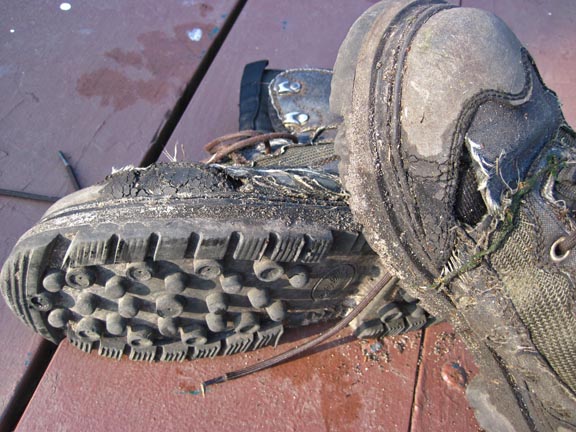 It's too bad they couldn't make the rest of the boot so durable. If they fall apart beyond being able to be worn, budget is such at the moment that they can't be replaced.
Around 5 years ago I had $150 to spend on a pair of Simms® Headwaters™ Wading Boots. I still have them stored away on a shelf in the garage, my daughter uses them for the rare times she gets out on a river with me.
They look like they've been run through a meat grinder and the nubs on the soles are almost worn flat, but the structure is sound and I can wear them if I have nothing else. If I need to, I can put them back into use. For those that are wondering, this is how they looked after two years.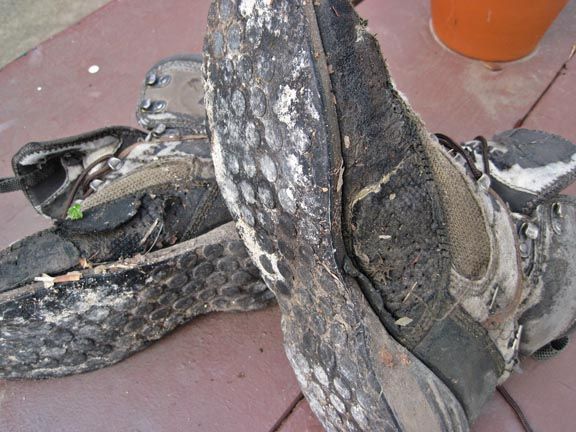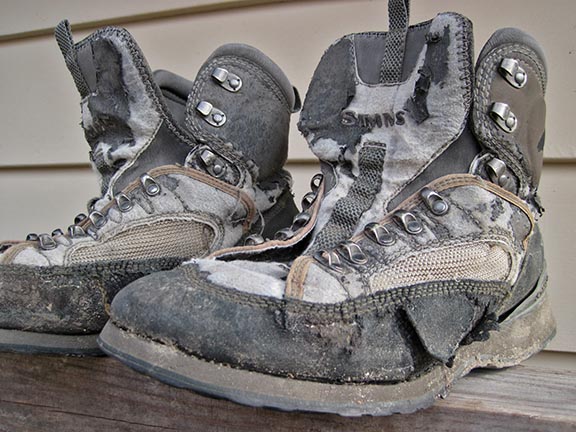 It must be me and how I go wading. I can't think of anyone I know that goes through a pair of boots in one or two seasons. A friend finally replaced a pair recently after having them for 11 years. Granted, he doesn't fish as much as I do, but still.
Things could be worse I guess. I once gave Hodgman boots a try. In four months the soles were worn smooth and the boots fell apart.
So, when Cabela's says in the marketing material for their Ultralight 2 Lug Wading Boots…
We've upgraded our Ultralight wa­ding boots with high-grade components to make them more versatile and more durable than ever.
I have one question…
Compared to what?