Got out the other day with the Four Season Angler Ed Schmitt. He gets off work just in time to go fish the last couple hours of the day, so I had some time to kill before his arrival.
The weatherman said the rain was supposed to be clearing out. Till that was supposed to happen, it drizzled. I can tolerate that, especially when it's combined with no wind. The closeness of the low clouds and thicker air lets you focus on the task at hand. Few distractions by the surroundings and the rain gear cuts off my peripheral vision, forcing me to into tunnel vision.
Working over the first stretch got me a couple of immediate hits and the eventual landing of a smallie.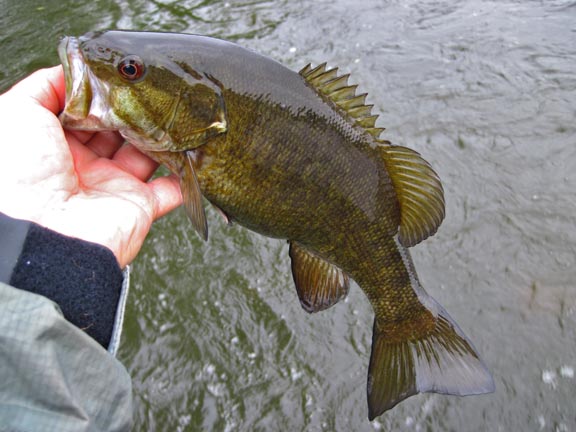 Being forced to always look forward still brought some rewards. The goslings are out. Pairs of adult geese swam protectively with their broods. Heads down as they swam, protecting their young from river currents by making them swim in their wakes. Circling their little ones and always wary of me, the only possible threat in sight. Couldn't help but think of how many people I know that could learn a lesson from watching geese and their young.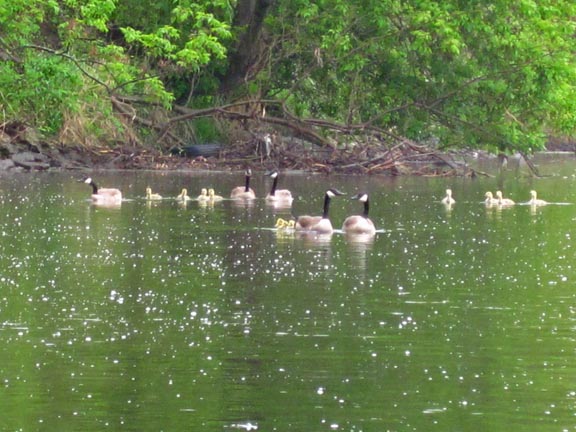 There was a small mayfly hatch coming off the water. Did my best to capture one and then, couldn't get it to pose for me correctly.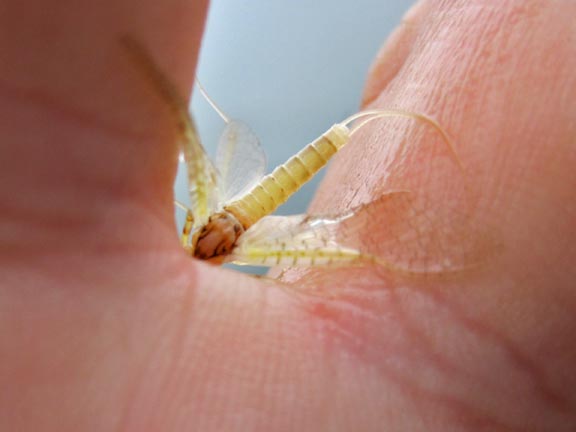 When Ed called to let me know where he was, it started to rain, hard. Not a torrential downpour, but this was definitely not the clearing the weathermen called for. Ed chalked it up to his usual luck when finding the time to get out fishing.
By the time Ed made it across the river I was up to 2/5 on the catch/self release scale. Nothing hot and heavy so far. The stretch we fished for the last couple of hours of daylight is only a couple of hundred yards long, but for some reason it always holds the highest concentration of fish.
After some initial misses for Ed, he switched to something that resembled a crayfish and dredged the bottom of the river, while I stuck with something I could swim through the current. Both choices were the correct choices and we were both casting to the same areas and getting hits and hooked fish. Ed got fish of the day.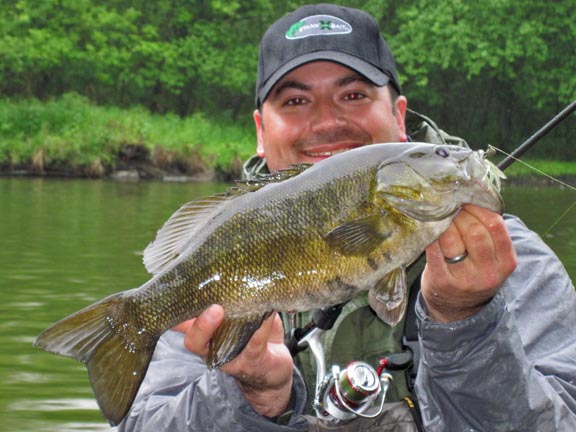 A couple of casts later I was able to pull one out of the exact same spot where Ed got his FOTD.
Resulting in one of the few images of this angler seen in the last 7 years.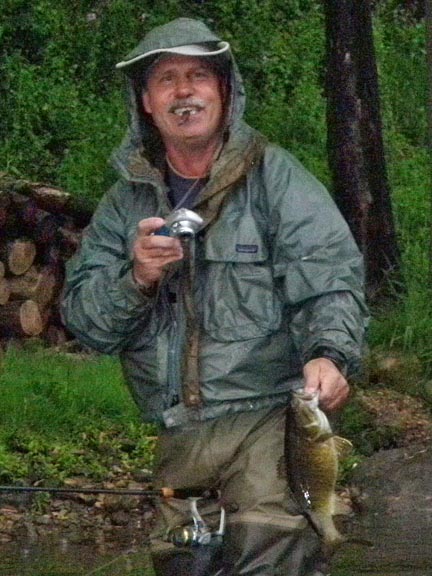 That happens when you fish alone 98% of the time. Plus I don't care to have my head in all the shots of me holding a fish. I'm starting to like my arms length fish shots.
Even with the steady rain, it wasn't that bad of an evening to be out. Of course the rain pretty much ended as soon as our cars came into view and we were done for the day.
Wound up taking about two and a half hours to comb this small stretch. I wound up going 6/8 for the day and I believe Ed landed four. I know he missed an equal amount at least. This stretch is odd that way. There is no discernible difference in over a mile of river, yet this one small stretch always seems to hold the highest concentration of fish. After 12 years of fishing through here I've determined that the pattern is that there is no pattern.
You have to be there, fish like you want to catch something and hope for the best.
Looks like we picked one of the better days.