"What are you doing?"
Well, I was thinking that over the last 10 years I've got out duck and goose hunting one time. I used to like hunting for ducks and geese. Setting up the decoys, sitting in a blind all day. I'd get to watch a sunrise and a sunset while sitting on the edge of a river. Very peaceful, very relaxing.
"Noooo, what are you doing with that stick and a loaf of bread?"
Oh, that.
"You're going to make me regret this conversation, aren't you."
You know how I always joke about going after all these resident waterfowl, the ones that hang around here pretty much all year, with a nine iron and a loaf of bread? I thought I'd give it a try. They're so used to people throwing food at them, they'll walk right up to you. Nice easy whack upside the head and you got a meal.
I did have to give up on the nine iron idea though cause I don't have one. I tried to take my dad's, he can't golf anymore, but I made the mistake of telling him what I was thinking of doing with it. Besides, if I go out there walking around with a nine iron some guy will think that's an invitation to strike up a conversation about golf. Ever have a conversation about golf? It's worse than a conversation about baseball, hockey, football and basketball COMBINED! After a few minutes I'd be begging the guy for a couple of tee's so I can shove them into my eardrums. It's brutal.
"I can think of worse things… all I asked was…"
I actually learned this from watching kids. Remember I worked with the Chicago Park District's Kid Fishin' program years ago. Kids would bring their lunch along, kids never finish their lunch. So they would start ripping it to shreds and feeding it to the fish. Before you knew it there were ducks and geese streaming in out of nowhere to join in on the feast. They'd eat everything that hit the water or ground. They'd walk right up to your feet. That's when I first got the idea that I should just pop one.
"That's baiting, even I know you can't bait birds."
Ahhh, most hunting requires baiting. Yeah, they make this stupid law that you can't go throwing food on the ground or in the water, but it's all baiting. Think about it, you throw all those decoys out there in a place that you think might be inviting to waterfowl. Then you sit back and start talking to them. You have no clue what you're saying to them. Hey man, over here, we got food. Or, hey, take a break, nice spot here. Or, hey baby, you wanna get yourself some? You have no clue what your saying to these birds, it's all baiting.
Squirrel calls, same thing, you're baiting them with promises of something. Rotating wings on dove decoys, those stupid flapping flag like things waterfowl hunters wave around. Take a look at hunting in cornfields for waterfowl. You set up in a corn field after it's been harvested and there's corn everywhere. Brings in the birds by the hundreds. Oh sure, you can argue you didn't put the corn there, but somebody did. It's baiting.
Then, how about those idiots that go out deer hunting? There's actually a product out there called #69 (like deer even know what that is) Doe-in-Rut Buck Lure. The graphic on the front, the one that's supposed to entice you to buy this product, is an image of a big buck with his nose up the ass of a doe.
Really?
"Can I go now…"
That's the ultimate in baiting. I know guys that would gladly give up food for sex. All I know is that if you're dumb enough to put this stuff on then go out wandering around in the woods, I wouldn't spend too much time bent over doing anything. You get what you deserve at that point.
"You really aren't going to go do this, are you?"
There's a score to be paid, remember. All I wanted to do was go out fishing and the geese picked the one spot I had to walk past that didn't involve swimming in the creek. They honked and hissed, I tried to settle them down. Talked nice to them. Tried to hush them a bit, I'm heading on my way… and what do they do? They try to kill me.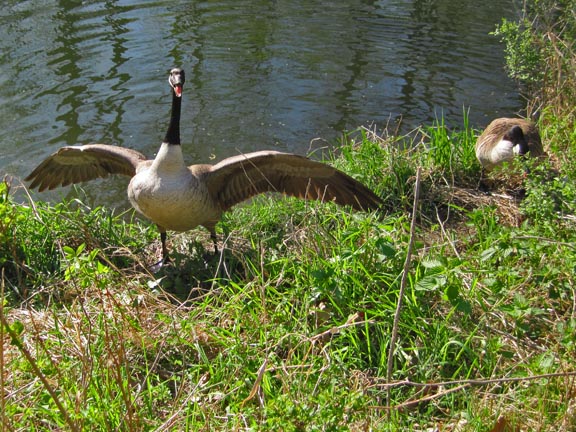 Fun With Wildlife
It's payback time.
But first, a decision needs to be made… white or wheat?