Took a drive along a little used creek road today and while rounding a bend, spotted a hawk chowing down on a possum.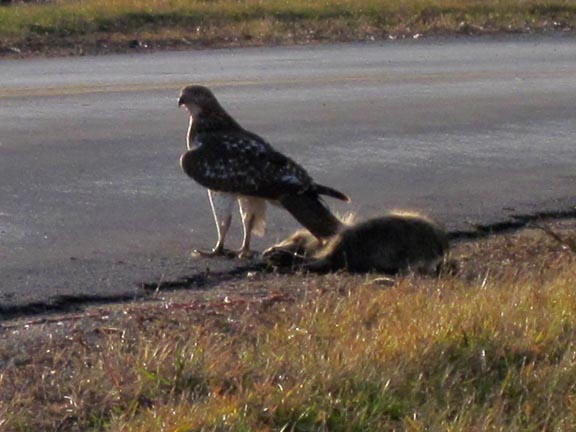 Even on a little used road, sitting in the middle of the road on a blind curve trying to take a picture of a hawk chowing down on a possum is not a good idea. How do you explain that to the guy that comes up and rear ends you.
So I pulled into a corn field access road.
As I struggled for the camera, I was making the hawk nervous. He tried to take off, but his claw got stuck in the carcass and he did a nose dive into the pavement.
Humiliated, apparently, he sat there getting his bearings while I was able to snap off the shot.
Not one to give up a good meal, he flew to the top of a tree 50 feet away and waited for me to leave.
I have possum recipes, but not the nerve to put one to use.
Raw isn't one of them.