To play catch up, you can read the past progress reports here.
____________
The other day I got out when it stopped raining to take a look at the Blackberry Creek dam removal site. I still think it was a good idea to not go wandering around through all the mud, but I kind of wish I did. After everything froze over and then got covered in snow, it's all white. Makes it hard to see the details.
I come from a couple of generations of roofers. My dad had me help him on a roof the first time when I was eight. This continued on and off into my teens. One day he said "I'm going to show you how hard this is so you do good in school and don't become a roofer." That pretty much worked, but I think now at 57, if I were a roofer, I'd still be working. Instead, I did the whole do well in school thing and became a graphic artist. At this age, no matter how good my skills are in the graphic arts, nobody wants you.
But that's a post for another day.
Because of the early years in roofing, I like to think of myself as surefooted as a cat. I have no qualms wandering all over a roof and to this day I like to watch my wife squirm as I stand on the edge of a roof, cleaning out gutters and carrying on a conversation with her while she's down on the ground. Simple pleasures.
That being said, this is what it looks like when a supposedly surefooted old guy steps on what he believed to be snow covered ground.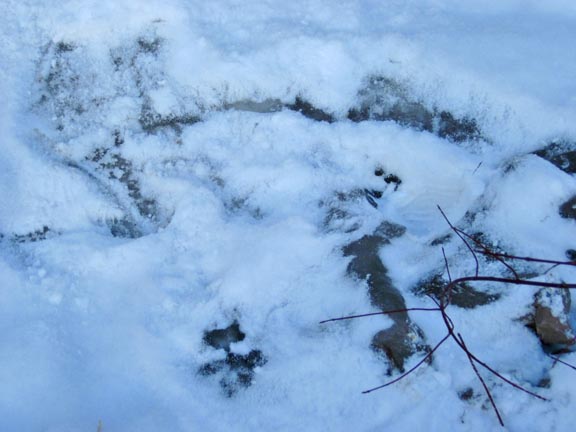 As I mentioned to someone recently about getting old, gravity is a bitch. And yes, it hurt, but I think my pride is more bruised than anything else.
There has been virtually no noise coming from across the river since the rain and I can't blame them. Big ruts of frozen mud and layers of ice are everywhere. Plus the cold and the wind makes it brutal to be out there. A project needs to get done, but delays are sometimes welcomed in weeks like this. The old dam itself is pretty well covered in ice.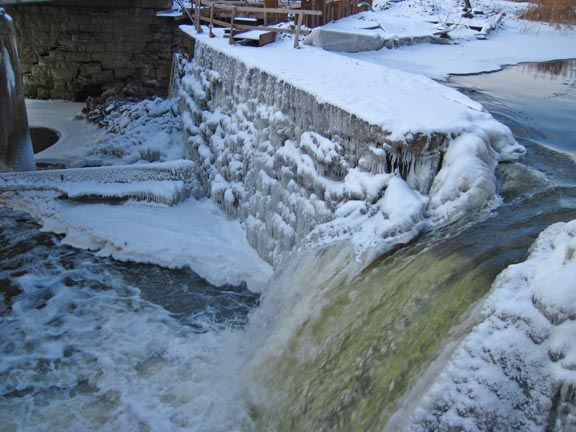 Some work had been done in the week before the rain. Now it's going to be interesting to see how they are going to get all this water…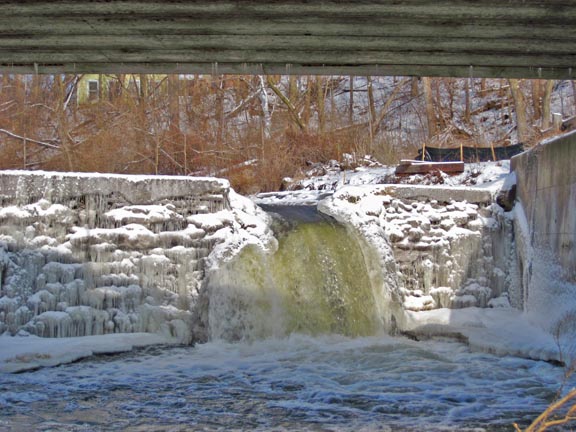 …to squeeze through this hole, especially at high water events…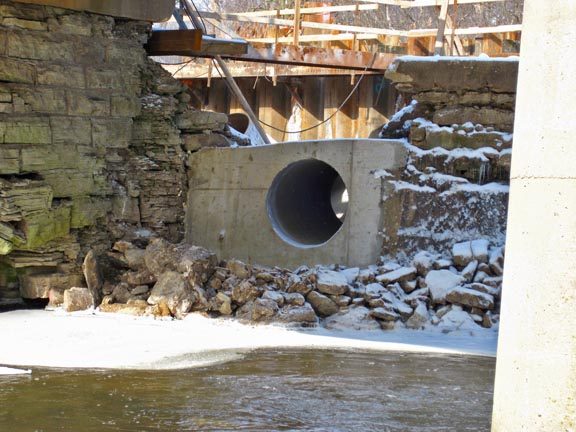 I think it's going to look pretty darn interesting as it comes flying through this hole.
This is the part that's the hardest to figure out what they're doing. This part makes sense, sort of…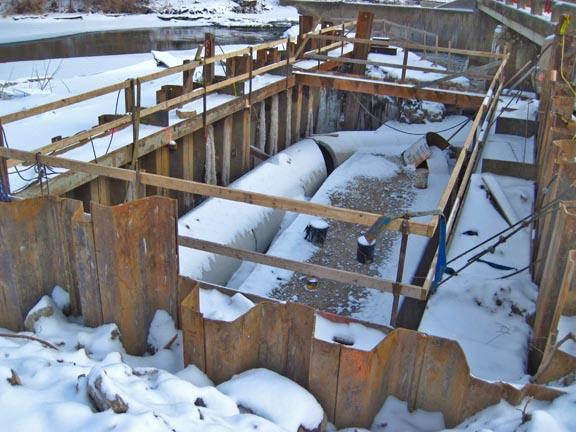 But I have no clue how they're going to tie this together with the rest of the creek. Because of the weather, I have a feeling it will be a little while before it gets done.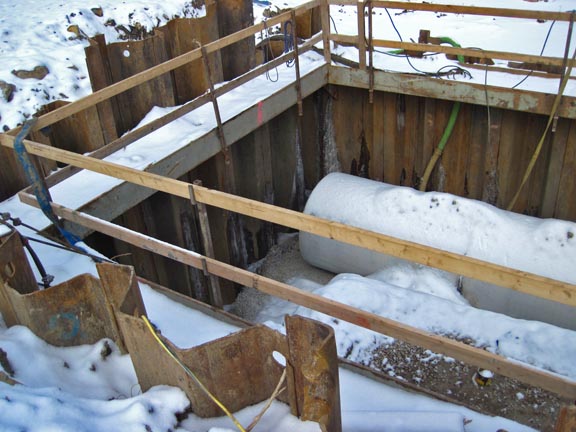 I did find the breach around the upper coffer dam. It's not much of one and looks like it barely wore away the edge of the shore, but there was a consistent flow of water going through.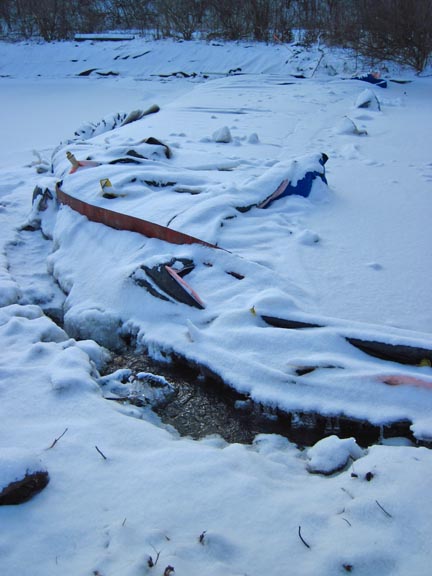 This breach was enough to fill the first stretch of the project that was completed. The water on both sides of the coffer dam are now at the same level.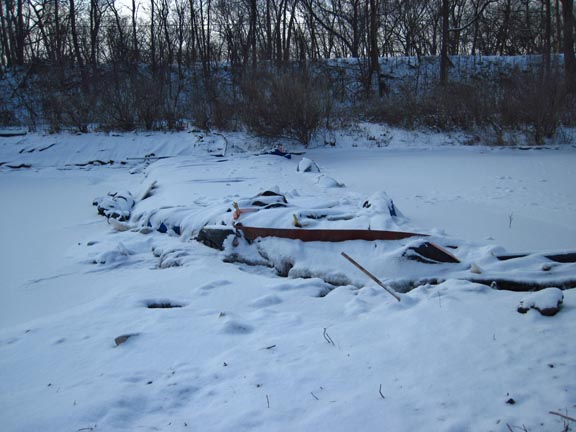 The snow obscures it a bit, but I tried to take pictures from the same spots that I've taken them in the past. I think it gives you a pretty good sense of just how much water is now in here.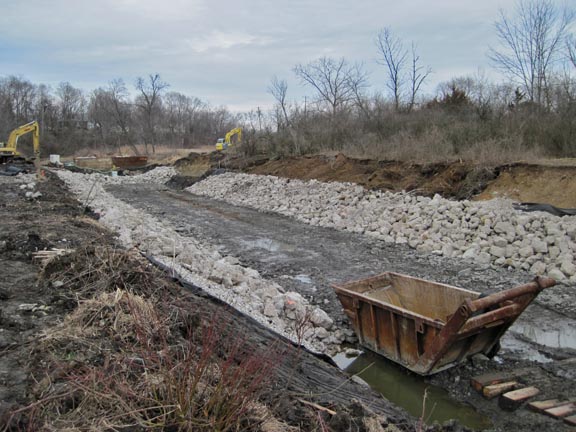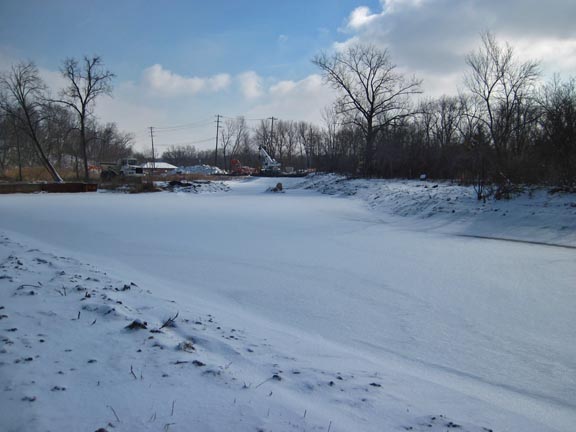 From where I took the following pictures, two weeks ago it looked like this.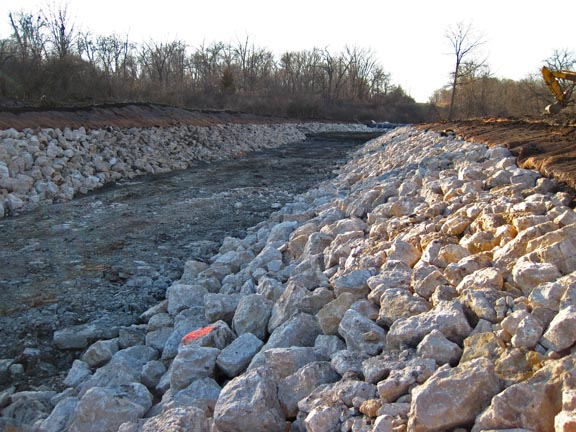 Now there is no sign of any rock, the water has completely covered it.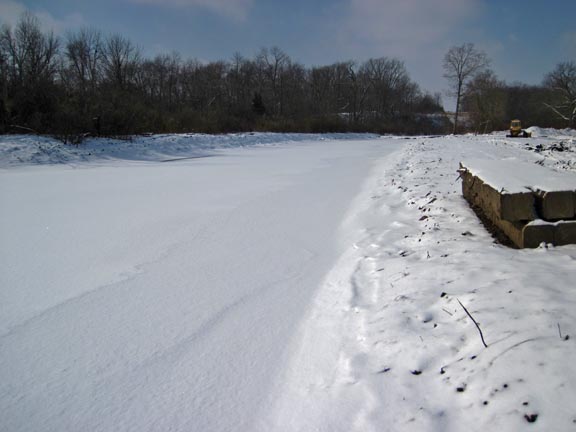 The section directly in front of the downstream coffer dam was the deepest and there was a pump running constantly to keep the water out. Two weeks ago it looked like this. Notice the generator on the far left hand side.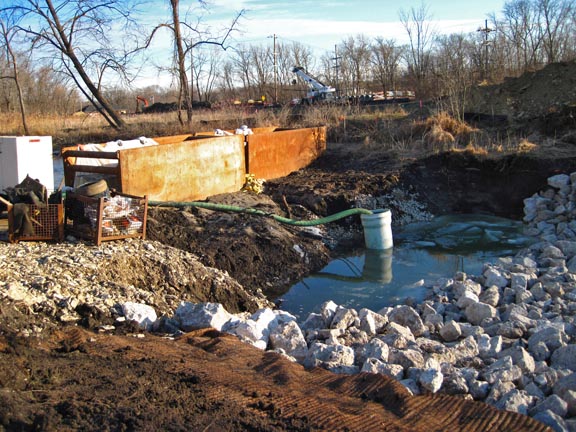 Luckily they pulled the generator away from the coffer dam. You can also get a feel for how bad the mud was when it was raining.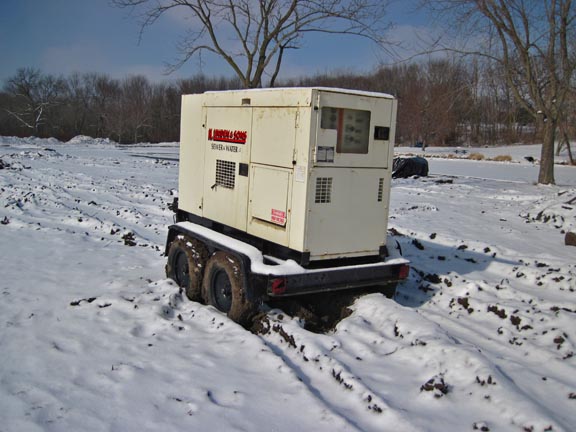 It would have been a big disappointment to have to haul the generator out of this…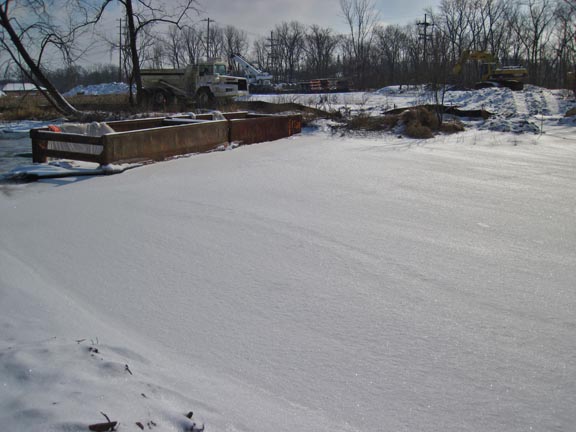 The 10 day forecast has things going back to normal, but that's in the 30's with night time temps below freezing. The couple of days where it does come close to 40 degrees, it says it will be raining. There's a lot of ice and water that needs to go away. I have a feeling it's going to be awhile before the project gets rolling along again.
I may have to brave the mud the next time I come here, I really want to get closer when all the ice and snow starts going away. I'd like to get some pictures of how much the water has covered all that rock. I'll just have to hope my cat like skills are still alive in me somewhere and work on mud, but at least if I find out they don't work, the landing will be softer.