To play catch up, you can read the past progress reports here.
____________
On Tuesday we got snow. According to those that measure these things, Yorkville got more snow than anywhere else in the Chicago area, 11.7 inches. My back can attest to that. Days later it's still stinging from moving a few thousand pounds of it from around my house.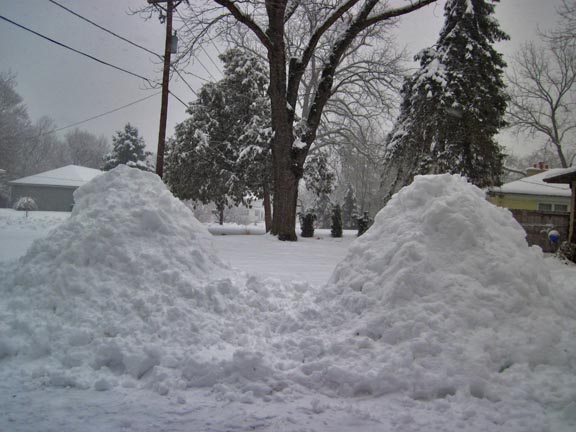 I always assume that snow like this will bring construction projects like the Blackberry Creek Dam Removal to a screeching halt. I assumed wrong, what's a little snow. When I got to the site, three guys were working to remove the upper coffer dam that was laying all over the creek.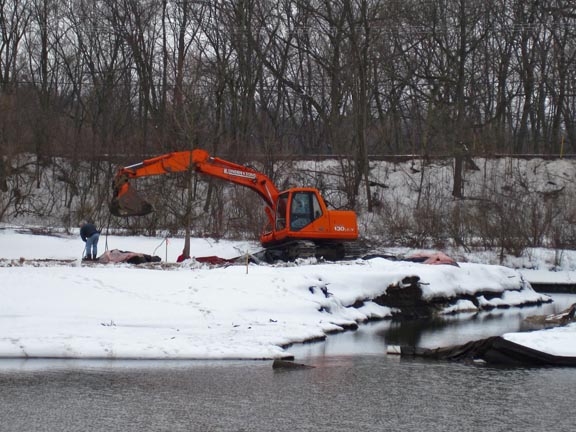 I'm sure there's a little more of it left in the creek.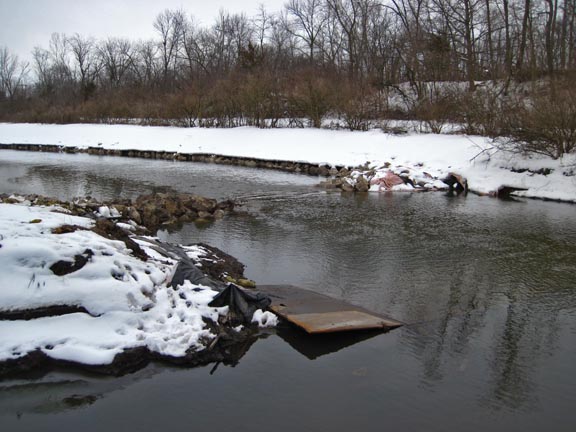 But the bulk of it has been removed.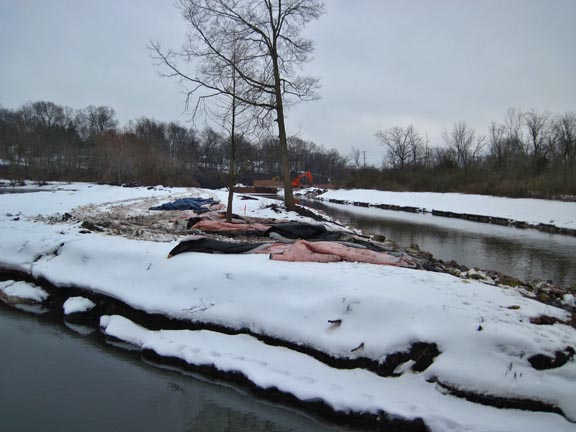 In spite of all the snow a fair amount of work had got done this week. Back at the old dam, I checked out the pump area to see if there were any remnants of goldfish still around.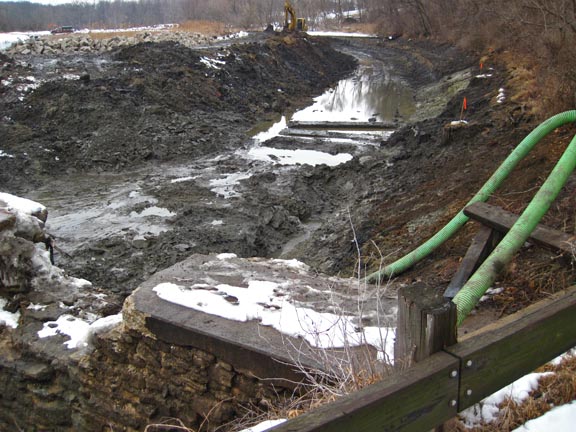 No signs of gold anywhere.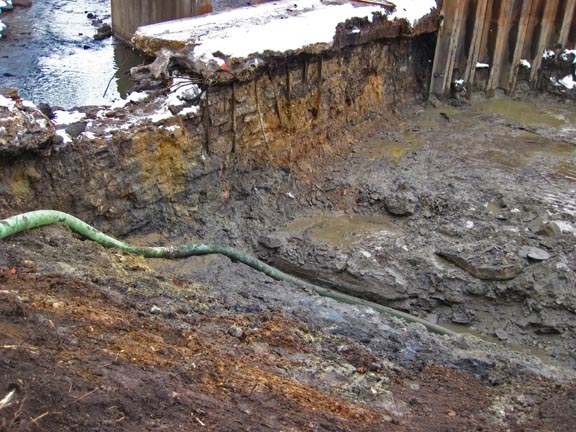 Quite a bit had been dredged out, but they seem to have stopped putting the excavator in the middle of it all. It looks like they had been doing the digging from off on the side. Walking on all that mud was difficult with my mere two hundred pounds. I was sinking in pretty deep. I could only imagine how much an excavator sinks in this stuff.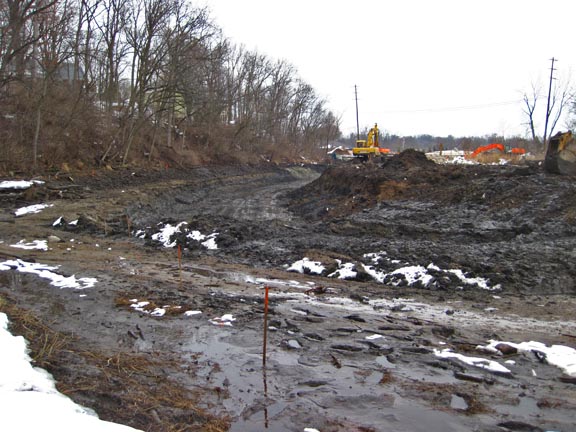 I was hoping they were going to dig out much more on the left hand side.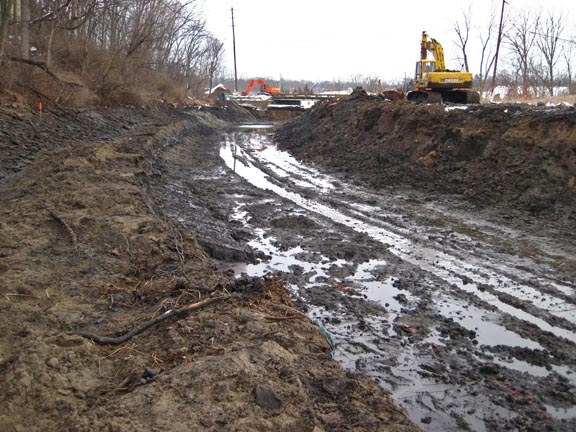 At a meeting on the project back in March of 2012, I pointed out how that whole left side looked like it might be a limestone ledge all the way down to the old creek bottom. I suggested that they just expose the limestone and leave it at that. I was able to walk along there for the first time and I still think that's what it is.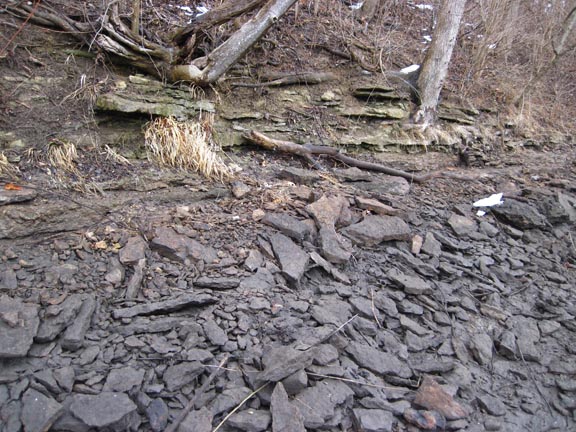 It looks like they're not going to bother though. That's a shame. There are a couple of other creeks that I fish that have this same type of limestone ledge. Would be nice to see it here.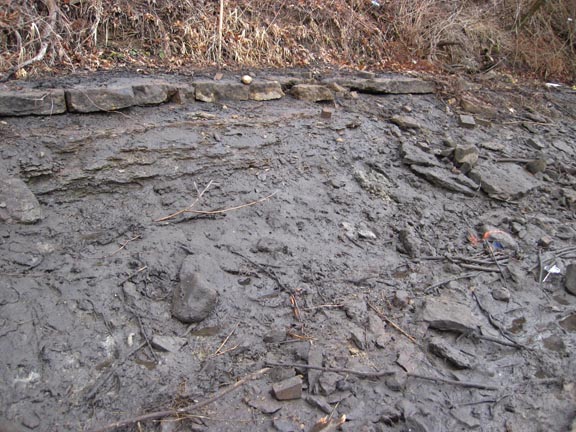 After getting the progress photos I wanted, I had to scour the area looking for leftovers. Following are the things that I find sitting on top. Makes me wonder what is buried under all that dirt. This looks like the remnants of an old park bench.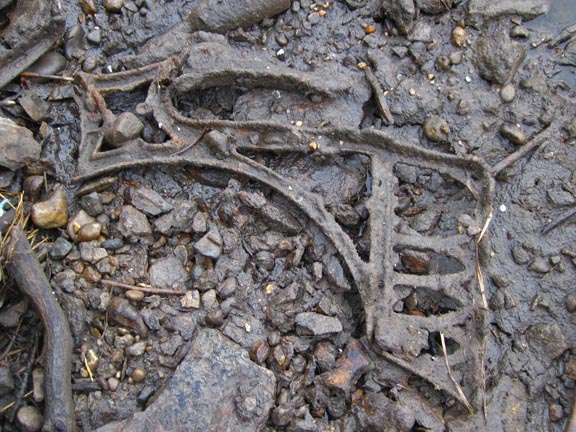 Though no goldfish were found, some of the carp I had seen the previous week had nowhere else to go and I'm sure they wouldn't have fit into the pump hoses. The critters are slowly enjoying a muddy meal.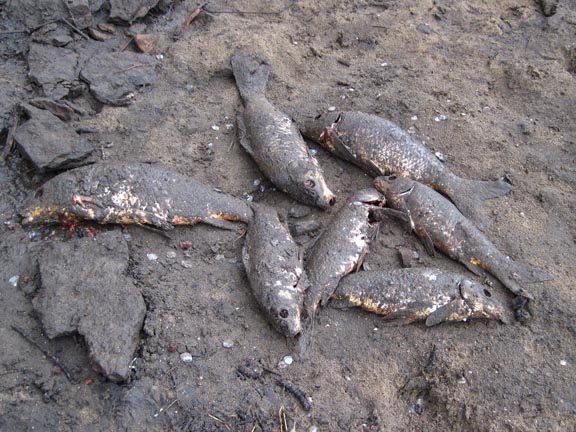 One of the last things I thought I'd find is a frog, dead or alive. This one, not so alive.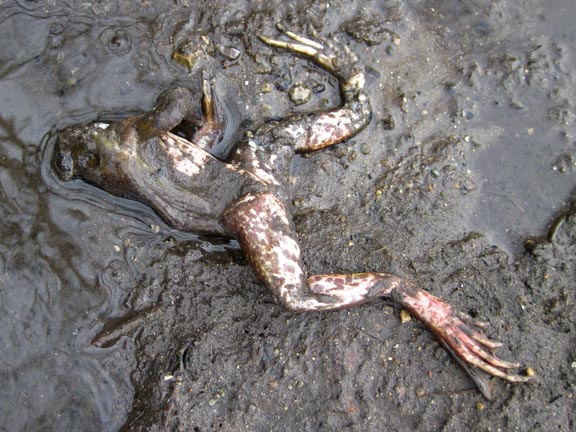 Not sure how old this bottle is, but they definitely don't make them like this anymore. The glass is thick and has an interesting decoration around it's middle. I took this one home and cleaned it up. Looks brand new. There are markings on the bottom that I hope will lead me to what it once contained.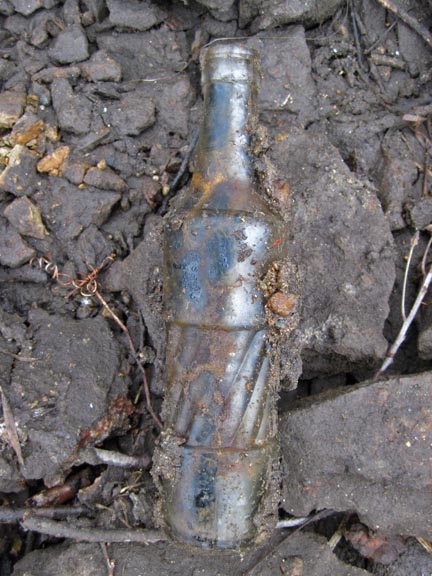 I know this has to be fairly old. Don't see too many skeleton key locks anymore.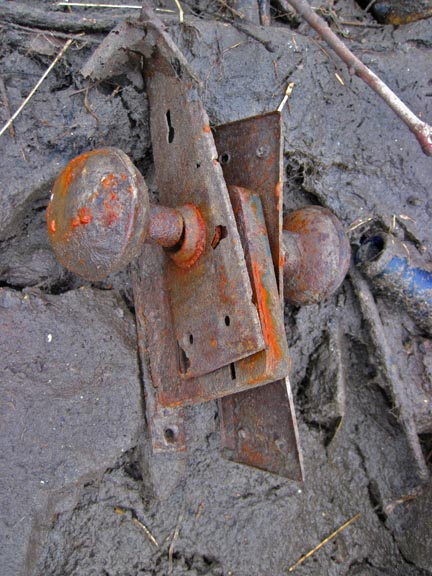 When I came across these two bottles, I noticed the caps still on them. A little scrape of the mud revealed two full bottles of Bud Light. I considered taking them home to see if they still had any fizz or taste to them, but I wouldn't drink this kind of beer swill if it were fresh and given to me for free. I passed.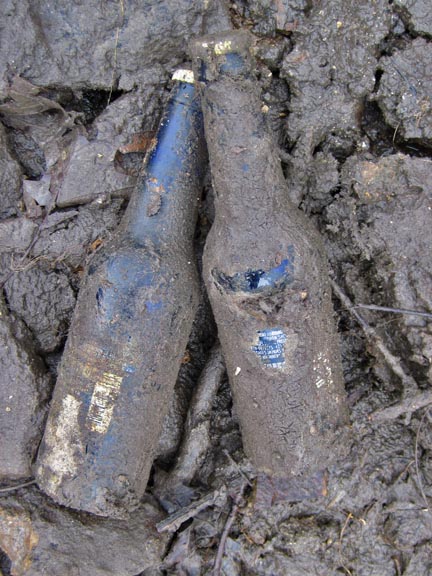 Of course, I had to go check out the upstream area of the creek.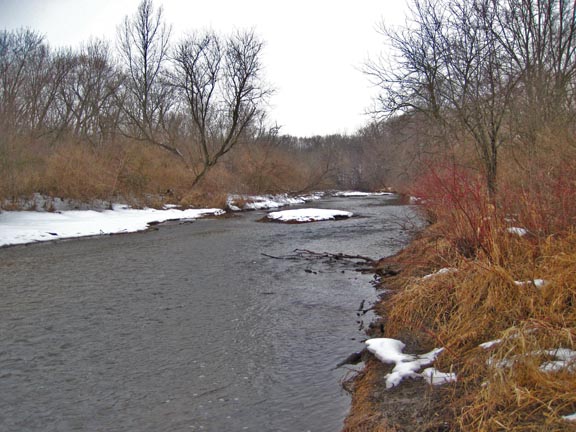 I already know a good half mile of that stretch. I know where the fish, if and when they show up, will be holding. Classic fish holding spots.
I also know that when I do go fish that stretch, to get back I have to wade back to where this picture was taken. I tried walking through those trees once in order to get back to my car.
I will never, ever try that again.