I went out early Saturday afternoon with the intention of creek fishing. Standing on the bridge, peering down into the water, I was met with the exact same thing I had been seeing for the past two weeks.
No life whatsoever. And, to top it off, the winds were brutal. I gave up without even trying to start. Why frustrate myself.
Later in the day there were bug hatches along the Fox River, in my neighborhood and down around Blackberry Creek.
So Sunday morning I stopped by the same creeks again. Same bridge, peered down in the water, still nothing. Sometimes you get lucky and things turn on quickly, this wasn't one of the lucky times. I knew I was going to get out fishing six or seven hours later.
Plenty of time to think of where to go, but definitely not here.
Later I opted to fish Blackberry Creek rather than drive another eight miles or so to a creek I knew was dead water. I had a feeling Blackberry might be the same, but I didn't know that for certain. Good enough odds for me.
Somebody must be reading my blog posts about the Blackberry Creek Dam Removal project. Saturday evening in the weekly post I make I said this and put up a picture…
But first, a word from our sponsor…

If that sign is still laying in that spot next week, it's new home is going to be in my backyard.
The time stamp on the above photo says I took that shot at 4:08 PM on Saturday. The picture below was taken at 5:20 PM on Sunday, just over 24 hours later. So much for putting the sign in my yard, plus they ruined it by drilling holes into it.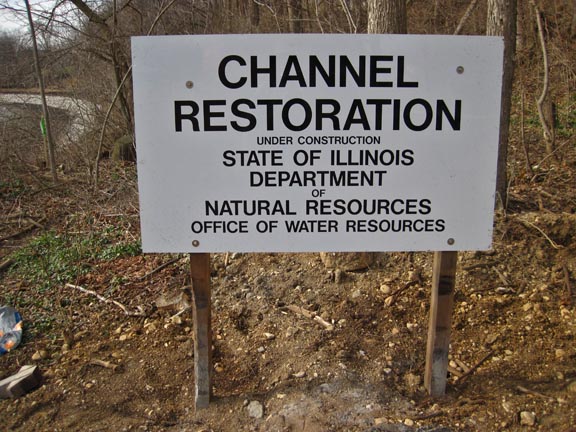 I started out fishing in the deep pool below the former dam. Got a tentative hit, or I should say I completely blew the hook set. No, it was a tentative hit. I'm sure of it.
I then walked down the creek all the way to the mouth. There were good signs. Minnows were dimpling the surface in the slack areas and I could see them sunning themselves in the shallows. Though this creek can get crowded with migrating carp and suckers, I saw none swimming around. But, further downstream carp were jumping. Not a lot, but the first I've seen so far this year.
Not a hit all the way down, but I knew something was in there. I can smell spawning fish and I was definitely smelling that smell. Maybe the minnows? Nothing else was around.
Did run into another angler. He hasn't been doing well either so far this year. Lots of comparisons were made to last year this time, but it's not really fair to do that. Granted, this year is odd on the no fish side, but last year was odd just the opposite. No middle ground this year.
I did try to tell him about other areas to go try. Years ago I used to live in Elmhurst, 25 miles from the Fox. I still learned the river and it's creeks. Every nook and cranny. Now living a two minute walk from the river in Yorkville, been living here for almost eight years, I know even more.
This angler said he's been living around here forever and yet, directions I take for granted were going right over his head. It's almost as if he never traveled more than a couple of miles. That or he pays absolutely no attention to his surroundings as he travels.
I think this ability to notice surroundings is what differentiates a good angler from one that may never get it.
Learn how to pay attention. It's easy, really.
I fished my way back up to the former dam. I thought I would give the pool one more shot. Another tentative hit or blown hook set. You're call.
And then, the thunk. I always wonder if I hear it, feel it or am just imagining it. The thunk of a smallie. I usually don't screw up landing one after I get this thunk. It posed nicely for a picture in front of what's left of the dam.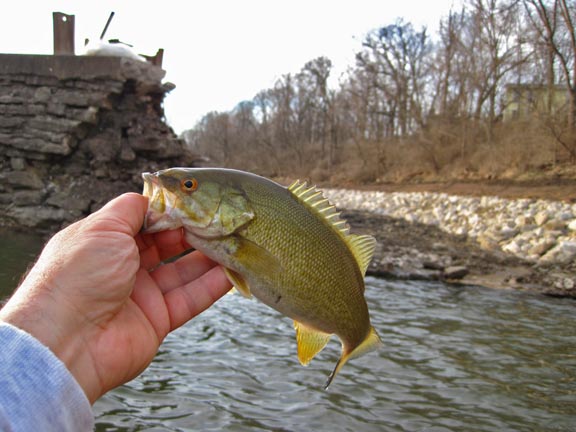 I'm sure it's waiting patiently for miles of stream to open up so it can go play and explore.
Which brought to mind something someone in the IDNR should consider doing. There are going to be hundreds of fish coming up this creek in the next month. They do it every year, but for the past 175 years they could only go up to the dam, barely a half mile from the Fox River.
From what I vaguely remember reading, Blackberry Creek is over 25 miles long. I've been to stretches 10-15 miles inland that sure look like they would do a pretty good job of holding fish populations. No different than the far upstream locations of other Fox River creeks that I fish.
Would be nice if someone from the IDNR would go to this pool below the old dam in the next week or two, spend the day shocking up fish and tagging them, then let them go.
I'll be fishing upstream somewhere on Blackberry Creek over the next two years at least. Would be interesting, to me anyway, to catch a tagged fish or two.