To play catch up, you can read the past progress reports here.
____________
I seem to have a problem remaining consistent in finishing what I start. It's been a week since I put up the last post, leaving it hanging that I went back to the creek for the evening fish.
I got sidetracked putting up another post with some pictures about the real Blackberry Creek. Then, I got busy hanging out doing not much of anything.
In a way it does seem a bit absurd to put up posts about my first adventure up a creek after a dam has been removed and it's back to a semi-normal flow for the first time in 175 years. The absurdity comes from following the fish up stream, throwing a piece of plastic around that mimics some form of baitfish, impaling the fish on a single piece of sharp steel and reeling it in to my hand.
Then I put the fish back in the water after all this effort.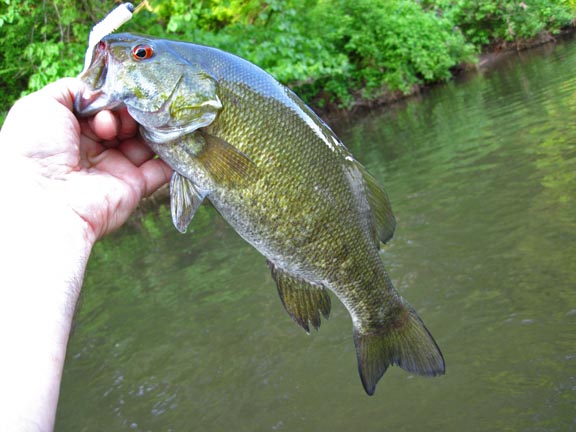 For those that have questioned my use of these single hook, small lures for years, I use them because they cause less damage than impaling fish on anywhere from three to six hooks. I've seen guys throw lures with three treble hooks on them, all to catch a smallmouth bass. I have seen those cause considerable damage to the fish.
Though I avoid talking about the whole catch and release ethos and I do have a Smallie Taste Test and a website called Eat More Smallmouth, I release 99.9% of the smallies I catch. May as well do as little damage to them as possible while out there fishing for them. For all those out there that use multiple hook lures and practice C&R, I'm tired of catching your butchered up fish. Why don't you take the time to learn how to catch a fish on a single hook. So you lose some, it's not like you're taking them home for dinner anyway.
Well enough of that. I've delayed finishing this off long enough to have forgotten the things I wanted to say, so the following is a fishing report sent to Dale Bowman of the Chicago Sun Times about my results and I've added some pictures. Some fish, some scenery, one good looking creek…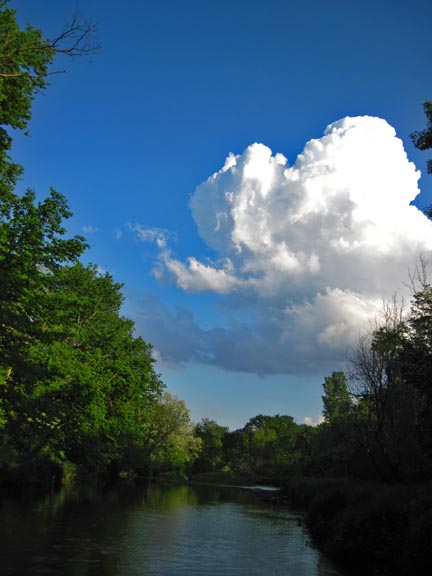 Went back to the creek again on Saturday at 4 PM and fished for two hours. I started at the head of the construction and went upstream for three quarters of a mile.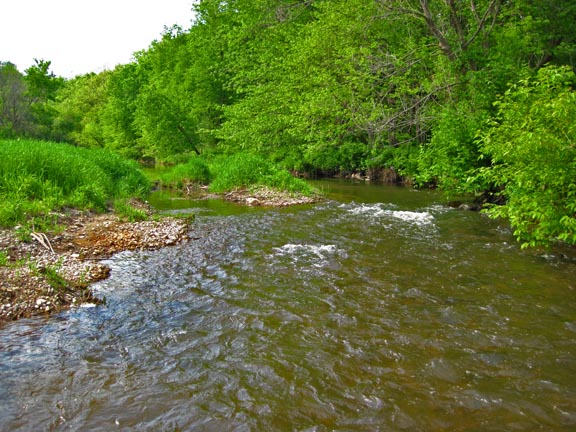 Last time I fished this stretch was a few years ago and I got two largemouth bass for my troubles. Never went back there or anywhere upstream on this creek again.  This time I wound up with 23 smallies,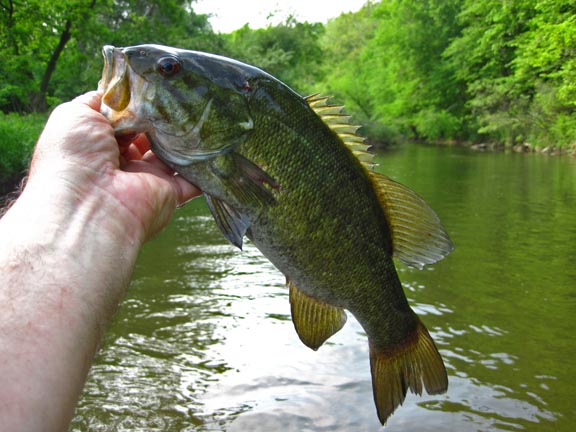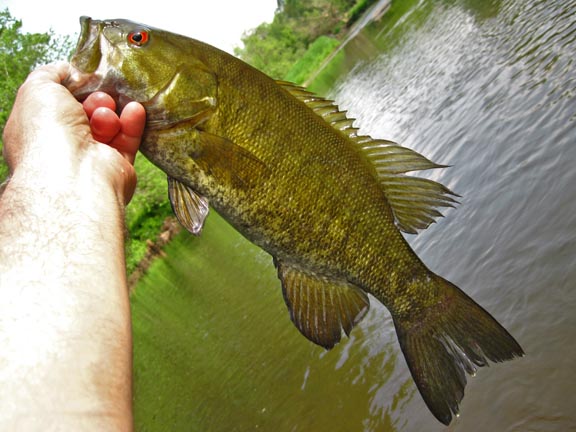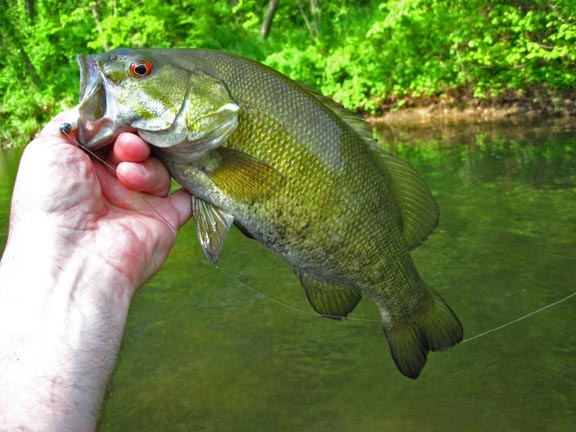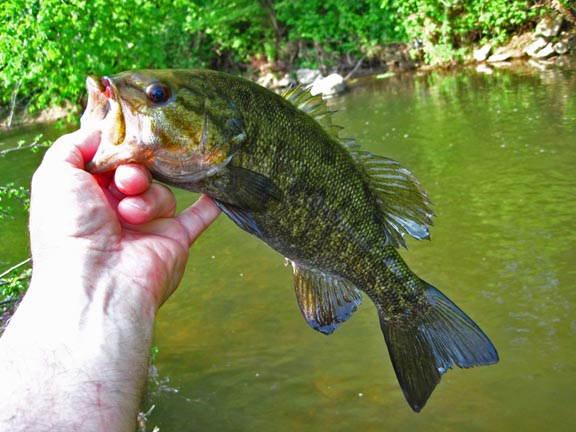 1 largemouth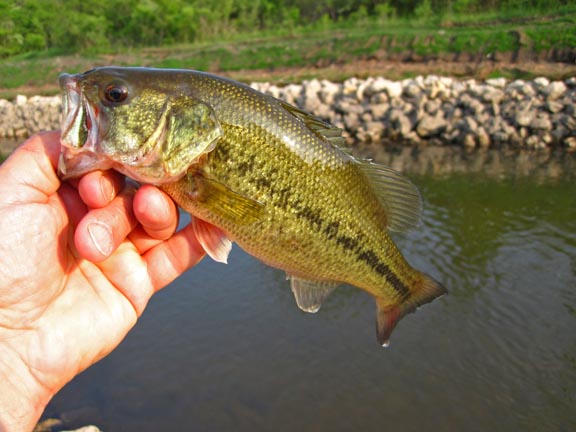 and 1 bluegill caught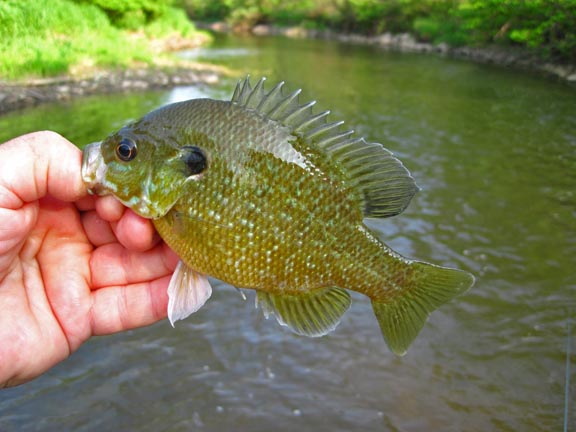 and another 22 missed fish. The water was so clear that I know they were all smallies.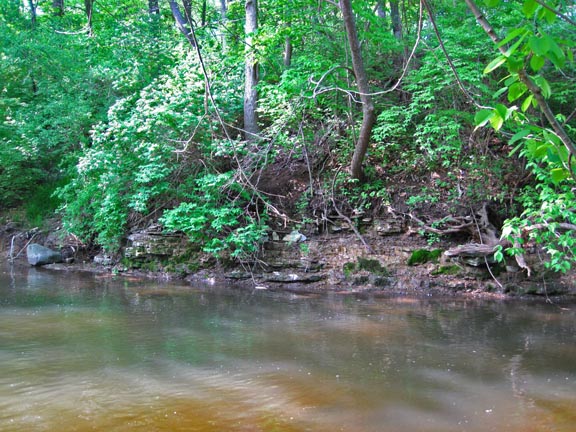 Got to see two huge ones before they spit the hook.
Over the years I've done my own little stocking program on Blackberry Creek. Now and then I would fish below the dam and every smallie caught would be tossed over the dam. A couple of years ago I heard reports of a few being caught upstream.
Also over the years I've explored quite a bit of the creek, but never bothered fishing it. I have spots all planned out up to and just beyond Jericho Road. Not sure how many miles that is, but it's a few. Now I have a reason to fish and explore.
Will be interesting to see how far up the smallies go this year. It's also interesting to see how quickly fish take advantage of a now dam free creek.
_____
Got out fishing a few days later and went upstream of the construction again. Caught 16, which includes two largemouth and a crappie. Missed 28. Couldn't set a hook to save my life today. It's really beautiful up in there and if anyone tries it I have some advice, don't take a shortcut through the woods. Did that years ago. It will be one of the most miserable experiences of your life.
The smell of spawning fish, based on memory a combination of carp and suckers, was very strong on the creek. I love that smell.