There are times my decision on where to fish is based on no more than it was convenient.
No endless fishing theories, nothing to do with the time of year, water levels don't matter. I was there and so was some form of moving water, be it river or creek. I have an hour, I'll go fish it.
This started on Wednesday evening when I got near home in near record time. I found myself a couple of blocks from a parking spot that was a couple of hundred feet from the creek. May as well unwind a bit.
The creek was low and crystal clear. Because of this, I took off my usual small lure and put on something even smaller. The shallows were filled with minnows. (I like how we call these little things minnows when in reality the majority of us don't have a clue what they are. They could be small walleye for all I know, but they're small, so they're minnows).
In six inches of water were huge schools of smallies no more than 4 inches long. Even at that small size it's hard not to recognize what they are. In the still deeper water, deep being relative, were carp, suckers, disinterested smallies and a variety of panfish. I was able to get three smallies to pick up the lure, but they were noncommittal. Setting the hook simply pulled the lure from their mouth.
For most of the time I entertained myself with the incessant tap, tap, tapping of little fish on a little lure, but I did coax a couple of foot long smallies and a handful of green sunfish to somehow hook themselves. It was no real effort on my part, just let them pull back rather than me pulling on them.
For fall, it wasn't acting like fall. Near record heat in the 80's had me sweating profusely, not much in the way of color changing on the trees.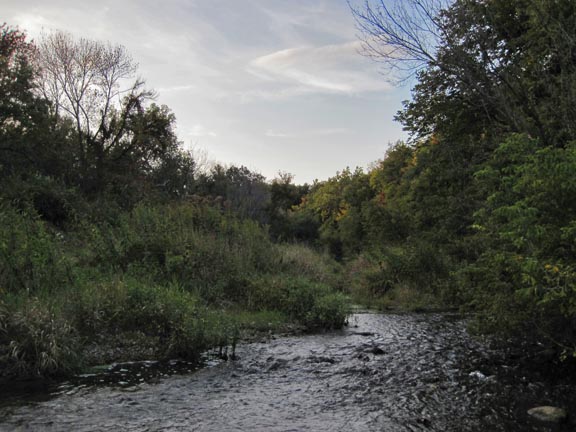 The water was the give away. This was fall water with it's depth and clearness. The fish were also the give away to fall. Small, shallow, clear water overrun with little fish. For those in need of hawgs, monsters and brutes, creeks in fall are not the location of choice.
Back at the parking lot a young guy was calling it quits on the pond. He asked about the creek. Though he's fished the pond quite a bit, it never dawned on him to fish the creek. I gave him a quick synopsis of how my year on the creek has gone and finished it with… you need to get some waders.
"Yeah, I think so."
__________________
Saturday found me in Chicago in the neighborhood where I grew up, though I hesitate to use the phrase grew up.
I hate Chicago. Too many people, too many cars, houses too close together… it all makes me extremely tense and anxious. After spending most of the day moving furniture around and making a bigger mess of my back, I had to go unwind. So off to the creek again. I had a good hour and it was on the other side of the river, five minutes away.
I hit a different stretch this time. Wanted to see how it looked and if the rain we got on Thursday had improved the flow at all. The creek looked good and though still low, was better than on Wednesday. I kept the small lure on and immediately started getting hard hits. Problem was, they kept throwing the lure. I was reluctant to switch to something bigger. I knew I was going to be tying into primarily little fish. I decided to put up with missing the fish. I did wind up with 15 fish for that last hour of light, but only eight fish landed. An odd mix of fish with smallies, largemouth, crappie and a big hybrid looking sunfish that looked like a cross between a bluegill and a redear sunfish.
Minnows again were everywhere. Schools of small smallies everywhere. Uninterested smallies cruising around. At the mouth of the creek I ran into a couple of other anglers that came up into the creek throwing crankbaits. I tried to convince them that was not a good idea in water mostly less then 2 feet deep and crystal clear, but what do I know. Though they saw me catch a couple of fish they did nothing to change what they were doing.
Talked to one of them about the muskie that used to live here and how he used to catch quite a few of them. The conversation centered around how the creek has changed due to the floods and that all the holes where the muskie once lived were now gone. Knowing this did nothing in changing his lure choices. I gave up and politely bid him farewell.
I have quite a few pictures I've collected over the past few months further documenting how the creek was changed after the old dam was removed. I've been remiss on keeping up on updates, but the changes have been so subtle that I've been collecting the info with the intention of summarizing it all later. If I get to it.
Even since my last visit here a couple of months ago, some things were changed. Fixed I guess you could call it. Because of how the dam was removed with the flow being diverted back and forth and then a major flood at the end of March, a big gravel bar had formed along one side of the creek. This had narrowed the creek in a small stretch to barely ten feet wide.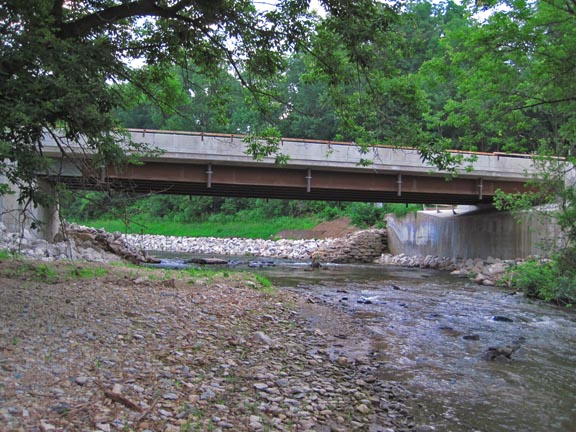 The gravel bar was now gone and the shore had been planted with grasses.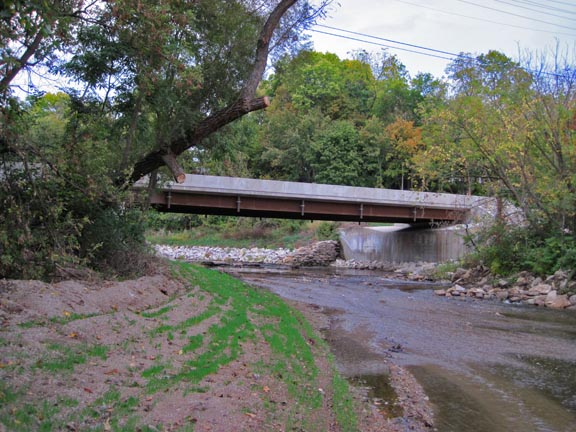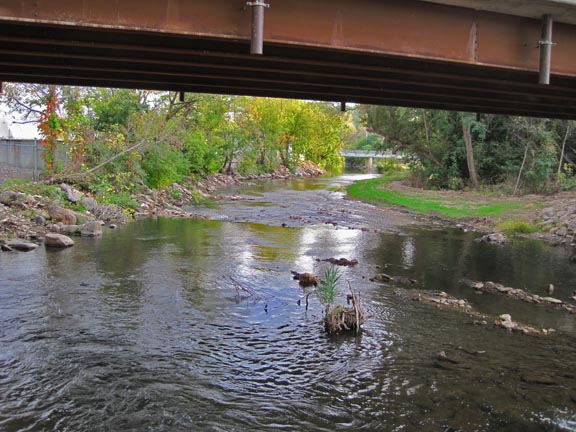 Have to admit this was a vast improvement. Even a major flood event shouldn't bring the gravel bar back, the upstream stretches appear to be pretty stable now and though rock and sand are always moving, it shouldn't pile up like that again.
Back at the car there was a pickup truck parked next to my car. There's only enough room for two. He was a hunter finishing up his day. I had forgot deer season had already started and he had got himself a couple of does. This started a conversation about property along the creek, who owned it, what the chances were of getting permission to hunt, other locations nearby where deer lived, what the chances of getting permission for hunting those areas were and who we knew and of course, venison recipes.
A thoroughly enjoyable conversation indeed.
__________________
By the end of the day Saturday my back was feeling the repercussions from moving furniture around most of the day. I'm certain that one hour of fishing had nothing to do with it. The wife didn't insist that I have someone go along this time, she simply said… please go somewhere where someone can find you.
That request, which I was obligated to honor, totally screwed up my plans. But again, she was probably right. My plan was to go to a very remote stretch where finding me would be difficult, but the fishing had the potential for being a fifty fish day.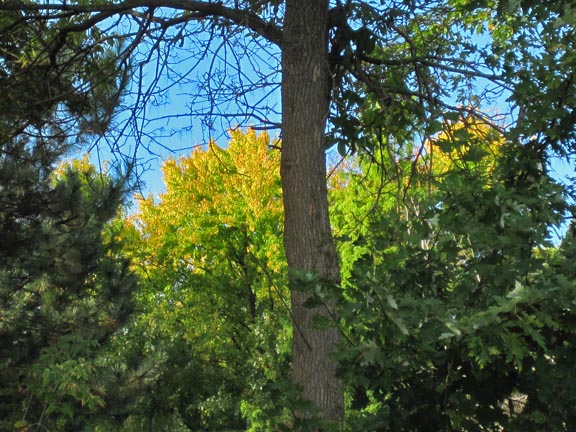 I hate being honorable.
Unlike the previous week when there was virtually no wildlife moving around at dawn, wildlife was everywhere Sunday morning. The final stretch of road to the parking lot had robins feasting on all the crushed acorns. I nearly ran over a couple of rabbits. By the time I made it to the put in spot and the sky was lighter, there were ducks and geese all over the river and flying around. Blue and white herons, red tail hawks, turkey vultures, swallows, woodpeckers, squirrels and there was even a small bug hatch coming off the river.
To the east the clouds were thick while to the west, nothing but blue sky, the distinct line of the cold front that was coming through. The threat of rain and thunderstorms that were supposed to inundate the area for the past 24 hours had never materialized. The river was in perfect shape. The rain we got on Thursday had spiked the river up from 500 cfs to 800 and then back down to 500 again, all in about a 12 hour period. This usually turns the fish on and pushes them toward shore.
For the first hour the fishing couldn't have been much better with 12 fish on, but only 5 landed. One cast got me the tell tale bulge of a following fish, but then the bulge disappeared with no hit on the lure. A few casts later from a different angle, there was the bulge again and just a slight tap. When I lipped the nearly 16 inch smallie, the lure was embedded in the top of it's head. I don't think I've ever hooked a smallie like that before.
Then the cold front came through. The skies cleared, the wind picked up, I was getting chilled and the bite nearly died. In the next 3 hours I only hooked four more fish.
While fishing one channel I was walking nearly down the middle. The bulk of the fish caught in this stretch almost always come from the right shore to the middle. In 14 years I can count on one hand the amount of fish caught from the left hand side. It's usually loaded with carp and it's not worth the effort casting to them. I gave the left hand side one of my cursory casts, one of those casts you make where you know nothing is going to hit, but you do it anyway.
I moved the lure about three feet when a big bulge came up behind it. I assumed it was a spooked carp till it hit the lure and took off for the right side of the channel. It had some nice weight to it and it's back came to the surface briefly. I assumed that if I could land this fish it was going to be one of the biggest smallies I've caught. Because of the small lures I use I tend to lose some of the bigger fish. Because of this, when I get the fish within 10 feet of me I lift it's head so it comes to the surface. If I'm going to lose a nice fish, I at least want to see it.
At 10 feet out I lifted the head of the fish and a fat pike that would have easily measured 30 inches came flying out of the water towards me. It turned it's head, bit through the PowerPro, dropped back into the water and disappeared. Over the past month I've caught a few walleye in this stretch, something that has never happened in 14 years. Now a pike, another first for this stretch. I catch both these species about 5 miles upstream, but never between here and there. Won't know for a few years if this is going to become a norm or if it's just a fluke.
Back in the shallows where I hooked the pike there was a lot of commotion. I think the pike was having a tough time trying to figure out how to get that little jig and twister out of his jaw.
The rest of the time out was just a walk in the river and an enjoyable morning to be out. Some colors were coming to the trees and the bright sky and low sun lit things up nicely at times.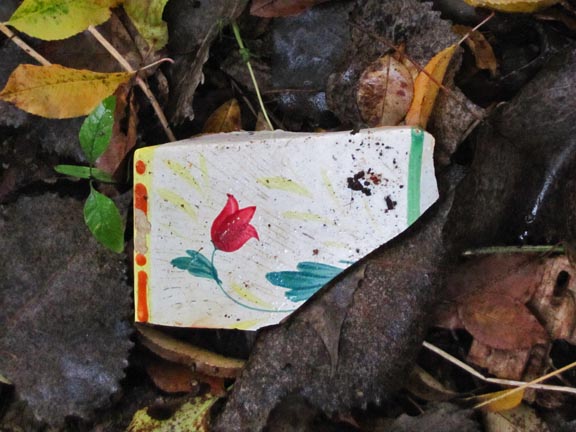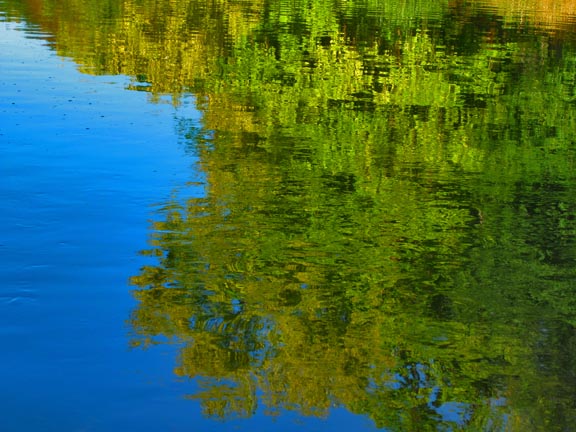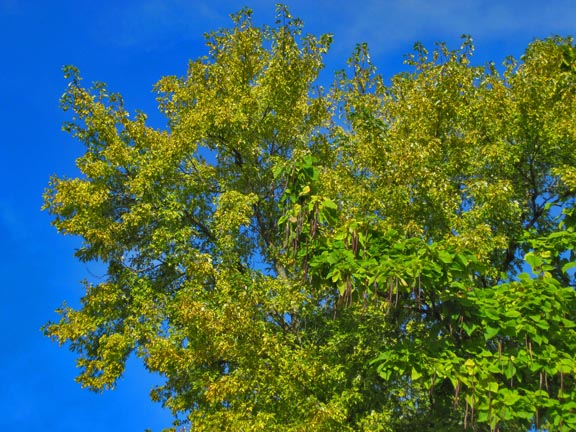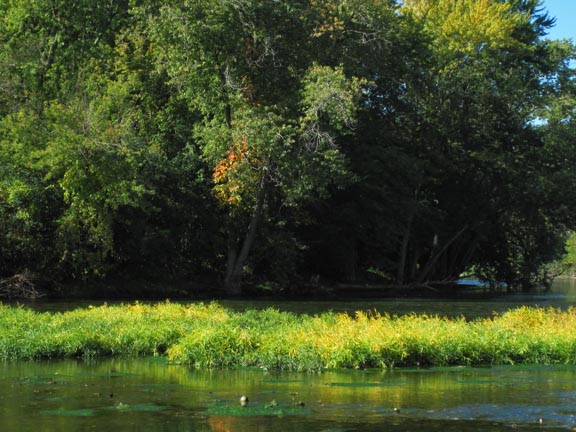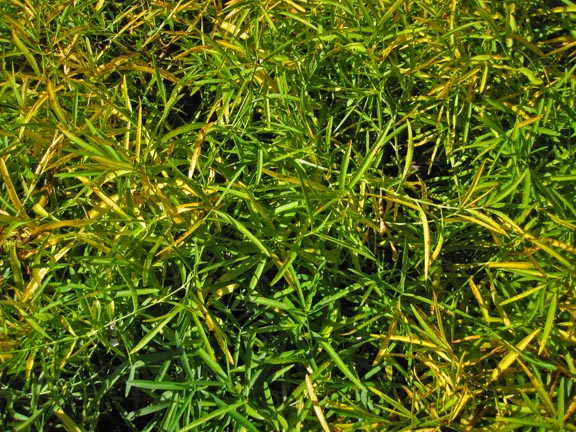 Stopped to talk to a landowner that was hanging out on the edge of the river enjoying his morning cup of coffee. He's only been living there for a couple of years and hasn't waded too far from his property. I'm sure I overwhelmed him with where to go in the mile both above and below his property, but he seemed grateful. He also happens to live on one of the best spots in this stretch of the river. From his shore on Saturday he tells me how he tied into a school of white bass, something I've been searching for through here the last few weeks.
I new I should have been here yesterday.
__________________
A gratuitous shot of a kitten in a box in the sun. I couldn't resist.